There are loads of fun and cute gifts for knitters and other yarnies out there as well as useful ones. But if you're not into the yarn crafts yourself it may be hard to know what to get.
In this gift guide, you can find the best gifts for knitters. I update with new items regularly as I get new ideas or stumble upon cute things. Be sure to save this post so you can come back too it later!
As an Amazon Associate and member of other affiliate programs, I earn commissions from qualifying purchases at no additional cost to you.
Unicorn scissors for the knitter who has everything ?
Some people seem to have literary everything, and then some. These guys are super hard to buy gifts for. But, I bet your favorite knitting friend doesn't have a pair of unicorn scissors?!
These scissors are:
Made from high-quality stainless steel
5.25 inches (133mm) long. The blade is roughly 1.75 inches (44mm)
Works for left-handed and right-handed people alike.
Pointed blades make it easy to undo seams and make other delicate cuts
Good for cutting most yarns and fabrics
Psst! These scissors are available in purple, ombre, rose gold, and silver as well. You have to see them!
A pouch for storing knitting notions
All knitters have lots of small notions like scissors, wool needles, and stitch markers.
That means they also need something to store all those little bits and pieces in, like a cute pouch with cats playing with yarn, for example.
The "purrfect" gifts for a knitting cat lady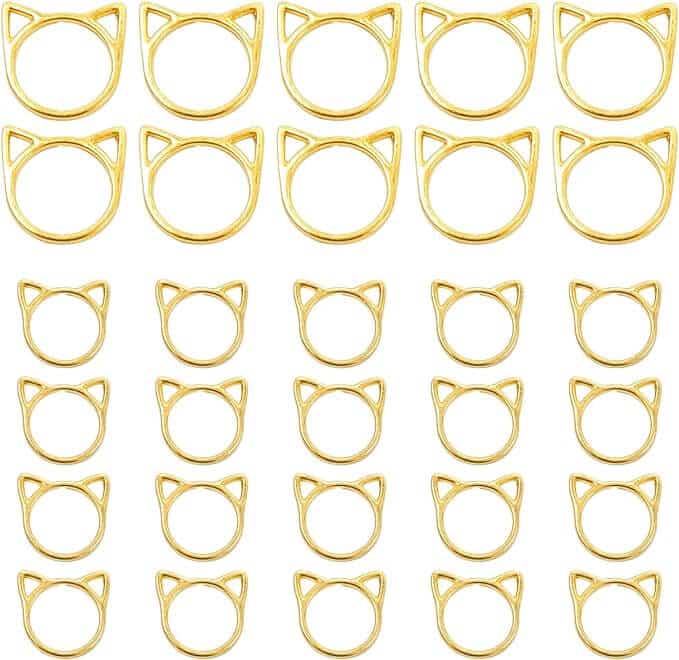 Stitch markers are a knitter's best friend!
The markers help to keep track of all sorts of things in knitting like increases and decreases, for example.
This set of cute little kittens will help with everything from pattern repeats in lace patterns to keeping track of the beginning of a row.
Stitch markers are good gifts, cute, useful, and inexpensive! I have a list of 21 cute ones here if you need more inspiration!
Fun socks for all types of yarn crafters!
Knitting socks for the sock knitter
A super useful gift for knitters!
Knitting in the dark is no fun and no good. It strains on the eyes and stitches can get lost. We can't let that happen to your favorite knitter, right?
But it's neither fun to watch TV with the lights in your eyes, I get it and I have a solution!
This LED light can be hung around the neck, lighting up the knitting while leaving the rest of the room dark.
It's lightweight, has two light sources, and can be adjusted.
(Psst! This product is available in blue and black as well!)
Give a knitting-themed coloring book!
The Mason Dixon Coloring Book for Knitters is a fab gift for any knitter who likes to color too. This book has 32 knitting-themed motifs to color in.
The pictures are printed on one-sided sheets to eliminate show-through and make it possible to frame and hang the pictures!
This book is available from several sellers, be sure to check for the best price!
"Fuck Off, I'm Knitting" (It's available for crocheters too!)
This mug has a very clear message, and I love it.
And better still, it's available with a similar image for crocheters, click the button below to check it out!
This large mug holds 15 oz / 44cl of your favorite hot beverage. And, we all love our coffee/tea/hot chocolate, right?
"Fuck off, I'm Knitting" is printed on both sides, which makes this mug suitable for both left and right-handed knitters.
The mug is both microwave and dishwasher-safe.

Personalized clothing tags in faux leather
Tags with the knitter's name or initials give a little something extra to a knitted garment!
Nifty tags like these look really cool on the brim of a beanie, the hem of a sweater, or the edge cuff of a sock. They also make the crafter behind the item more visible!
Features:
You can choose the text the recipient's name, or something like "handmade with love", for example.
You can add any engraving like a logo or small illustration
You can choose the color of your choice
Different shapes and sizes are available
Made of faux leather
I would be very happy to receive these for Christmas, the golden one is so pretty!
Keeps yarn cakes from the floor
Organize those knitting (or crochet) charts!
This knitting chart keeper from KnitPro is a good helper for knitting or crocheting charts and patterns. Magnets keep the chart on the board where it's easy to access while working. When not knitting just close the keeper and it will protect the charts from damage or getting lost.
The pretty cover is easy to keep clean
Pockets for pen and notes
Strong magnets keep everything in place
Can stand both horizontally and vertically
Snap closure
Blocking tools: A gift that makes a difference in the end!
A blocking mat with pins is a gift that can be used over and over again for many years to come!
This one is especially useful as it fits any project no matter what size or shape! The squares are put together like a big soft floor puzzle to fit shawls, sweaters, or whatever shape that's needed.
Features:
Material: Foam
Water and steam proof
Printed 1″ by1″ squares makes measuring a breeze
This package includes:
9 pieces measuring 12″ by 12″ (30,5cm by 30,5cm),
A box for storage
150 blocking pins.
What's blocking?
Blocking is the last finishing step in knitting and crochet. This is where a lot of the magic happens! Uneven stitches open up and the fabric is shaped to look its very best.
It's done by soaking or steaming the fabric with an iron. The item is shaped onto the blocking mat and pinned down for drying.
Many knitters wash their new garments before blocking them. This wool detergent from Kookaburra is gentle enough for even the most delicate yarns!
Vogue® Knitting The Ultimate Knitting Book
The perfect gift for knitters: A set of high-quality Knitting Needles
A HiyaHiya knitting needle set is a gift that would suit most knitters. It's high quality, versatile, easy to use, and includes everything you need!
This set is amazing! I have had mine for years and I will never buy another brand of knitting needles again.
I have written a whole post about the HiyaHiya Knitting Needles and all the reasons I have to recommend them if you need to know more before making the purchase!
These needles are interchangeable
The set includes four cables in four lengths
Seven pair of tips in sizes 2-8 US /2.75-5mm
Keyless screw-on connections
Swivel cables
A cute brocade case to hold cables, tips, and knitting notions
Psst! There's also a more luxurious set with more sizes and a lot more accessories available if you really want to spoil your favorite knitter! You'll find that set below!
The Limited Edition set – a gift every knitter will love ❤️
If I didn't already have a very functional set of knitting needles from HiyaHiya, this luxurious set would definitely be on my wish list. Or, I have to admit, it is anyway 🙂
If you really want to show a knitter that you care and appreciate his or her creative hobby, getting them this set is a very good way to do that! I'm pretty confident that they will love it. (and you ❤️ )
These needles are interchangeable
13 pairs of tips in sizes ranging from US 2–15 / 2,75mm – 10mm.
4 cables in different sizes
Cable connectors
Tip adapters
Small and large single point adapters that transform tips to straight needles
Small and large panda stoppers.
Puppy snip, to snip off threads.
Three Darn it's, colorful darning needles.
Knitters Safety Pins, that doubles as stitch markers.
Keyless screw-on connections.
Rubber grips to easily attach the tips to the cables.
Keyless screw-on connections
Swivel cables
A cute brocade case to keep cables, tips, and knitting notions organized
HiyaHiya makes the best interchangeable knitting needles in my opinion, but they are quite affordable compared to some other brands!
What're all those small gadgets for?!
Learn more in this post: HiyaHiya knitting accessories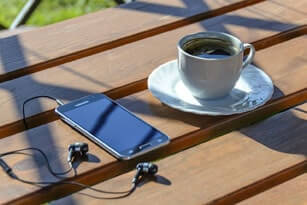 Audiobooks + Knitting = a match made in heaven!
Reading is one of my favorite things to do, besides knitting of course!
And that's a bit of a problem for me. I want to read and I want to knit. But I can't manage to do them both at the same time.
The solution? Audiobooks!
I can knit and listen to audiobooks for hours, and I bet I'm not the only one.
Give your favorite knitter the world of books in the form of a subscription to Amazon Audible!
For the knitter who has it all: a beautiful scarf knitting kit
Does your loved one have all the knitting bags and other tools they could possibly use? Then this beautiful scarf knit kit: Elysian Blanket Scarf would be just right!
This scarf is both beautiful to wear and fun to knit! The knitting kit is suitable for both beginners and more experienced knitters as the stitch pattern is simple but fun to make.
What's included in the kit?
A digital pattern that you can e-mail to the recipient or download and print.
Enough yarn to complete the scarf in a color of your choice.
If you want: Knitting needles and wool needle
Your next read:
Didn't find what you're looking for in this post? Maybe one of these posts can give you some inspiration?
––> 8 top journals for knitters
––> Best knitting project bags
––> 10 adorable baby blanket knitting kits