As an Amazon Associate and member of LoveCrafts affiliate program, I earn commissions from qualifying purchases at no additional cost to you.
🎁 Useful gifts for Knitters $30 and up 🎁
The perfect gift for knitters: A set of high-quality Knitting Needles
This set is amazing! I have had mine for years and I will never buy another brand of knitting needles again.
I have written a whole post about the HiyaHiya Knitting Needles and why I recommend them to every knitter. You find that post here!
These needles are interchangeable
You get four cables in four lengths
You get seven pair of tips in sizes 2-8 US /2.75-5mm
Keyless screw-on connections
Swivel cables
A cute brocade case to hold cables, tips, and knitting notions
This set is a bit on the expensive side. But it's worth every cent. I have used mine for years and it's still as new, the quality is really good. And for the record, I knit a lot!
---
Audiobooks + Knitting = a match made in heaven!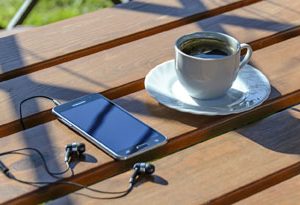 Reading is one of my favorite things to do, besides knitting of course!
And that's a bit of a problem for me. I want to read and I want to knit. But I can't manage to do them both at the same time.
The solution? Audiobooks!
I can knit and listen to audiobooks for hours, and I bet I'm not the only one.
Give your favorite knitter the world of books in the form of a subscription to Audible!
---
The perfect combo: a Swift and Yarn Winder set
This yarn ball winder and swift set is a must-have for every knitter that likes to shop or wish for yarn. And, well that's actually every knitter I know…
With a swifter and a winder, hanks and loose skeins turn into nice and tidy center-pull yarn cakes in no time!
This set includes everything needed to get started.
💛 A swift to hold the yarn hank.
💛 A yarn winder to turn the yarn into cakes. It can manage up to 4 ounces at the time.
💛 Both swift and winder are collapsible and easy to both set up and take down for storage.
💛 Both the swifter and the winder can be attached to any table edge or countertop up to 1 3/4″.
🎁 Useful gifts for Knitters $20 – $30 🎁
A Knitting Project Bag – the perfect gift for any Knitter!
This one is my absolute favorite in the range of knitting project bags found on Amazon!
I'm a sucker for stripes, but besides that, I really like the features of this bag.
The bag can be worn over the shoulder and leaving the hands free for knitting
Lightweight
Three grommets allow for knitting with several strands of yarns at the same time, without the yarn getting tangled.
The bag is made of durable canvas
Pockets on the inside are key to keep everything tidy and organized. There are enough pockets to keep all the necessary notions and a phone!
A PVC layer on the inside divides the bag into two compartments
Also available in red and white
It's pretty, versatile, and has room for everything, even including a phone! And, the price is quite nice too.
Click over to Amazon to see more photos of the bag. The way this bag is divided into two compartments is really clever.
---
My most used knitting book – this covers all you need to know!
My most used knitting book is Step-by-step encyclopedia of Needlecraft, written by Judy Brittain.
This book shows the basics of knitting and covers different techniques as well as crochet, weaving, embroidery and much more.
---
Vogue® Knitting The Ultimate Knitting Book
Vogue® Knitting The Ultimate Knitting Book by the editors of Vouge® Knitting Magazine
This book is the number one seller amongst the Needlecrafts books on Amazon. The book has been printed several times and this edition is completely revised and updated.
It's a reference book that's all about knitting from start to finish.
---
A yarn bowl keeps the yarn ball in place
Yarn bowls are such a smart idea!
The bowl holds the yarn ball so that it doesn't roll around or down on the floor and get dusty and tangled. There is an opening for the yarn strand assuring the ball doesn't jump over the edge.
For knitting colorwork, it's really useful to have one bowl for every ball to stop the strands from getting tangled together!
This yarn bowl also has a lid to keep the yarn clean and hide it when it's not in use.
🎁 Useful gifts for Knitters $10 – $20 🎁
Blocking tools: A gift that makes a difference in the end!
A blocking mat is a fantastic tool for knitters!
This one is especially useful as it fits any project no matter what size or shape.
Assemble it like a puzzle to any shape you like. The mat is made of foam and it's both water and steam proof.
Another great feature of this mat is that it has printed 1″ squares to help with measurements.
This package includes 9 pieces measuring 12″ by 12″, a box for storing and 150 blocking pins.
How to use it:
Blocking is an essential last finishing in knitting.
It's done to open up the stitches and allow lace and stitch patterns to look their very best. It's also a way to shape the knitting a bit to ensure it's the shape and size that's intended.
First, the knitted item is soaked lightly, or carefully washed with a suitable washing detergent, like this one from Kookaburra for example.
Second, the blocking mat is "puzzled" together and the project is arranged on top. The blocking pins are used to hold the garment in place while it's drying.
---
Give a knitting-themed coloring book!
The Mason Dixon Coloring Book for Knitters is a fab gift for any knitter that likes to color too. This book has 32 knitting-themed motifs to color in.
The pictures are printed on one-sided sheets to eliminate show through and make it possible to frame and hang the pictures!
This book is available from several sellers, for different prices.
---
"Fuck Off, I'm Knitting" The perfect mug for every knitter
I think this mug is both hilarious and useful 🙂
It has a very clear message that can come to use while knitting an intricate lace pattern. Or counting stitches.
This large mug holds 15 oz / 44cl of your favorite hot beverage. And, we all love or coffee/tea/hot chocolate, right?
"Fuck off, I'm Knitting" is printed on both sides, which makes this mug suitable for both left and right-handed knitters.
The mug is both microwave and dishwasher safe.
🎁 Useful gifts for Knitters under $10 🎁
A set of all the colorful notions one could ever need
There are a lot of different knitting notions that are really useful for knitters.
This set includes all the necessary bits and pieces, it's actually 120 items in this quite affordable set.
Included are:
🧶 Stitch markers of three sorts. O-rings and two kinds of removable markers. They aren't as pretty as the ones I listed in this post. But, the colors are bright, the price is right, and they will do the job just as good.
🧶 Needles for weaving in ends, embroidery duplicate stitch patterns or darning.
🧶 Gauge Ruler this tool is used for measuring your knitting gauge in both inches and centimeters, as well for decide size on unmarked knitting needles.
🧶 Scissors
🧶 Measuring Tape
🧶 Cable Needles
🧶 Row Counters
🧶 Stitch Holders
🧶 Point Protectors for your knitting needles.
To get more details and buy the knitting notions set, click here!
It would be super cute to gift a set of notions like these in a pretty case. Like this one with adorable little cats tangled in yarn!
---
The "purrfect" gifts for a knitting cat lady
Stitch markers are a knitter's best friend!
The markers help to keep track of all sorts of things in knitting like increases and decreases.
This set of three adorable little kittens sitting in teacups would look great, and be a big help, in any knitting project!
For more cute stitch markers to choose from, click through to this post: The Cutest Stitch Markers
---
A super useful gift for knitters!
Knitting in the dark is no fun and no good. It strains on the eyes and stitches can get lost. We can't let that happen to your favorite knitter, right?
This led-light can be hung around the neck lightning up the knitting leaving the rest of the room dark.
It's lightweight, has two light sources, can be adjusted, and it comes in different colors!
This one is actually on my wishlist to Santa this year!
I love knitting while watching my favorite series, but that lightning situation can be a bit tricky sometimes. This light would be a great solution to that problem!
And that takes us to the next point on this list of gifts for knitters: The Prime
---
Knitting socks for the sock knitter
These socks with little knitting needles and yarn balls all over them is a fun and useful gift. Let the knitting show!
I really like this bright color, but you can also get these socks with grey or black background for a little more down to earth look. Still fun, but a little easier to match…
These socks are available in women's US sizes 4-10.5 / EUR 34–41.5 / UK 2–8.5