Many crocheters and knitters use project bags to store their ongoing work at home or to carry them to knitting cafes, commute, or, to knit outside.
There are a lot of different bags to choose from out there with different functions and styles.
Some of them are more for storing your WIP:s at home or maybe to toss into another bag to take with. Others are made for you to carry and knit at the same time.
This list presents a selection of the bags that are, in my opinion, the best project bags available online right now!
Which will be your favorite?
As an Amazon Associate, and member of other affiliate programs, I earn commissions from qualifying purchases at no additional cost to you.
Carry your WIP:s in a cute pink backpack
If you often take your knit or crochet projects with you when you are out and about this may be the bag for you!
A backpack is easy to carry with you and leaves your hand free. This backpack also has grommets so your yarn can be safely put away on your back and you can still knit while walking, waiting in line, etc, this is so smart!
And of course, it has a ton of pockets to store a water bottle, spare needles/hooks, and all your notions!
The backpack is available at Amazon in pink, black, grey, and a white and beige pattern. If you have Prime you even get free delivery. (And if you don't you can sign up here for Prime Video and get free 2-day shipping on this bag and millions of other items!)
Plum Pansies yarn stash bag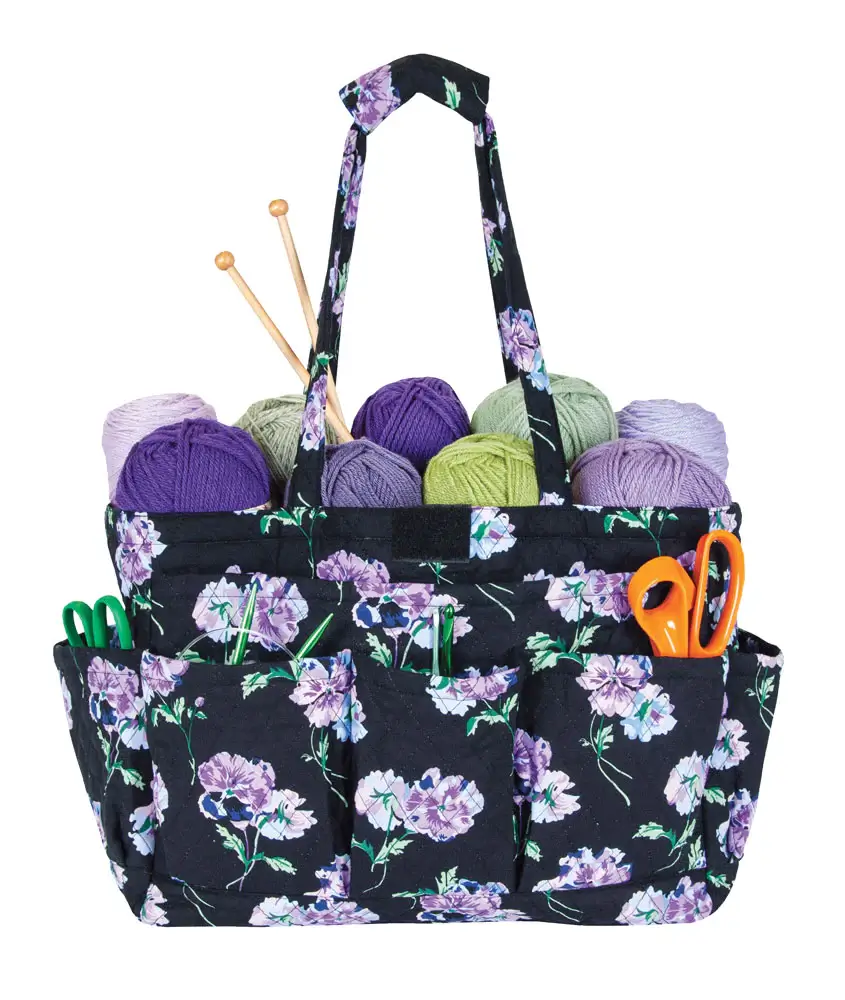 This flowery bag is called a yarn stash bag, and it sure seems to fit a lot of yarn!
Plum Pansies also has room for your knitting or crochet projects as well as six pockets on the outside to hold all your bits and bobs.
This bag is made of cotton fabric and measures 21 x 10 x 6 inches / 53 x 25 + 15 cm.
Everyday tote bags in four pretty colors!
These totes are super pretty and let you carry your next project in style, but they would work just as fine for holding your lunch box, phone, and keys.
The clean shape and discrete colors won't clash with your outfits but still look cute. If you like this modern clean look, one of these is your bag!
These bags are made of vinyl and lined with polyester.
The dimensions are 16 x 12 x 5 inches + the handle 13,5 inches / 41 x 30 x 13 cm + the handle 34 cm
The perfect bag for sock knitters
Drawstring bag: All you knit is love!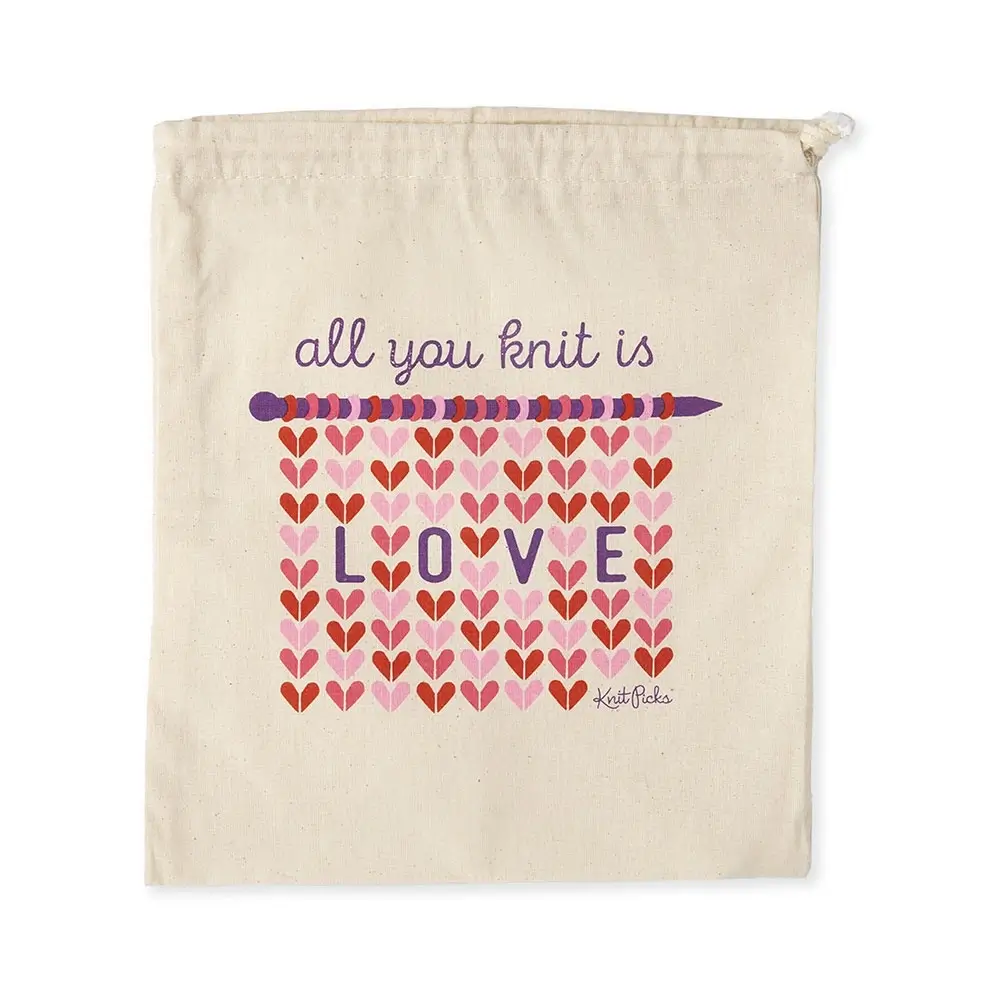 All you knit it is love! Who could argue with that?
This is a lightweight drawstring bag perfect for protecting your project from dust and tangling between knitting sessions.
Going out? Tuck it into your tote and you're good to go!
It fits a sock WIP or projects using 6-8 50g skeins.
Stylish project bag perfect for knitting on the go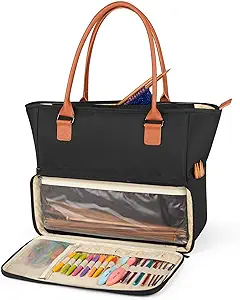 This bag looks more like a handbag than a project bag, at least from the outside.
On the inside, it's full of storage for your needles, hooks, yarn, and project. There are several pockets and dividers for organizing all your bits and pieces. It also has grommets to lead your yarn through and keep it from getting tangled.
This black and tan bag is found on Amazon, if you have Prime you even get free delivery. (And if you don't you can sign up for Prime Video and get free 2-day shipping on this bag and millions of other items!)
Show off your pretty yarn with a clear project bag
This clear vinyl bag from KnitPicks lets you see what's inside and take the chance to showcase yarn, knitting projects, and cute little notions bags!
Perfect both as a project bag and for storing your precious yarn collection.
The vinyl bag closes with a zipper and has handles long enough to be worn on the shoulder.
Available in three sizes, the one I show here is the large one.
Size: Large 20.75″ long x 11.25″ high x 8.25″ wide (527mm long, 268mm high, and 210mm wide)
Your next read:
Looking for a gift for yourself or a knitting friend? These post links to affordable, pretty-looking, and useful products that knitters love!
––> 8 best journals for knitters Knitters love taking notes and keeping records of yarn stash in a cute notebook!
––> 10 adorable baby blanket knitting kits
––> Knitting gift-guide – a list of items in different price ranges