Knitting project bags for all tastes
Most knitters will agree to the necessity of a good knitting project bag! These bags should be able to hold your WIP (work in progress) and, of course, all your knitting notions so that everything is ready and tidy when it's time to knit.
There are so many cute, practical, funny, large, and small project bags available on the market that all fulfills different needs.
On one side there are simple tote bags with funny prints on them that can hold your project, on the sofa, or when you're on the go.
On the other hand, you can also go for a big bag with a lot of space for multiple projects, all your notions, and holes to pull yarn through for knitting with several colors at the time.
In between these two extremes, there are also bags with a few pockets and features.
So, let's figure out what you want your knitting project bag to do for you, and which of these bags will best fulfill your needs!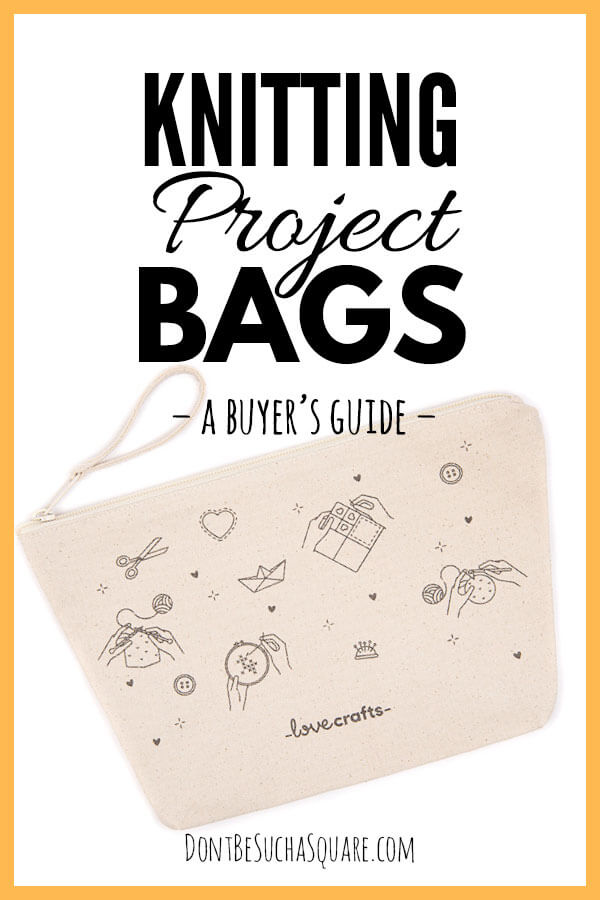 As an Amazon Associate, and member of other affiliate programs, I earn commissions from qualifying purchases at no additional cost to you.
Aqua vines large tote
This is a practical knitting bag, it's large with lots of pockets and room for both a project, extra yarn, and notions.
The vibrant aqua color is beautiful!
Everyday totebag in champagne
Yarn dispenser & small project bag
The Pippa yarn dispenser bag from della Q is available for purchase from Lion Brand Yarn.
This clever little bag holds your yarn safe and clean while you're knitting. It also doubles as a project bag for smaller projects like socks and hats.
Pippa yarn dispenser is 4.5″/11,5 cm wide and 5″/12,5cm high.
When you purchase a della Q product you also help Vietnamese women as a portion of the amount is donated to Vietnam Quilts, a non-profit organization. Follow the link below to learn more!
Statement canvas totes
Canvas tote bags are cute, practical, and affordable. I love these statement totes sold by Lion Brand Yarn!
You can choose between two styles:
"All You Need Is Love & Yarn" and, "If I Can't Take My Yarn, I'm Not Going"
The bags are 15.75 x 5.12 x 14.76 in /
40 x 13 x 37.5 cm
Have your Kitchener stitch instructions with you at all times!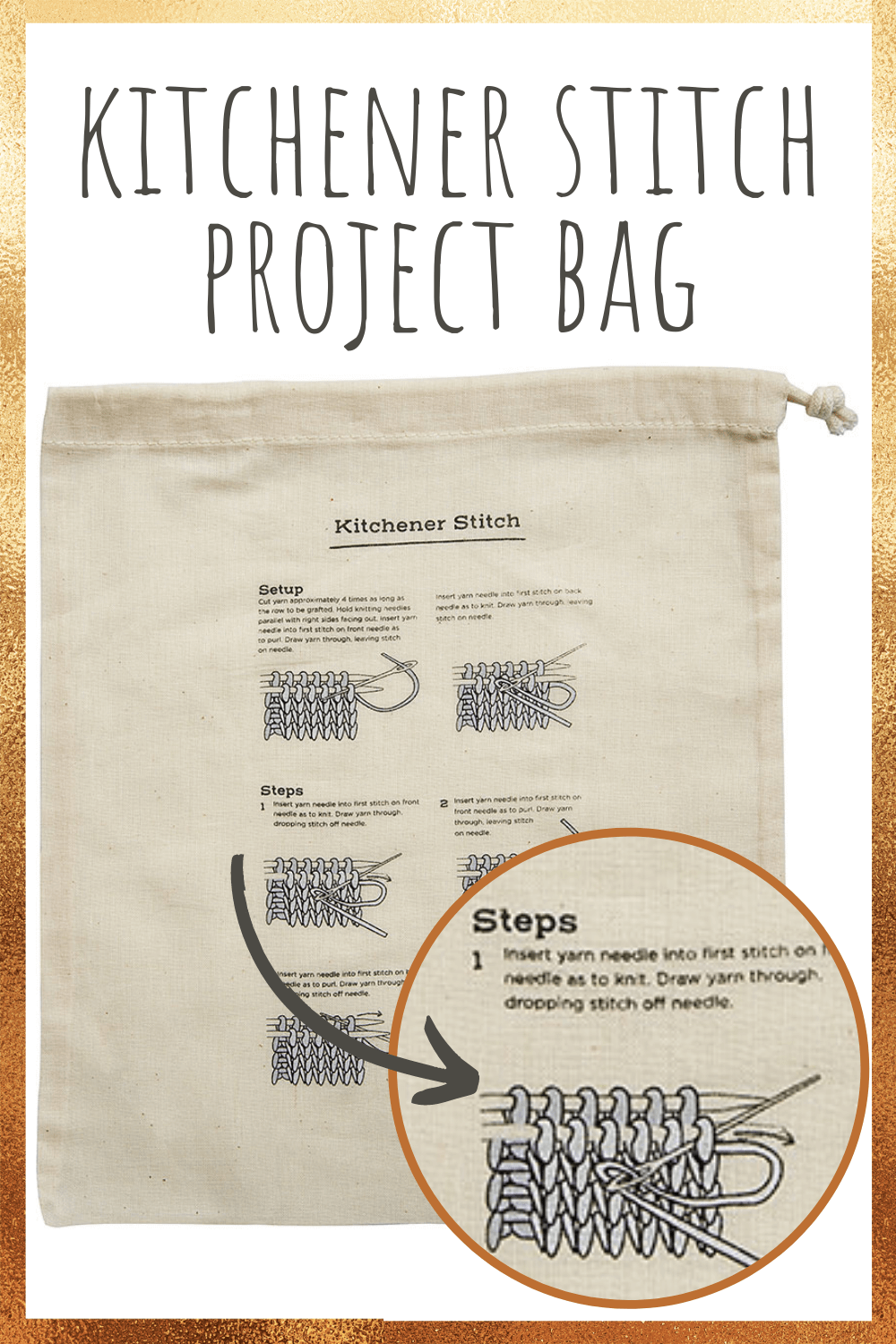 Kitchener stitch, can anyone remember how to make it from time to time?
I use it a lot, but I have to check the instructions every single time I'm going to use it…
But, with this knitting bag, that problem is solved! Well, you won't get a better memory, but that doesn't matter as you will have your instructions with you at all times!
This drawstring bag has both text and illustrations printed on the front to help you out. You find the setup at the top and then the four steps below. Genius!
The Kitchener stitch bag is on the smaller side, perfect for holding your small projects like socks, hats, mittens, dishcloths, and such!
Material: 100% cotton
Size: 10″ x 12″ (254mm x 305mm)
A cute little bag to hold all your bits and pieces
A project bag for knitting, crochet, embroidery, sewing, or whatever you want with cute little illustrations of crafts!
This bag is designed as a vanity bag and it's perfect for housing a smaller project. A smaller bag like this is also good for keeping your notions or extra yarn balls, and it can easily be put into a larger style of knitting project bag or tote.
This project bag is 11″ / 28 cm long, 7″ / 18 cm high and 3.5″ / 9 centimeter broad at the bottom.
Show off you pretty yarn and projects with a clear project bag
This clear vinyl bag from KnitPicks lets you see what's inside, take the chance to showcase yarn, knitting projects, and cute little notions bags!
Perfect both as a project bag and for storing your precious yarn collection.
The vinyl bag closes with a zipper and has handles long enough to be worn on the shoulder.
Available in three sizes, the one I show here is the large one.
Size: Large 20.75″ long x 11.25″ high x 8.25″ wide (527mm long, 268mm high, and 210mm wide)
This flowery dream comes in two sizes!
This knitting tote bag is available in two sizes. The smaller bag measures 14.5″ across and the height is 16.5″. This size would be perfect for carrying a smaller project around the house or to hold your knitting in the car.
The larger one, 16″ across and 20″ from top to bottom, would be more suitable for a sweater project.
I could totally see myself knitting in public with this bag hanging over my arm holding my yarn!
This bag has two grommets, one on each side, for your yarn to go through, like a built-in yarn bowl!
The bag also has side pockets with zippers to hold your notions.
And the print… it's beautiful!
Knit your own knitting project bag!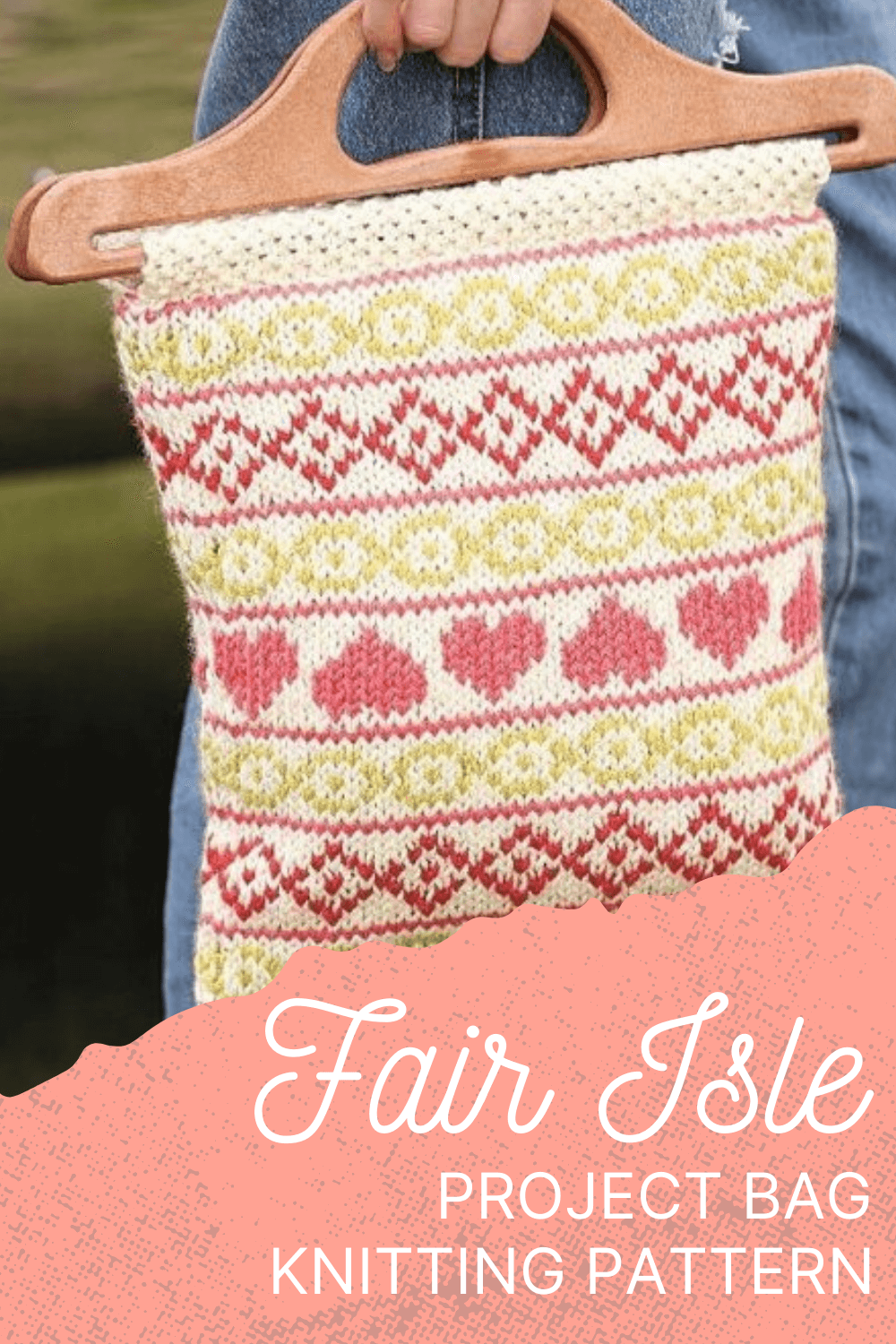 This bag is so beautiful! I love the pinks and yellows together but if you don't, choose your favorites. Yes, you read me right, choose any colors you want because this beauty isn't ready to buy – it's a knitting pattern!
The bag is knit in Debbie Bliss Cashmerino Aran, a soft blend of cashmere, merino wool, and acrylic. Cashmerino Aran is available in 31 colors, so I'm sure you find something to match your taste!
Knit your own knitting project bag with the Fair Isle bag knitting pattern designed by Sian Brown. Get the pattern and more instructions at LoveCrafts!
Rainbows are knit by unicorns!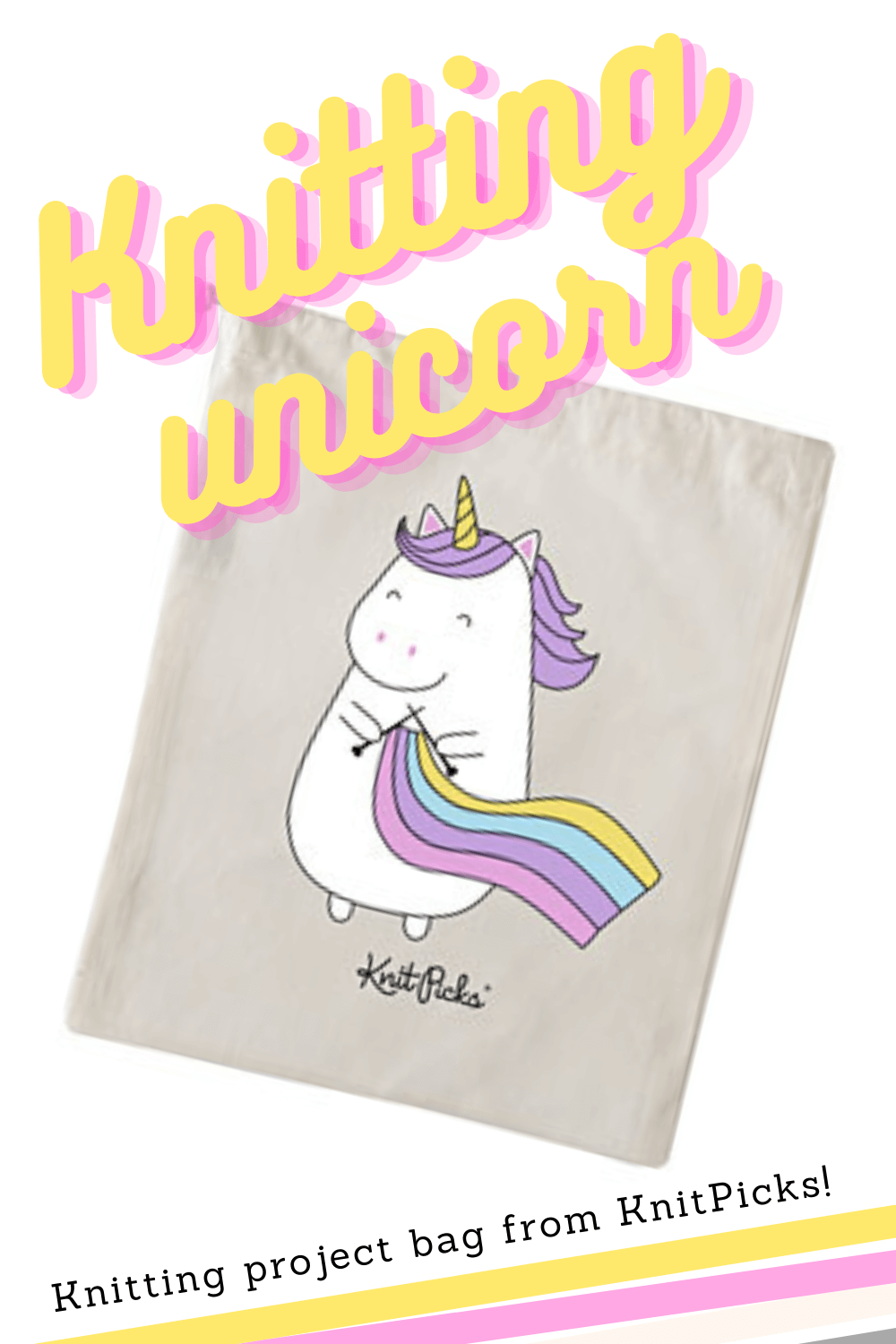 Meet Sparkles, the knitting unicorn! Of course, a knitting unicorn would knit a rainbow. This knitting project bag has to be the cutest one I ever have seen… it's just adorable!
This print is also available as a knitting journal, you find that one and some other pretty journals in this post!
This drawstring bag is on the smaller side, perfect for holding your small projects like socks, hats, mittens, or a small rainbow!
Material: 100% cotton
Size: 10″ x 12″ (254mm x 305mm)
KnitPicks have this short video where you can get a better sense of the size, function, and material in their drawstring bags!
Your next read:
Looking for a gift for yourself or a knitting friend? These post links to affordable, pretty-looking, and useful products that knitters love!
––> 8 best journals for knitters Knitters love taking notes and keeping records of yarn stash in a cute notebook!
––> 10 adorable baby blanket knitting kits
––> Knitting gift-guide – a list of items in different price ranges