I bet you have some really useful craft apps on your phone – without even knowing about it!
Have you ever thought of how many useful apps for knitting and crochet you have on your phone?
I bet there are a few standard apps on your phone that you have never even thought of using for knitting and crochet…
These kinds of apps are standard in many smartphones:
The Camera
The Notes-app
The Ruler
The Pdf-reader
Useful apps for knitting and crochet 1: The Camera!
I figure that almost every phone on the market has a camera these days. And that's a very useful thing, Knitters and Crocheters!
Collect inspiration with the camera app
I love the camera on my phone. I love how easy it is to snap a picture of anything I see and want to remember.
I collect prettiness on my phone, mostly cool patterns and beautiful color combinations. You would be able to find a lot of flowers, veggies, and leaves from my kitchen garden as well as kids drawings, pretty houses and brick walls on my camera roll…
I then use these pictures as inspirations for new projects, when picking colors, or maybe for a blog post!
Use the Camera to decide on nuances for colorwork
This is one of the best knitting hacks ever. Take a photo of the colors you are choosing amongst and use a greyscale filter, most phones have these as standard. Then look at the picture to see how much contrast the colors have.
I go more in-depth on this in this post: Guide to knitting colorwork
Take photos for Ravelry, Instagram or your Knitting blog
This is pretty obvious but worth mentioning – you can take photos of your yarn crafts to share them with your community on all the social media platforms.
To brag, to ask for help, to show your progress, sell your patterns and much more. Strike a pose, take a picture and get out there!
Capture notes and patterns for on the go knitting
I love planning my projects and taking notes while I knit on the knitting project pages I wrote about in this post.
But when I want to take my knitting with me on the go I don't want to bring the actual project pages. So I take a photo of them with my phone. Then I can easily access them at any time.
If I fell the need to add notes while on the go? Then I just import the photo to my notes app and take the new notes in the same document. This way I have it all gathered in at the same place.
If I want to, I can just open the document and scribble my notes down on paper when I get home.
Useful apps for knitting and crochet 2: The note app
Different phones have different apps for notes as standard. And then there are a bunch of apps that you can download and use for free and paid ones. I write about how I use the app that's on my iPhone.
I bet your app can do the same things, these are all pretty basic functions.
Note everything down for later reference
I have a memory like a gold-fish. So, I have to write everything down or else I will be caught in counting rows and stitches forever. The notes app on my phone is perfect for this.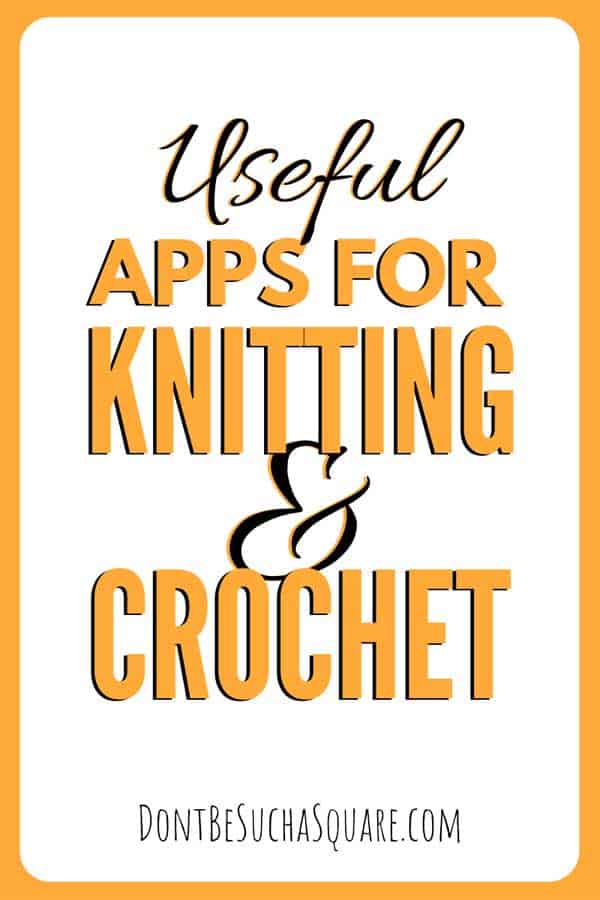 Ask your phone to take notes for you!
Actually, on most phones, you can even ask your phone to write things down for you. This is super handy as you can actually take notes without even letting go of your needles.
I have an iPhone, and I just have to say "Hey, Siri!" then she asks me what I want to do and I say "Take a note" and then I just tell her what to write.
It's super convenient. At least when my kiddos aren't around. They like to ask her all sorts of things that have nothing to do with knitting…
You can also add photos from your camera to the notes app, as mentioned above!
Useful apps for knitting and crochet 3: the ruler
The ruler-app allows you to measure without a measuring tape. How cool is that?! You can measure your house, your furniture, your kids (yes, I had to try… it worked) and your knitting or crochet projects.
I'm not sure if every kind of smartphone comes with a ruler-app as standard. My iOS devices do, but if yours doesn't I'm sure you can find a free version to download, where you usually download your apps.
It's really simple to use, it's fast and accurate! You will never have to turn your house upside-down while searching for your tape measure again. Or is that just me?
Useful apps for knitting and crochet 4: the pdf-reader
The pdf-reader is a super handy tool for knitters! If you buy patterns digital online you get them in pdf-format. If you have a pdf-reader on your phone you can easily access your pattern at all times. You will never forget to bring your pattern, or the horror, accidentally leave it somewhere…!
Many pdf-readers also have tools for making notes and use markers directly in the document. This is so handy! No more scraps of paper lying around, no need to bring a pen, no risk for losing your notes.
You can add notes that look like little sticky notes and that just show up when you need to read them.
You can use a marker-tool to highlight certain passages just as you would on paper.
You can easily cross out finished rows.
A world of new apps to try
I like the idea of not having to download more apps than necessarily. I think it can easily be a bit messy and take a lot of time to use all those apps.
But, of course, I'm a bit curious about what's out there. And a quick search on app-store, tells me that there is a lot of free and paid apps specially made for knitters and crocheters.
Some of them look both useful and fun, but that's a topic for another day.
Follow Don't Be Such a Square on Pinterest!
––> Click here to see my boards on Pinterest, you will find a lot of knitting and crochet tips and patterns!