All about the garter stitch!
Garter stitch is the easiest of the knitting stitches. But it's also one of the most squishy and cuddly ones!
It turns out a little thicker than other stitches which makes it perfect for scarves, shawls, blankets, autumn cardigans, and other cozy things used during the cooler seasons.
And, it's also the perfect beginner stitch!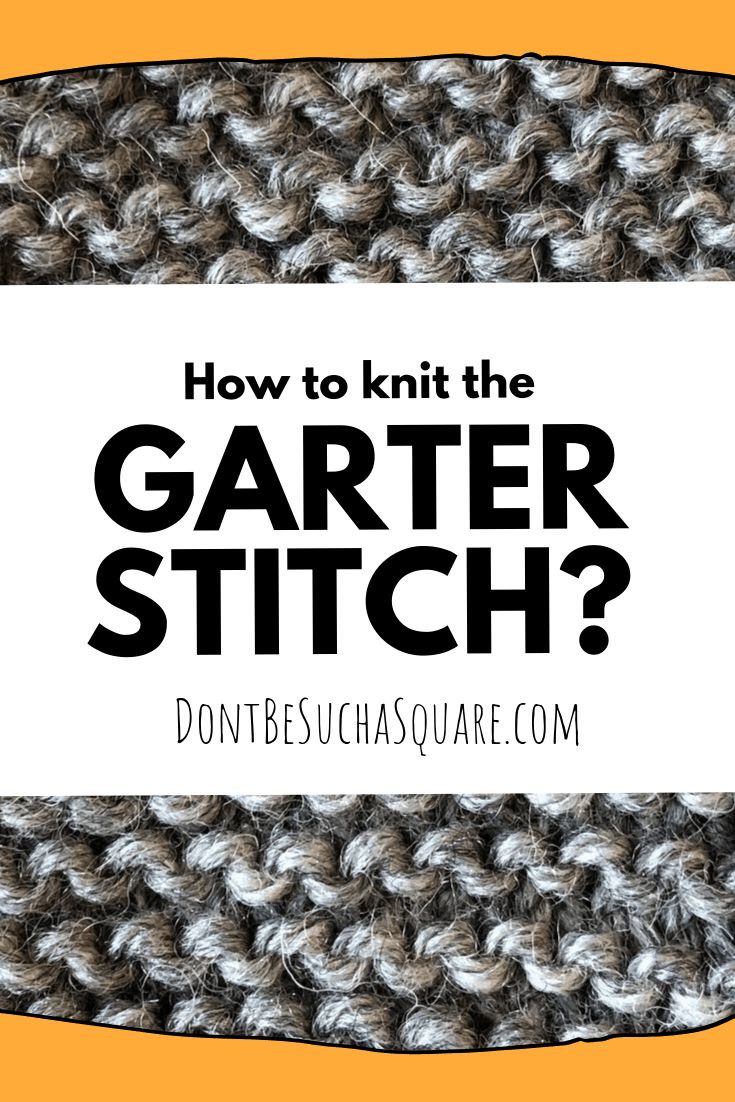 For more easy to knit stitch patterns check out my library of knit and purl stitch patterns!
What is garter stitch
This stitch is built up with only knit stitches, that's what's makes it so easy.
When knitting the knit stitch on every row it creates ridges that add up upon each other on both sides.
Garter stitch looks the same at the right and wrong side, and the ridges make it thicker and softer than most other knit stitches.
This stitch also has the nice feature of not curling at the edges!
If you knit a scarf or blanket like this it will be nice and flat. So there's no need to think about adding edges or lining for a garter stitch item. If you don't want to add if for other reasons, of course.
Video: How to knit garter stitch
Do you like video tutorials? Click here to subscribe to my Youtube channel!
Knitting garter stitch – this is how to do it
This stitch is easiest to knit flat. When knitting back and forth it's just knit stitches on every row. When knitting in the round you will have to add purl stitches.
Scroll down for more information about knitting garter in the round!
When knitting flat:
Cast on your preferred amount of stitches.
Knit the first row of stitches.
Turn your work over and knit your way back
Continue knitting like this until your work is long enough.
Cast off.
Tips for a neater edge
I usually add two extra stitches, edge stitches, when casting on. The edge stitches are used to create a smooth edge.
I lift the first stitch and purl the last stitch on every row.
The result of doing this is a nice and neat edge that looks like a chain of V-shaped stitches. It looks a bit like stockinette stitch.
This works for all sorts of stitch patterns.
Reading tip:
––> This post goes deeper into the art of knitting edges: 5 neat edges to refine your knitting projects
Knitting garter stitch in the round
When you knit this stitch in the round you have to purl every other row. Just as you knit the stockinette stitch flat.
I actually prefer to knit the garter stitch flat and seam the piece together when I'm done with the knitting. There are two reasons for this.
I don't like to purl
The jog that appears at the start of a new row
Reading Tip:
––> In this post I try a couple of ways to handle these issues No purl garter stitch in the round
Use as an edging to stockinette stitch
Garter stitch can be used for all kinds off projects on its own. But you can also combine it with other stitches and to take advantage of some of the garter stitch's nice characteristics.
One example is to add a garter stitch edging to a piece of stockinette. This won't just give your knitting a pretty framing, it solves a problem as well.
The stockinette stitch is keen to curl at the edges. Garter stitch doesn't curl so when you add it like an edge to a piece of stockinette you make sure that your finished piece will lay flat.
Reading Tip:
––> You can read more about how to stop your knitting from rolling here: How to prevent curling edges in stockinette
More inspiration!
Check out my Garter Stitch board on Pinterest. Don't forget to follow me to ensure that you're not missing out on great knitting hacks, patterns, and projects!