Barbie pillow crochet pattern – an easy and fast project
As an Amazon Associate and member of LoveCrafts affiliate program, I earn commissions from qualifying purchases at no additional cost to you.
This Barbie pillow is a super easy project to crochet. You only need to know how to crochet chain stitch, single crochet and, double crochet to finish this project. And there's no sewing involved!
The color changes are made at the beginning of the row so you only need to concentrate on the stitching during the rows.
And if you want to you could totally make this in a single color too! Or maybe just use a contrasting color for crocheting the pieces together at the end. That would make a cute pillow with a contrasting edging!
The pillow is designed to match this crochet Barbie blanket which has the same striped pattern! These two makes a great set 🙂
What do you need to get started?
I bet you probably already have some yarn in your stash that you can use for this project. You won't need much! But if you need to get some new supplies I have browsed Amazon for supplies.
I'm an affiliate for Amazon which means that I may earn a small commission if you buy something through these links, at no extra cost for you.
You will need a crochet hook in US size D / 3,25 mm. I use this aluminum hook from Boye, but I have been drooling over these led-light ones for a while now. I would really like to try them out!
Yarn is also needed of course! I used scraps of a cotton 8/4 yarn, that's my favourite type of yarn for crocheting and I also use it for knitting cute summer tops for my little ones.
If you're out of cotton yarn scraps this organic cotton 8/4 yarn sells at a reasonable price and the colors are nice too!
Polyester filling is found here, but honestly, you need such a small amount that you would do fine with some yarn or fabric scraps!
You will also need a wool needle and a pair of scissors.
How to change color
The stripes on this pillow are crocheted like this: 2 rows of double crochet in color A. two rows of single crochet in color B.
I don't like to weave in more ends than necessary, and I bet no one else does too?! So, instead of breaking the yarn after each row I just let it hang and pick it up again when needed. Remember not to pull the yarn too hard when crocheting the first stitch with your new color, if it's too tight your edge will be crammed!
Carrying the yarn up the side like this means that you will have visible yarn strands on that side. For this project, it won't matter because you will crochet around the edges when closing the pillow.
The Barbie pillow crochet pattern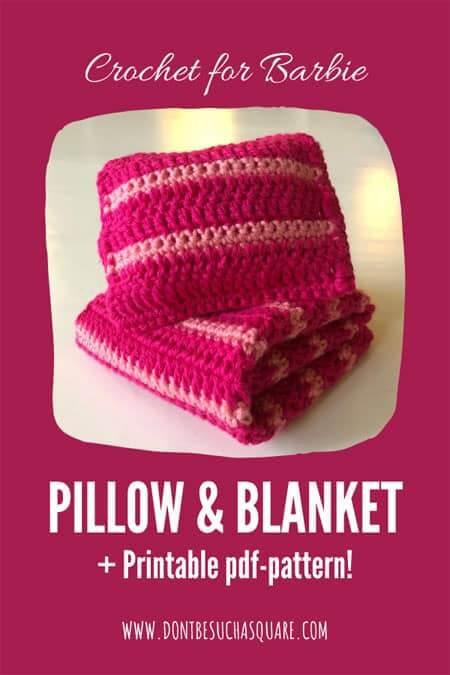 Materials
– Crochet hook: size US D /3,35mm
– Yarn: Scraps of Cotton 8/4, (Fingering weight cotton yarn)
– Filling: You need a small amount of filling. I used some leftover polyester filling. But small scraps of fabric or yarn ends would work fine too!
– Darning needle
Abbreviations
This pattern uses US abbreviations.
sc – single crochet
dc – double crochet
ch – chain
Crochet Barbie Blanket
Make two of these!
Chain 22 with color A
Foundation row: dc in the third stitch from the hook, dc across, turn (20 stitches, the 2 ch does not count as a stitch)
Row 1: ch 2, dc across, turn (20 stitches)
Now continue to work in pattern, work row 2–5 twice
Row 2&3: With color B, ch1, sc across, turn (20 stitches)
Row 4&5: With color A, ch 2, dc across, turn (20 stitches)
You should have 3 dc stripes in color A and 2 sc stripes in color B.
Do not cut the yarn! Just pull out a bigger stitch so it won't unravel.
Weave in all ends.
Stitch the pieces together
It's time to transform the pieces into a pillow. Place the pieces on top of each other.
Continue to crochet from the corner where you left your live stitch and ch 1. You're going to sc into the edge of both pieces to seam them together. One sc in each stitch along the long sides and two sc in each stitch along the short sides. Make three sc in the same stitch in the corners.
Paus when you have closed three sides to stuff your pillow. Then crochet the last side closed. Cut the yarn and pull it through your last stitch and weave in the tail.
Add an edging
If you want to you can use this round of single crochet as a foundation row for a pretty edging.
Want to print this pattern?
It can be nice to have your pattern on paper. At least I think so!
Therefore I also make printable pdf versions of my patterns. The pdf:s are free from ads, and you can store them on your device or print them directly from your browser.
If you want to print or save this pattern click here to open up the pdf in a new tab!
More like this:
––> Crochet Barbie Blanket
––> Crochet Barbie bag pattern
––> Barbie socks knitting pattern
Helpful printables for crafters!
I really enjoy graphic design and layout, so there is more where that pdf came from! Check these printables out to see if there is something you can put to use!