Crochet a versatile (and easy!) bag for your Barbie doll
As an Amazon Associate and member of LoveCrafts affiliate program, I earn commissions from qualifying purchases at no additional cost to you.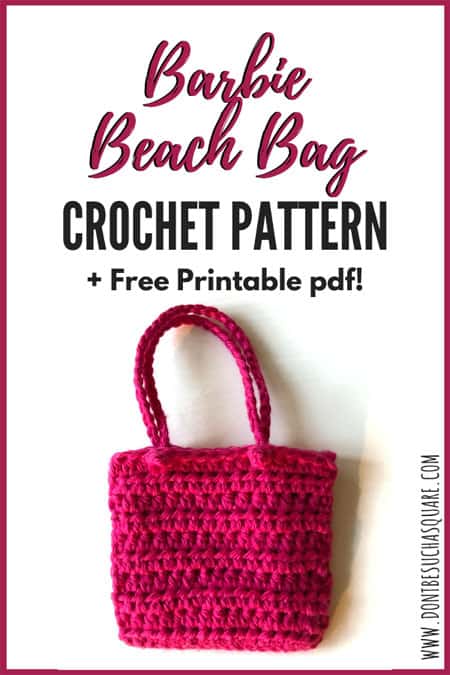 This Barbie crochet bag pattern is really easy to make. It's a perfect little project for kids learning to crochet (or adults!)
We will only use two kinds of stitches and there are no increases or decreases to keep track of!
A versatile bag for Barbie
This basic bag is simple but versatile. It can be used as a shopping bag, beach bag, picnic bag or a big purse.
Play with the design!
The Barbie bag pattern is lovely on its own. But it's also a blank canvas. Let me give you some ideas on what you can do with it!
You can choose whatever colors you like, make it striped in the colors of the rainbow or black for a more chic look.
This bag can be embellished in numerous ways. Add some beads, cute buttons, mini-tassels or embroidery to match your dolls outfit. Or maybe a small crocheted application?
The shoulder straps can be made in a different color, changed for a thin chain, looked with a cute bead or made out of jute yarn.
What do you need to get started?
This page includes affiliate links. When you click on any link from Don't Be Such a Square to Amazon, I receive a commission on the sale. It doesn't cost you anything extra and helps support the site.
To crochet this bag you will need a crochet hook in US size C or 2,75mm.
I use this aluminum one and it does the job, but I would rather have these beauties with LED-light! They look so cool and I would definitely gain more popularity on the couch if I didn't need to have the light on when we're watching movies at night… both hooks are found on Amazon.
You will also need some yarn that's suitable for the hook, I used leftovers of an 8/4 cotton yarn. You can use any type of yarn as long as it's the appropriate weight.
If you need to buy yarn, this organic Egyptian cotton on Amazon is a good choice. It's nice to the planet and your wallet and there's enough for a whole Barbie wardrobe in one skein!
A wool needle is needed for seaming the parts together and weaving in the ends.
The Barbie bag crochet pattern
Abbreviations:
ch – chain
hdc – half double crochet
Crochet two squares
Chain 17. The bag is going to be 15 stitches wide, and the two extra stitches are the first hdc of the next row.
Foundation row: Make a hdc in the third ch from the hook, hdc in each ch across. Turn. (15hdc)
Row 1–9 Ch2, hdc in same stitch, hdc in each stitch across. (15hdc)
After row 9, cut your yarn leaving a tail long enough to sew the parts togheter later.
When you have made two squares sew the parts togheter on three sides.
Make the shoulder straps
You will need to make two shoulder straps.
Chain 50 stitches and weave in the tails.
Thread one end of the strap between hdc 4 and 5 in the last row of a square so that you have the end on the outside of the bag. Make a knot to prevent the strap from slipping through the stitches.
Thread the opposite end of the strap between hdc 10 and 9 on the same square and finish it of in the same way.
Add the other strap the same way on the opposite square.
Want to print this pattern?
It can be nice to have your pattern on paper. At least I think so!
Therefore I also make printable pdf versions of my patterns. The pdf:s are free from ads, and you can store them on your device or print them directly from your browser.
If you want to print or save this pattern click here to open up the pdf in a new tab!
More like this:
––> Barbie blanket crochet pattern
––> Barbie socks knitting pattern
Take a look at these printables!
I really enjoy graphic design and layout so there is more where that pdf came from! Check these printables out to see if there is something you can put to good use!