Get organized with a Printable Inventory List for your Hooks & Needles
Do you find yourself wondering if you have needles/hook in a particular size? Maybe ordering some just in case? Or does your knitting /crochet tools need some organization?
Then you're in need of this printable inventory list for knitting needles and crochet hooks!
Don't try to print the image, it's way too small. You'll find the links to the print files at the bottom of this post!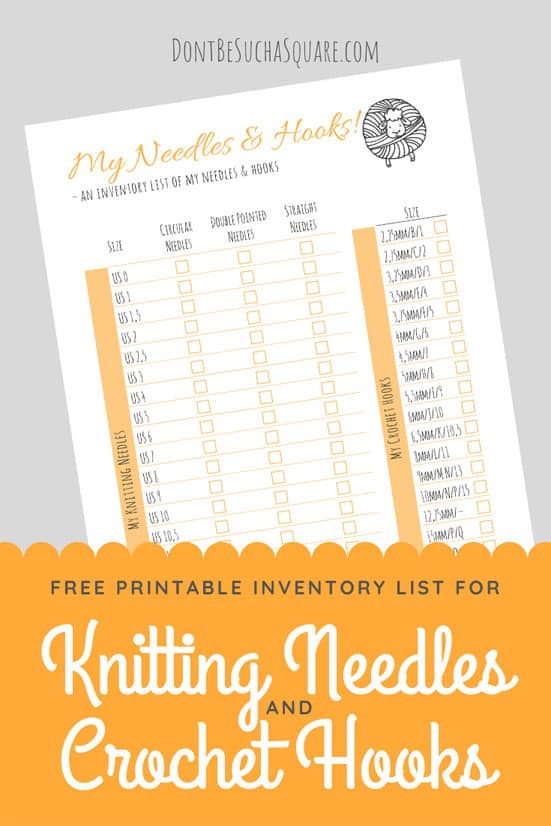 The needle and hook inventory list helps you to keep track of your most important tools. Who doesn't love to be organized?!
The checkboxes for every size and type of needles + hooks ensure that you never gonna buy several of the same sort again! And I left some space between the boxes if you'd like to add which lenght your needles are.
The list has boxes for straight needles, circular needles, and double-pointed needles as well as for crochet hooks, because we need them all, right?!
Reading tip:
––> Why knitters need crochet hooks? Read this post to find out!
Project planning series
The inventory list is part of my stitching project planning series that I'm working on a bit now and then. I have already done a knitting project sheet and a list to check off your planned, ongoing, and finished projects.
Click the images to read the post and get the print files, don't print the images – they are too small and will be blurry if printed!
Separate sheets for US, UK, and MM sizes
It's confusing with all the different sizing systems used for crochet hooks and knitting needles. Therefore I have put together this Conversion chart for knitting needles earlier. (I'm planning to do one for crochet hooks as well!)
All the sizing methods used are also the reason I made three versions of this inventory list. One for US sizes, one for UK sizes, and one for mm.
I really hope you put these to good use!
At last, the inventory list print files!
So here they are, the links to the inventory list print files!
As I mentioned before these are available for US, UK and mm sizes, so be sure to pick the right one to print.
Instructions for printing:
Materials needed: You need a printer and paper. If you like to put the sheet in a binder you'll need a hole punch too.
Click the link with your preferred sizing system
A pdf will open up in a new tab in your browser. These files are made in A4-format if you have another standard format they may come out too small or too big.
Download the pdf to your device or print directly from your browser
Make holes with a hole punch if you like to put the list into your binder.
Start organizing and checking those boxes!
US – Click here to print the inventory list for knitting needles and crochet hooks in US sizes.
UK – click here to print the inventory list for knitting needles and crochet hooks in UK sizes.
mm – Click here to print the inventory list for knitting needles and crochet hooks in mm sizes.