As an Amazon Associate and member of other affiliate programs, I earn commissions from qualifying purchases at no additional cost to you
Review: HiyaHiya Interchangeable Knitting Needles – after using them for seven years!
In early 2014 I bought a set of interchangeable knitting needles from HiyaHiya. It was love at first sight, and it still is! I thought that writing a review of this HiyaHiya set now, seven years later, would be really helpful for anyone interested in buying a set.
If you made a search and ended up here, I bet you are curious about this type of needles, and I will tell you all about them!
But first, let me tell you the story of why I decided on this knitting needle kit in the first place and how it has helped me.
(Want to see the price for the set I'm talking about? it's still available on Amazon!)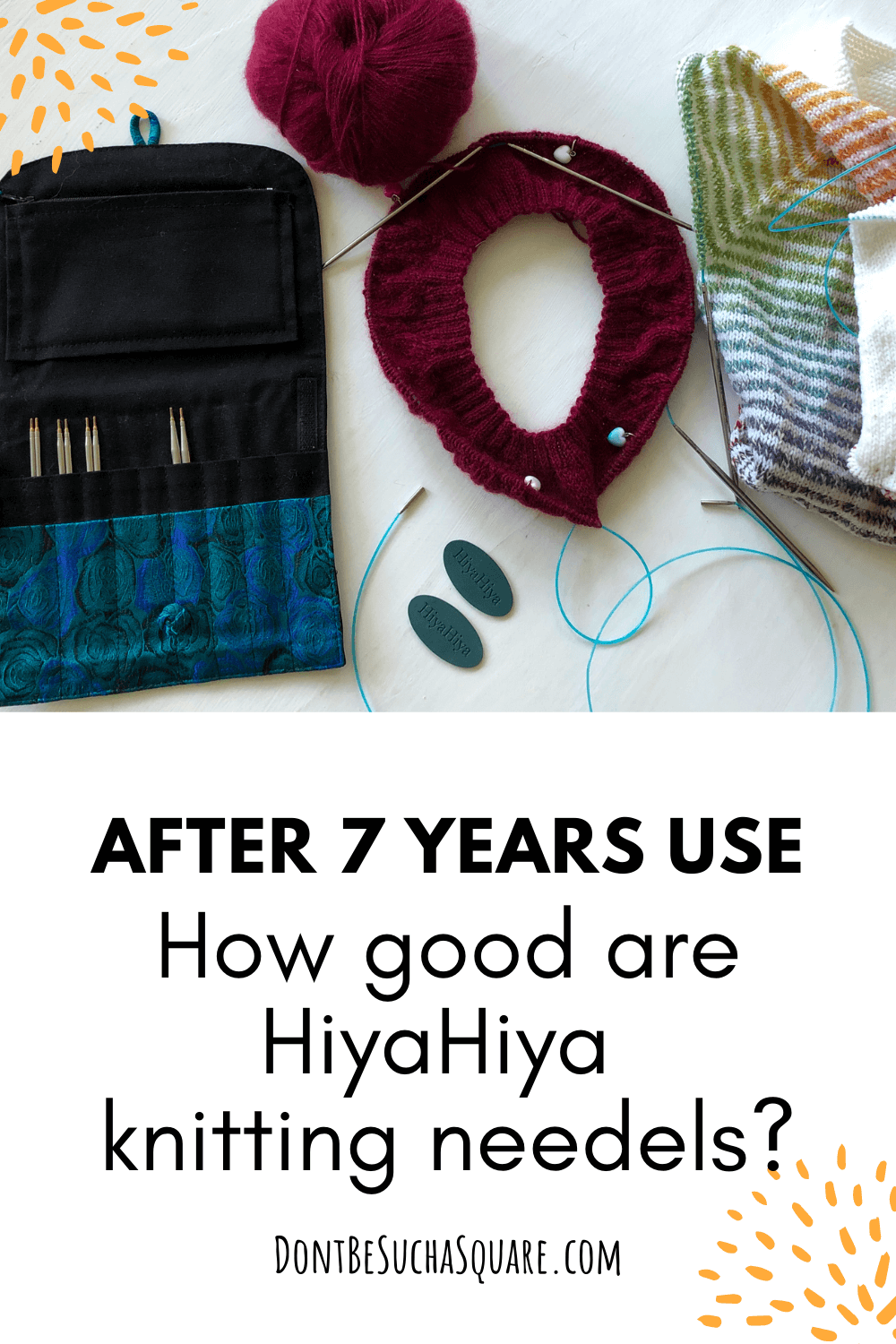 When knitting gets stressful
Seven years ago, all I wanted was to knit, sip on my coffee, and watch tv in peace when my little ones were napping. This was before I fell down the rabbit hole of Netflix, or Knitflix as I prefer to call it. It feels like another lifetime…
Anyhow, I really needed that downtime as I tend to get easily stressed and anxious. But instead, I spent a lot of time trying to figure out how to properly store my needles, storing and organizing circulars where a nightmare for me. Everything just ended up tangled together in a big ravel all the time, and I felt sad and stressed and longed for some order.
I also started to realize how much money I was spending on cheap circulars that actually was quite bad to knit with. You know, stiff cables, joints that snags the yarn, blunt tips, et cetera. And to make things worse, I also got duplicates all the time because I didn't know what I already had at home!
To summarize:
My knitting needle situation was bad and totally out of control…
Stress and knitting don't belong together
Of course, stress and knitting don't belong together. For me, at least nowadays, it's the opposite. I knit to get stress relief and comfort my anxiety.
You can read more about the health benefits of knitting in this post!
From stressful knitting to peaceful knitting!
I first heard of interchangeable knitting needle sets on a knitting podcast. They were talking about the beauty in only needing one pair of tips in every size and one cable in every length. I almost couldn't believe it!
This information literally blew my mind and I knew I needed to get one of these sets!
I laid ridiculously amounts of energy on finding the perfect set of interchangeable knitting needles. And after using them for several years, I can positively say that I did!
This is what I found: The HiyaHiya sharp small set.
How this set helped me turn knitting from stressful to stress relieving
The day I got this set in the mail was a happy day! This was the day I could begin to turn my knitting stress back into knitting cozy time again.
I started knitting with the tips and cables in the set and noticed that it actually worked! These are the main reasons this set helped me so much:
Easy to use:
These 7 pairs of tips and the 4 cables was all I ever needed! From those, I was able to assemble all needles for the projects I wanted to knit, and my days of constantly buying new needles were over. The cables are both flexible and swivel, which makes knitting straight, in the round, and magic loop a breeze.
Storage:
All parts of the set have their own space in the case which makes it super easy to keep everything in order! It's also easier to store tips and cables detached than storing fixed circulars.
Having it all put away in a small case is important in two ways for me. First, I never have to search for anything, it's all in one place. Second, the case can easily be popped into my bag and I can leave the house (or enter the sofa!) knowing I have everything with me.
Price:
Money was one of the things that I stressed out over. But after I bought this set of HiyaHiya interchangeable knitting needles I don't have to buy any more needles. And I certainly won't buy duplicates ever again, as I know exactly which sizes and lengths I have at home.
This set can feel a bit pricey, but it's high quality and I expect it to serve me for many more years. If I had bought it right away instead of buying all those fixed circulars first, I would have saved a lot more money!
HiyaHiya interchangeable set
The set I use is the HiyaHiya sharp small set. Small, in this case, points to the needle sizes rather than the size of the set.
I prefer to knit with smaller needles, so this was a no-brainer for me. But, if you like larger needles or want all sizes, you should take a look at these sets:
The large set includes tips in the larger sizes US 8–15
The deluxe set includes 13 tips in sizes US 2–15 and a bunch of notions like stitch markers, yarn snippets, and wool needles.
These needles are a blast to knit with! They are kind of expensive, but you won't need to break the bank to get them. And they are worth every penny!
What's included in the set:
Seven pairs of tips in sizes US 2, 3, 4, 5, 6, 7, and 8. Or 2,75mm, 3,25mm, 3,5mm, 3,75mm, 4mm, 4,5mm, and 5mm if you use the metric system!

The tips in the set I have is are 5″/13cm long, but 4″/10cm tips are also available.

Four blue small cables in sizes 16″, 24″, 32″ and 40″ / 40cm, 60cm, 80cm, and 100cm.
Rubber grips for easier attachment, the tips are screw-on, and no keys or other tools are needed.
One cute brocade case keeps your knitting tools organized and easy to bring with you. Mine is blue, but the colors variate, all are beautiful, deep, jewel-like colors!
HiyaHiya review: What do I think about this set seven years later?
I'm impressed by the quality of these needles! The set has been heavily used for over seven years now, and it's still like new.
All pieces are still intact, the cables are flexible, the joints are still smooth and the tips still fits perfectly with the cables. The brocade case has been with me in handbags and tote bags but hasn't been worn out.
I thought that maybe the thinnest tips would bend easily, but they haven't so far, and the engravings of the size on the tips and cable fitting are still clear and easy to read too. Small but clear 🙂
HiyaHiya gives a lifetime warranty on their products, and I understand how they can do that. Nothing ever seems to brake!
These are the reasons that I'm so impressed by these needles and want to recommend them to my fellow knitters:
The tips:
These tips are sharp, and I love it! The sharpness makes it easy to knit stitch and lace patterns as well as stockinette.
The metal tips let my stitches slip smoothly, allowing me to get into a good knitting flow.
The tips are lightweight and get warm in my hands surprisingly fast.
The sturdy tips are durable and still as straight as the day I got them in 2014. The size inscriptions on the tips and joints haven't been worn out at all.
The cables
The flexible nylon cable is lightweight and doesn't weigh down my knitting.
Swivel cables rotate 360 degrees, this ensures that the cable doesn't twist while knitting.
One of my cables have got a little bit of a kink, but nothing that disturbs my knitting. Otherwise, the cables and joints are as good as new ones seven years later.
Joints and threads
The joints between tips and cable are smooth and let the yarn slide easily.
It's easy to screw on and unscrew the tips, especially when using the rubber grip included. Yet, they rarely start to unscrew while knitting.
When they occasionally do unscrew the thread is long, and I have always been able to see it and screw them back before they came apart. No lost stitches yet! (And those times I have been lazy and skipped to use the rubber grips… my fault)
The case
The case is practical and looks cute. There's room for the tips inside, and some additional slots to add more sizes.
There are also two zippered pockets, one for the included cables, and one to hold your knitting notions.
Now that I have used mine for several years it starts to show that it's been used, but not as much as one could believe.
If you wish for something more: Extras
There is extra equipment that you can buy to complement your HiyaHiya set like cable connectors, extra tips, and cables, adapters to use large needles with small cables, and a lot more. Who doesn't love to get a little extra?
Read more about extra equipment in this post!
Let's wrap it up!
After knitting with this set for several years now, I can truly say that I enjoyed every minute of it.
All details are functional, and the parts work together perfectly. I strongly recommend all my fellow knitters to pick a set from HiyaHiya if you're going to buy a set of interchangeable needles.
All sets of interchangeable knitting needles have some great benefits:
They're easy to use
You need fewer needles
The storage is effortless
You save money on getting a set instead of loads of fixed circulars
But HiyaHiya sets differs on a few points:
High quality – after all I have had mine for over seven years now
Super smooth joints
Flexible swivel cables
Life time warranty
A cute brocade case
Lifeline holes
Sharp metal tips
For me the set I bought seven years ago definitely was a game changer that made knitting that calming and at the same time fun hobby that I needed (and still needs) to keep my anxiety at manageable levels.
For you it may be something else. Like the satisfaction of knitting on smooth high quality needles, the joy of organizing everything in a pretty case, or that it easy to take all of your needles with you in your knitting bag.
We all have different reasons, and no matter what yours are, you deserve a set of interchangeable knitting needles.
Click the button below to order your set today!
Your next read:
––> 5 accessories from HiyaHiya that make your set of knitting needles even more useful
––> Interchangeable vs fixed circulars – whats the difference?
––> Best gifts for knitters in 2020!