Lace weight yarn is a group of the lightest/thinnest yarns. Lace weight yarns are popular for knitting or crocheting beautiful lace shawls or holding together with other yarn to obtain effects like glitter, fluff, or adding color.
Yarn weights are divided into groups to make it easier to talk about yarn. As mentioned lace is the lightest category of yarns. These are all the groups in order from thinnest to heaviest:
Worsted/Aran
Bulky
Super bulky
What marks out a lace yarn?
Yardage/meterage: 650 yards or more / 600 meters or more per 100 grams of yarn
Gauge: 32 stitches or more on 4 inches / 10 cm. Which is the same as 8 stitches or more per inch
Knitting needles: US 0–1,5 or 1,5–2,5 mm
Crochet hook: US B/1, 2,25mm or steel hooks 1.6 to 1.4 mm
Please take into consideration that these numbers are only recommended. All yarns are different, and so are knitters too 🙂
Lace yarn can also be called:
Thread
Cobweb
Light fingering
Group 0, lace
2 Ply
What needles to use with lace yarn?
Well, it depends. The recommended needles are US 0–1,5 or 1,5–2,5 mm. If you are planning on doing a project that's made in lace yarn and has the recommended gauge of 32 stitches or more on 4 inches / 10 centimeters one of these sizes would be your starting point.
If you get fewer stitches than the gauge you are aiming for you need to try smaller needles. And the opposite, if you get too many stitches you need to switch to larger needles.
But, if you are going to knit a lace pattern you will need much larger needles than the recommended size. When knitting lace stitches the goal is to create an airy fabric with a clearly visible lace pattern. To achieve this goal the needles need to be a lot larger than the yarn to create bit stitches.
A little tip on the way for knitting lace is to never decide on anything before wet blocking a swatch.
Lace knitting can look a bit like a disaster while you work on it only to turn out perfectly beautiful once the stitches open up properly!
What crochet hook suits lace yarn?
At most times your yarn label and/or crochet pattern will tell you what hook to use. But sometimes the label doesn't say and you want to freestyle something.
Then the recommended hook sizes are a good place to start. For lace weight yarns the recommended hook sizes are US B/1, steel hooks 1.6 to 1.4 mm, or the European 2,25 mm hook. You will also have to take your personal touch into consideration. Just like in knitting, it's not sure that two persons using the same yarn and hook size will end up with the same gauge.
Worth noting is that crocheting lace doesn't require a larger hook size than other types of crochet, instead, lace patterns are created with chains and long stitches. I just wanted to mention this as it's different from knitting where you typically use knitting needles that are several sizes bigger than the recommended size for lace patterns.
The material and type of hook can also play a role as some materials like steel for example is more slippery than wood or bamboo hooks.
What to make with lace yarn?
Lace weight yarn is used for a wide range of projects. You can use it for pretty much anything you would make with thicker yarn, but it will turn out thinner and the process will be more time consuming.
The lightweight lace yarn lends itself really well to light summer projects like shawls, wraps, or t-shirts, and featherweight mohair sweaters and cardigans.
But is also good for making home decor items with great detailing. I'm thinking of things like doilies, table runners, and coasters as well as smaller items like bookmarks.
You can also use several strands of lace weight yarn held together to create a thicker yarn. This way to can mix together colors and textures to your liking.
I have gathered a few cute projects to knit and crochet with lace weight yarns. I hope you find some good inspiration in these!
This post contains affiliate links. As an Amazon Associate and member of other affiliate programs, I earn commissions from qualifying purchases at no additional cost to you.
Crochet patterns for lace yarn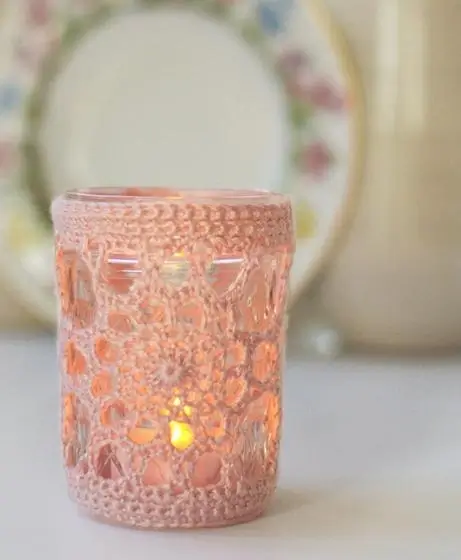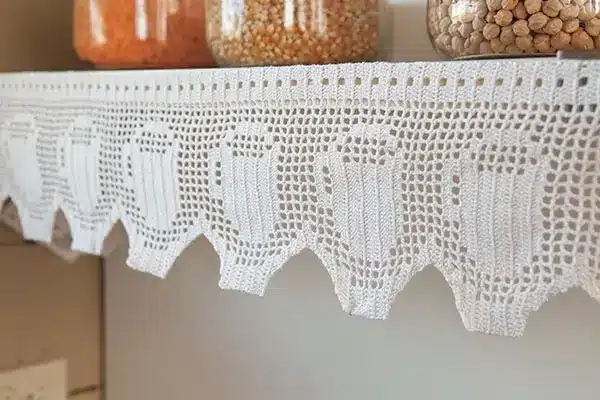 Crochet Trim With Teacups
This pattern is named the Shelf and Curtain Trim and it's so darn cute! Make as many teacups repeats as you need to fit your space.
Buy the pattern and yarn from KnitPicks
Knitting patterns for lace yarn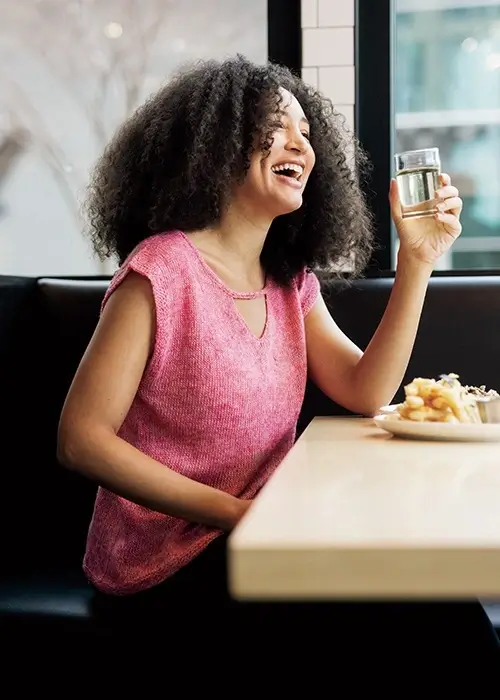 Doria Tee knitting pattern
The Doria Tee knitting pattern has a trendy cut-out at the neckline. The pattern calls for a lace yarn called Voliere.
Voliere is a blend of linen, mulberry silk, and baby alpaca available in summery candy-like colors!
Get the pattern and yarn from KnitPicks!
Blue Smoke Stole
The Blue Smoke Stole is pure luxury!
A lace weight mix of kid mohair and silk makes a soft and lightweight accessory that's wearable for many occasions.
You only need 25 grams of yarn to complete the stole, which also makes it budget-friendly!
Buy the yarn pattern to knit the Blue Smoke Stole from KnitPicks
Nordic Star Pillow
The Nordic Star Pillow is a beautiful design. It's made with one baselayer of worsted yarn and then the beautiful lace pattern is made on top.

Buy the pattern and yarn from KnitPicks
More to read about yarn weights