How to knit stockinette stitch without purling?
There are a lot of different techniques to try in knitting. Some you'll love, and, some you'll, well, not love that much … For me, it is the purl stitch. I really don't like to purl! My purl rows always turn out a bit loose and my purling are soooo slow.
I actually avoid purling when it's possible, but sometimes I have to purl, or do I?
Drumroll, please! I have found a way to avoid purl stitches altogether! Let me introduce: Knitting backward.
Knitting backward – skipping the purls in stockinette
Knitting backward isn't a new technique, but I first heard of it a while ago. Of course, I had to look into it, and as I grew to love it I had to share it with my fellow knitters.
Knitting backward is exactly what it seems, instead of turning your work over after a knit row to purl the next row, you just knit that row backward and that produces the same result as purling that row.
Knitting backward saves you a lot of purling, AND, a lot of time spent on turning your work over and picking up the yarn again.
This technique doesn't only allow you to knit the stockinette stitch without purling and save you a bunch of time. It actually can simplify things in a few ways:
Following knitting charts
Knitting short rows and sock heels
Knitting pieces with few stitches
Entrelac knitting
Knitting backward makes the following of charts easier
Charts are commonly used in knitting in many ways. Charts are a visual complement to written instructions used for everything from simple stitch patterns to intricate colorwork.
When knitting backward you don't have to turn your knitting and are able to see the front of your work at every step. You can see your pattern grow the whole time, this makes reading and following charts a lot easier.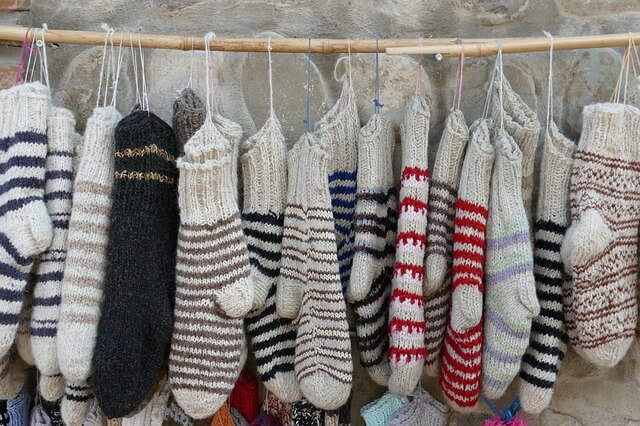 Knitting short rows – knitting socks
Knitting short rows involve a lot of turning your work over. If you knit back, instead of turning and purling, it saves you a lot of time and makes it easier to keep track of what you are doing and where you should do it.
When knitting heels for socks short rows are often used for shaping. This is a good example of when knitting backward can save you a lot of time.
Knitting pieces with few stitches
When knitting stockinette with just a few stitches you are constantly turning your work. If you knit backward, instead of purling, you save a whole bunch of time and effort as there's no need to stop and turn.
Entrelac knitting
Just as when you are knitting with a few stitches, entrelac forces you to turn your work over a lot. But, not if you are a backward knitter! This will make it easier for you to keep track of which side you supposed to be knitting on. This could just save your sanity!
If you want to learn this technique, continue to read! But, if you like your purl stitches and still aren't convinced that's just fine!
In that case, I suggest that you scroll down and take a look at the printable knitting-themed coloring pages I have created instead!
Let's get started with knitting backward!
Learn to knit backward
Knit one row just like you always do, but, when you have knitted the last stitch you don't turn your work over. Now you are going to do the knit stitch backward, in the other direction, that means you will be knitting the stitches from the right needle back over to the left needle again.
I knit continental and hold the yarn in my left hand. When I'm knitting backward I thought it was a struggle to wrap the yarn at first. Then I learned to let the needle pivot, resting at my right index finger, and wrapping became a breeze.
If you are used to holding your yarn in your right hand, I think that can be even easier.
Short video tutorial
I have made a short video on how I do the knit and the knitting backward rows. For those that rather read instructions, there are written ones further down!
Written instructions on knitting backward
Begin by placing your yarn at the back of your work. Then insert your left needle in the left leg of your stitch, the tip should come out behind the right needle.
Wrap your yarn around the left needle, from the back to the front and pull it back or upwards for tension.
Finish the stitch by pulling the yarn loop through the stitch and slipping the old stitch from the right needle, then it should look something like this.
Well done! Now you have done your first backward knitting! That's wasn't too hard, right? Now all you have to do is practice until it sticks!
Purling backward
Sometimes it can come handy to be able to purl backward, like when knitting a chartered stitch pattern. As mentioned before, if you don't have to turn your work over and knit from the backside it's a lot easier to follow a chart.
If you liked this post, I bet you like this one too 🙂
––> Learn how to Knit the Purl stitch backward, in words, pictures, and video.
Now, take a break …
… and take look at the free knitting themed coloring pages down below.
if you want to print them out to use, just click the links, they will take you to the right blog post where you can print out the pages.
And, if you like this post and the freebies, be sure to pin them and follow Don't Be Such a Square on Pinterest for more knitting hacks and freebies!
Click here to grab a copy of my "Knit fast – die warm" coloring pages. Or, click here to take a look at the Keep Calm and Count Sheep coloring page!