This post contains affiliate links. As an Amazon Associate and member of other affiliate programs, I earn commissions from qualifying purchases at no additional cost to you.
The easiest way to knit a baby blanket!
Are you about to knit your very first baby blanket?
Or maybe you're an experienced knitter, but curious about trying to knit without a pattern?
Either case, this project is for you. There's no pattern involved, you can use whatever yarn you prefer, and knit up any size you want!
A baby blanket is an easy project to start with because of its rectangular shape, as well as the fact that the fit can't go wrong.
I mean, if a baby blanket turns out an inch wider than you had calculated for, it's not a big deal.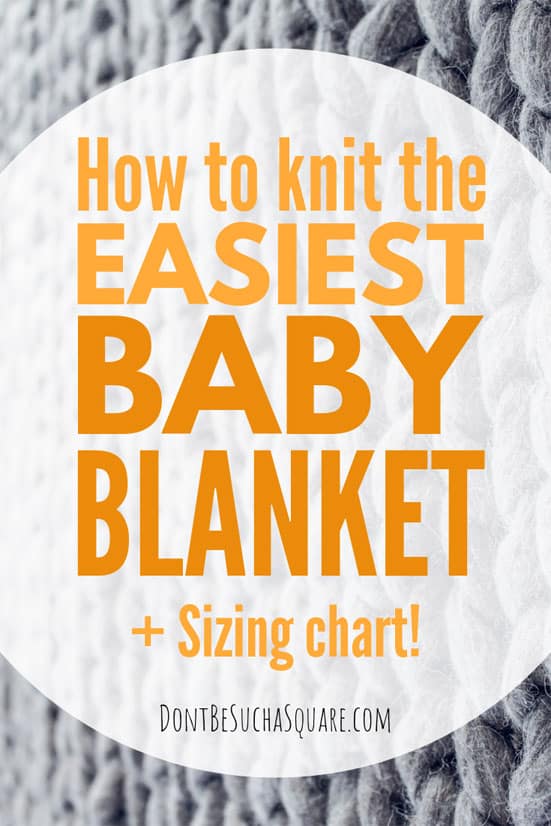 The benefits of knitting without a pattern
It's absolutely nothing wrong with following a pattern. It's just that I think it's fun to learn new things and to grow as a knitter.
When I'm winging it, I can be more creative and get a new project going faster as I don't have to search for the right pattern and yarn to match it.
I like the freedom it gives, and if you think you would too, give it a try with this baby blanket! Or make it a dishcloth or an adult size afghan if that's your desire 🙂 Being able to knit without the need to follow a pattern is a good feeling!
In this post, I show you how to knit a baby blanket in any yarn, size, and stitch pattern, without the need to first find a pattern!
Instructions for knitting the easiest baby blanket
So, now fellow knitters, we're going straight to the fun stuff, it's time to pick your yarn!
If you're knitting for a baby, there are a few key things to have in mind.
Softness, look for a yarn that's as soft to the touch as possible.
Time of year, a warm and cozy fiber like merino wool is perfect for the cooler months. For the warmer season cotton or linen can be a better choice.
Weight, don't pick the heaviest yarn weights for babies, the fabric can be too dense and heavy for their little bodies. Thin yarn weights are great for warmer weather. Just remember that the thinner the yarn the longer time your knitting will take to finish! New to yarn weights? Then this post will give you some clarity!
Fuzziness, do not pick a fuzzy yarn (like angora for example) for a baby blanket. The fibers creating all the fuzz can easily get into infants airways.
Natural fibers, always look for natural fibers. They have the best qualities that help keep your little treasure comfortable. Natural fibers help regulate temperature and, if produced in a sustainable way, the ones that won't contain harsh chemicals that can harm your little one.
Organic, as mentioned in the previous paragraph, natural fibers are a better choice than the manmade variations. But they have to be organically produced and dyed too. Read more about the subject here!
Washable, babies produce a lot of laundry, that's no secret… And parents with babies does have other things on their mind than hand washing, so it's a good idea to pick a yarn that can be put in the washing machine.
Some suggestions on fibers to choose for babies
Reading tip:
––> Best Baby Knitting Yarns – What to think of when knitting for babies + yarn suggestions
---
---
Common blanket sizes for newborns and toddlers
There are some different blanket sizes to choose from when knitting blankets for babies and small children. It all depends on how the blanket is going to be used.
For example, a blanket intended to be used to keep the baby warm and cozy in the car seat can't be as large as a blanket that's going to be used in a crib.
How much yarn is needed for a Baby Blanket
Now that you have picked yarn for your baby blanket project, it's time to estimate how much yarn you will need.
There are two scenarios.
If you have a yarn label:
If you have a yarn with a yarn label attached to it you will find the estimated gauge stated as X stitches per inch or 4 inches. Or X stitches per 10 centimeters if you're using the metric system. In this case, you can use the table at the right to see how many yards/meters you will need.
Then you look at your yarn label again to see how many yards/meters of your yarn there are in one ball. All you have to do now is divide the amount of yarn you need by the amount of yarn on one ball to get the number of balls needed.
If you don't have a yarn label:
Wheater your yarn is a stashed treasure that's lost its label, a mystery yarn from the thrift shop or you have spun it yourself you will need to determine the gauge to know much you will need for your project.
Knit a swatch!
Begin by choosing a pair of needles that you think will suit the yarn and knit a square or rectangle. The knitted piece should be big enough for you to measure for gauge, and then some.
If you need help measuring your gauge or on how to knit a swatch, please jump over to this post for more help with that!
When you're done swatching, you can use your square not only to measure your gauge but also for estimating if you have enough yarn!
How to estimate how much you need when knitting in a "mystery" yarn
Measure the sides of your swatch and multiply the length with the width. This is the area of your swatch.
Now do the same with the measurements you want your finished blanket to have.
Divide the area of the blanket with the area of the swatch. This tells you how many times bigger your blanket will be compared to your swatch.
Put the swatch on a scale. Then multiply the weight of the swatch with the number you got when dividing the area of the blanket with the area of the swatch.
This number is a rough estimate of how many grams of yarn you will need for your project. Put your mystery yarn on the scale and see if you have enough.
How many stitches to cast on for a baby blanket?
How many stitches you need depends on two things:
Which size your finished blanket will have
Your gauge (how many stitches per inch/stitches per 10 centimeters)
Take the measurement for the width you want your finished blanket to have, refer to the sizes in the graphic. Multiply it by your gauge, this is how many stitches you should cast on.
If you're using the metric system: Be aware that the blanket sizes are given in centimeters and we usually state gauge in stitches per 10 centimeters. This means you have to convert one of the numbers to get the same units or take one zero off your cast on number to compensate.
How to knit the easiest baby blanket
Which needles should I use
Use the needle size suggested on your yarn label, or if you did a swatch, use the same needles. If you change needles your gauge will change and so will the size of your finished piece.
Is it possible to knit a baby blanket on straight needles?
Yes, if you can manage to fit all the stitches on a straight needle. You can also knit a baby blanket on straight needles if you knit it in smaller squares or strips and sew them together.
Do you need long needles to knit a baby blanket?
Yes, if you want to knit a large blanket on straight needles, you need long needles to fit all your stitches.
How to knit a blanket on a circular knitting needle?
If you're knitting a larger blanket size and/or in a thicker yarn it's a good idea to knit back and forth on a circular needle.
To knit a blanket on a circular needle you knit the same way as on straight needles. Knit the first row and turn your work over to knit the next row. Work back and forth just like on your straight needles!
Perks of knitting a baby blanket on circular needles:
A circular needle can hold a bigger amount of stitches
Circulars let your work rest in your lap and save your wrists, arms, and shoulders from the strain of the weight of the knitting procject.
Reading tips:
––> How to avoid pain when knitting
––> Circular knitting needles for beginners
If you are thinking of buying circular needles I suggest you consider a set of interchangeable knitting needles.
Cast on
Cast on the number of stitches you calculated in the previous step.
The long tail cast on is a beginner-friendly technique, it was the first one I ever learned and I still use it!
Reading tip:
––> Circular needles tutorial This post includes a video of how to do the long tail cast on.
Start knitting
Knit until your piece is long enough, that would be the length of the size you choose from the chart earlier.
You could choose to knit the blanket in garter stitch, which makes a nice squishy fabric. This is the easiest option and perfect for beginners as you will only have to do the knit stitch.
If you wish to knit your blanket in stockinette stitch that will make a smoother surface. Just keep in mind that you have to add some edging to your blanket to prevent it from curling!
Reading tips:
––> Prevent curling edges in stockinette
––> Tips for knitting smoother stockinette
Structure and/or lace patterns are fun to knit and can be both subtle and bold, depending on the pattern/yarn combination. A rule of thumb when going for the more complicated stitch patterns is to pick a yarn that will make your stitches justice.
Reading tip:
––> How to pick yarn for my next knitting project?
Attach new yarn
When you need to attach a new ball of yarn the easiest way is to just knit five stitches with both the strands of the new and the old yarn and leave the tails for weaving in later.
This works fine for wool yarns that easily stick together, and you can even do it with cotton and linen if you knit the strands together for ten stitches or so, and are careful when weaving in ends later.
If you think that knitting two strands together gets too bulky you could use one of the many ways to joining yarn available. The Russian join, here described by Ellen over at The Chilly Dog, looks intriguing but I haven't tried it out yet. This method allows you to join the strands together that rules out the need for weaving in ends. It sounds like music in my ears!
Binding off
Binding off is the process of removing your live stitches form your needles and securing them, so your knitting won't unravel.
There are a bunch off different methods for binding off your knitting, and you could pick whichever you like to. But, as this post is all about knitting the easiest baby blanket, we will go with the easiest one.
Basic bind off:
Knit two stitches
Insert your needle into the first stitch you just knitted, pull the stitch over the second and let it slip off your needles. Now you should have one stitch left on your right needle.
Knit one stitch
Repeat steps 2 and three until there are no stitches left on your left needle and 1 stitch on your right needle.
Cut your yarn, leaving a long enough tail to be able to weave it in, 5 inches/15cm or so will do.
Pull the tail through your last stitch to secure the stitch.
This bind off works just as well with purl stitches as for knits and purls mixed like ribbing or another stitch pattern. Just switch out the knits for purls when needed.
Weave in your tails
There are many ways to weave in those ends and finish off your knitting.
Purl Soho has an excellent post on the matter on their blog showing a few different ways to weave in ends with nice and clear photos, check it out!
Knitting stitches that would look cute for a baby blanket
A blanket is like a blank canvas, and you could fill it with your favorite stitch pattern. Or, why stop with one? You could also fill it with panels of different stitch patterns.
Your next read:
––> The knit and purl stitch pattern library. A page with easy textured knitting stitch patterns using only knits and purls, perfect for adding a texture to your baby blanket!
––> How to knit a corner to corner square, if you like to knit a blanket diagonally instead, this is the post for you!