Do you know what to look for when shopping for eco friendly yarn?
As an Amazon Associate and member of LoveCrafts affiliate program, I earn commissions from qualifying purchases at no additional cost to you.
Are you struggling with the equation of knitting yarns and sustainability?
You're not alone.
There are literally thousands of different yarns on the market. So how are you supposed to know which yarn balls are the good ones and which ones that's polluting our planet?
Which ones are chemical bombs making people unhealthy and destroying ecosystems?
I have done some research on this matter as it is of big importance to me. And hopefully, this post will make things a little easier for you!
And, of course, I have picked out some environmentally good alternatives for you. You will find them further down!

Checklist for shopping eco friendly knitting yarn
The first rule of thumb when shopping for an eco-friendly knitting yarn is to look for a yarn that's:
Natural fibers. The synthetic/man-made fibers are made with oil and a lot of chemicals and should be avoided.
Biodegradable, that means that the yarn brakes down to compost if put in a compost pile or bin.
Shop local. If you can it's a very good idea to shop your yarn local, to reduce shipping greenhouse gas emissions
Look for GOTS certified yarn. GOTS stands for Global Organic Textile Standards
Recycled. Recycled yarns save some of those synthetic fibers from being landfills.
Are all natural fibers sustainable?
Natural fibers, it sounds very sustainable, but is this always the case?
No, unfortunately, it's not. Natural fibers can be coated in plastic to make them smoother and softer.
Plant fibers as cotton and bamboo are usually grown with pesticides that damage the earth, contaminate water, and harm wildlife as well as humans. It's also common that cotton comes from GMO (Genetically Modified Organisms) treated plants.
Both animal fibers and plant fibers are commonly washed with chemicals and dyed with chemicals that can be harmful to workers and consumers.
But, looking for 100% natural fiber in a yarn is a good start! When you find one, be curious and find out how the yarn is made! Is it grown, processed and dyed in a sustainable way? Ask in your yarn shop, read up on it online or call the manufacturer.
How do you know if a yarn is biodegradable?
If a yarn contains 100% natural fibers it should be biodegradable.
Unfortunately, it's common that the fiber is washed and dyed in chemicals that make the yarn unsuitable for the compost pile because the chemicals can pollute soil and water.
What does it mean that yarn is GOTS certified?
GOTS stands for Global Organic Textile Standards. Products that are GOTS certified follow strict environmental and social rules about what goes into the making of the product. Not only the ingredients but also labor.
Textiles that are GOTS certified can be composted because they lack harmful pesticides, chemicals, dyes, and are made of natural fibers.
Recycled yarns
Choosing a recycled yarn is always better than one that's made from scratch. It saves some of those synthetic materials from our landfills and gives them a second life
What to avoid when shopping for eco friendly yarn
Synthetic or Manmade fibers
Semi-synthetic or Regenerated fibers
Plant fibers from crops heavily sprayed with chemicals
Fibers from animals that aren't held in a sustainable way
Yarn that's dyed or otherwise treated with chemicals
Synthetic or Manmade fibers
The production of synthetic fibers is using a lot of oil. Because the fibers are made from Petrochemicals. Petrochemicals are chemical products derived from petroleum.
That's not good at all because oil is a non-renewable source and the making of the synthetic fibers are also polluting the waters and air.
Examples of synthetic fibers:
Nylon or Polyamide
Polyester
Acrylic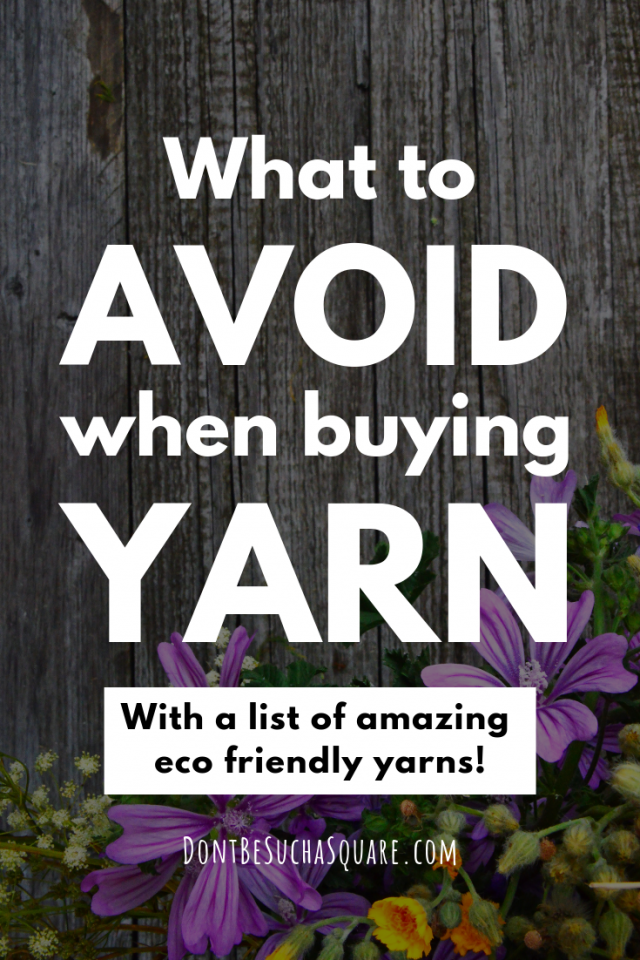 Semi-synthetic or Regenerated fibers
The semi-synthetic fibers are made from regenerated cellulose fibers. The cellulose fiber, that usually comes from different kind of woods, are treated with harsh chemicals in a process that's polluting waters, air, soil and hurting the workers at the factories.
Examples of Semi-synthetic fibers:
Rayon
Bamboo fiber
Lyocell, a brand of rayon
Modal
Tencel®, a brand of lyocell that's actually a very good choice due to the thought through production process.
Plant fibers from heavily sprayed crops
Some plant fibers are heavily sprayed with pesticides, herbicides, and chemical fertilizers. These chemicals end up in the soil, water, air and in our food, harming both humans and wildlife.
Cotton also need a lot of water, cotton actually origins from tropical and subtropical regions around the world. So naturally growing cotton in dry conditions takes a lot of watering.
The watering of cotton can harm the environment as it can cause waters to shrink or completely dry out. This have large effects for the people living in the area, as well as eco systems.
Cotton is a heavily sprayed crop and one that takes a lot of water. But if you are careful to choose an organic or GOTS certified cotton you are good to go!
Fibers from animals that aren't held in a sustainable way
Yarn from animal fibers can be bad for the environment just as other fibers. It depends on how the animal is treated. And how the fiber is processed after being removed from the animal.
Organic yarn from animal fiber comes from animals that haven't been exposed to chemicals like pesticides and are kept in humane and good farm conditions.
The fiber should then have been spun into yarn without the usage of toxic chemicals or dyes.
Yarn that are dyed in toxic dyes
We often forget to think about how the dyeing of a yarn affects the environment. The dyeing process can be chemical heavy, and the chemicals both pollute and can remain in the yarn hurting us.
7 amazing eco friendly yarns
I have gathered some nice yarns made from different kinds of fibers. And off course all of them is environmentally sustainable choices. Enjoy!
Recycled: T-shirt Yarn made of leftovers from the fashion industry
As mentioned before, the recycled yarn is the best even if it's made of polyester as this one is. Just because it's better to put leftovers and already used items to good use than to put them in the garbage.
This yarn is made out of leftover fabrics from the fashion industry in turkey.
It's a 100% polyester, chunky spagetti type of yarn suitable for rugs, storage baskets, pillows and other types of home decor.
This recycled goodness comes in a bunch of sweet candy colors, be sure to check them out at Amazon!
Recycled: Recycled Sari Silk Yarn from Paradise Fibers
This yarn is amazing! Just look at the colors …
The Recycled Sari Silk Yarn is made from recycled saris, as the name implies. Again, recycling is a very good thing from an environmentally point of view and silk is a biodegradable and renewable source as well.
Maybe this yarn is better for gift wrapping or jewellry making, but I couldnt resist including it since it is so beautiful. And sustainable.
You find the Recycled Sari Silk yarn at Amazon, click over and enjoy the color burst!
Wool: Crazy Sexy Wool from Wool and the Gang
When produced ethically wool can actually be beneficial for the environment since it helps to impound carbon from the atmosphere and into the soil. Source
Crazy Sexy Wool from Wool and the Gang is spun from 100% South American sheep wool. Its renewable and biodegradable.
This is a chunky yarn perfekt when you want your knitting to be easy and go fast forward!
Tencel®: Tina Tape Yarn from Wool and the Gang
Tencel® is a trademark owned by Lenzing. Tencel® is produced in a sustainable way from eucalyptus trees.
Another lovely yarn form Wool and the Gang. This one is an eco friendly Tencel® yarn.
Wool and the Gang states that the Tina Tape Yarn is "More absorbent than cotton, softer than silk and cooler than linen."
This sounds perfect for spring and summer garments!
Cotton: Debbie Bliss Eco Baby
This cotton yarn from Debbie Bliss is made of 100% organic fairtrade cotton.
Cotton yarn are great for summer outfits do to it's qualities. It's breathable, durable and can be washed in the machine and tumble dried.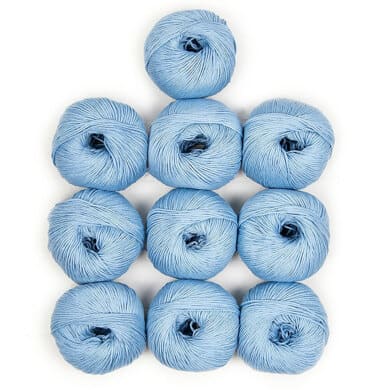 Merino blend: Luma from the Fiber Co
Luma from The Fibre Co. is a DK-weight yarn with a beautifully light feel. It's made from a blend of organic cotton, merino wool, silk and linen.
The blend is 50% merino wool, 25% cotton, 15% linen, and 10% silk.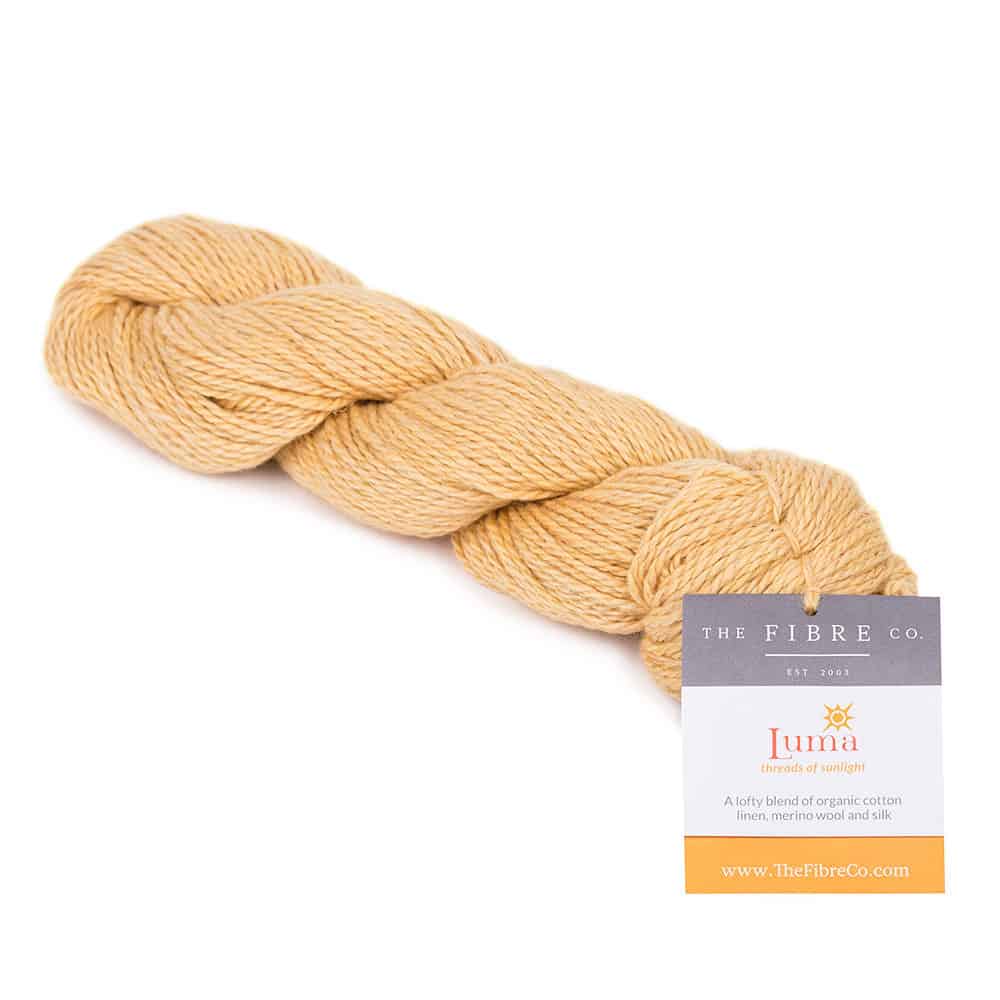 More to read about yarn and knitting!