Things new knitters don't do (that maybe they should)
I have noticed a few things that experienced knitters do, but new knitters may not have learned yet. These are 5 easy ways to improve your knitting!
Using your swatch for more than measuring gauge
Getting to know your yarn and fibers properly
Knitting on multiple projects at the same time
Blocking swatches as well as finished items
Using good tools that help you achieve the best results
These five things can have quite an impact on the finished projects and that's why this list is important.
When we're new to something we can't do it all on the first go, and that's ok!
But, if you feel like maybe your knits lack that last level of perfection that you're aiming for maybe these five tips can help you add that extra swag?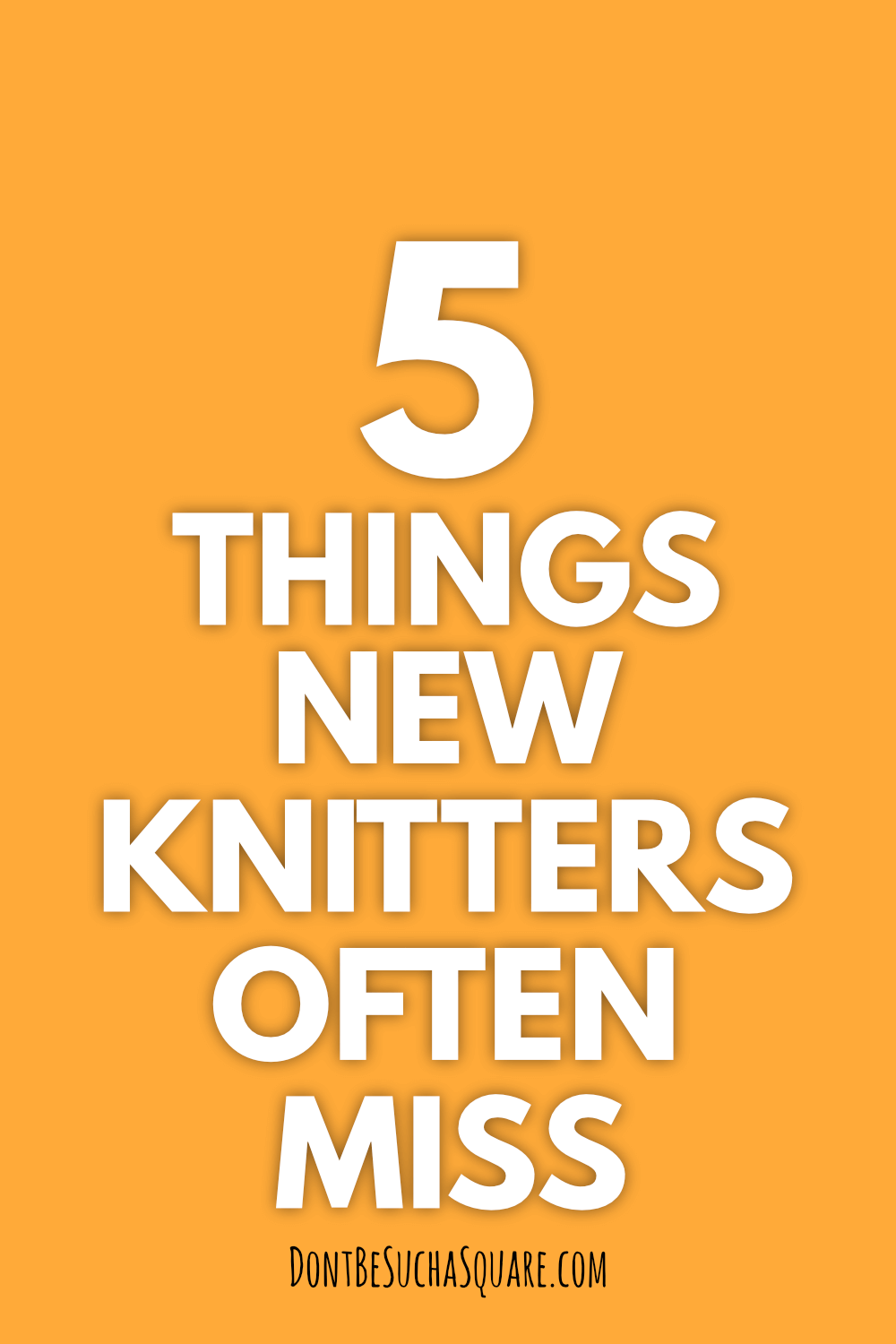 Swatching isn't just about gauge
Making generous swatches is an amazing chance to improve your knitting.
I guess you have heard about the importance of gauge and swatching a million times. (If not you can learn more in this post!) But, measuring gauge is not the only thing you can use your swatch for!
When you have made a swatch you also have the possibility to see how your yarn behaves when transformed into fabric. You will get clues to questions like:
How will the yarn behave after you washed it?
Do you like how it drapes?
How does the yarn feel in this gauge?
How do the colors look together in this pattern?
Is this yarn a good choice for that textured pattern?
Do you see? The swatch is just a too good opportunity to don't use to its fullest potential!
To get the most out of your swatch, make it big and wet block it before measuring and taking any decisions.
Getting to know your yarn properly
One part of getting to know your yarn is of course to make one or several swatches. But before you can swatch you need to pick a yarn to get started with.
If you have a certain pattern in mind, it's a good idea to use the yarn the pattern was written for or similar yarns. You need to pick a yarn that's the same yarn weight and preferable the same fiber as well.
Fibers behave in different ways so it may not be a good idea to pick a pattern for a wool jumper and knit it in cotton.
If it's possible, visit a yarn store to see and feel the yarn in real life. Do you like how it feels? Is it soft enough? How do the colors look?
Learn from other knitters experiences
If you don't have a yarn store nearby or prefer to shop online you can do some research online. The online knitting community is rather big and pretty generous with both opinions and advice. Especially if you ask for it!
You can learn tons about yarn and fiber by looking at other knitter's projects on Ravelry!
How do their projects look in a particular yarn? What do they say about the yarn in their project notes? Write to them and ask if you have questions. Most knitters will be thrilled when you show interest in their work!
New to Ravelry? It's an amazing online knitting community and you have so many good things left to discover! Make a free account and dive in… there are forums, patterns, you can search for yarn, and my favorite: get inspired by all the awesome projects other knitters are creating!
Look at which yarns knitters on Instagram use in their projects.
Google the yarn you are interested in, maybe someone has used it and documented their project on a blog. Some bloggers even do yarn reviews of popular or new yarns!
Improve your knitting with multiple projects
As a new knitter, it's common to work on just one project at a time, I know I did. I was a bit nervous to buy too much yarn because I didn't fully trust that I should manage to finish my projects. I also felt bad if I didn't finish my ongoing project before starting up a new one.
Now I know better!
Working on just one project at a time makes it harder for me to get to the finish line. I get stuck more easily and lose my knitting mojo.
When I have several projects going I can pick the one that best suits my needs. Like a sock or hat project for knitting on the go, while adult sweaters are for knitting on the couch in my book.
Another great benefit is variation. Sometimes I want to just knit mindless stockinette for miles, and at other times I need something fun and more complicated to occupy my mind!
Multiple projects also mean that if you get stuck on one of your projects, or just bored, you can switch for a while and come back for a fresh start later.
Tip: If you are afraid of forgetting details or your vision for a project if you put it away for a while a knitting journal or planner is a great tool! Take a look at this post if you want to know more: Best journals for knitters
Blocking is both for swatches and finished projects!
Blocking is key! When the knitted fabric is soaked and dried flat magic happens… uneven tension evens out, stitches relax, textured patterns can pop, and gauge is changing.
Did you get that? Gauge is changing! That means that you need to block your swatch before measuring it to get an accurate measurement.
This one took me years to figure out. Maybe I'm slow, but it's the truth.
Anyhow, if gauge is crucial, always block before measuring to avoid surprises later on.
Why should you block finished knits?
Do your want your knitting to have that fab finishing, like expensive storebought garments? Then you want to block it.
It's that last finishing touch that makes your piece look amazing. The yarn relaxes a bit and everything evens out and looks prettier after blocking.
At least the natural fibers do, to be honest, I haven't tried to block manmade fibers like acrylic or nylon yarns.
Using good tools to help you get results
We tend to start out with cheap or second-hand tools, and that's totally fine! I did too simply because I wasn't sure that knitting was my thing at first.
But, as soon as you feel that you want to knit more, take on bigger projects it's time to buy good tools!
Good tools are important
Why? Because you and your knitting both deserve it. Good tools improve both your knitting and your experience since they make things easier and more comfortable.
You deserve soft, pretty yarn that knit up beautifully.
You deserve high-quality knitting needles that are comfortable easy to knit with.
You also deserve to have a pouch with all the notions you need and a cute knitting bag to store your knitting things in.
Posts about great tools!
––> Review: Knitting with Hiyahiya interchangeable needles for 7 years
––> Shopping tips: Best knitting bags
––> The cutest stitch markers found online
Knitting as a game vs therapy 🙂
As I wrote at the beginning, these tips are meant to help new knitters improve their results. I really hope that these insights can help someone to reach the next level in the knitting game!
But, knitting is no game or sport and it's only you that can decide if you are happy with your results or not. If you want to level up that's super, but if you don't that's super too! Just have fun with it.
Knitting is as much therapy as a game to beat for me. At times I just want to knit stockinette stitch in the round for hours, because that's my therapy. I have some very therapeutic sweaters in my wardrobe… 🙂
At other times I want a challenge. I want to learn new things, I want to improve the things I already know, and I want to reach for perfection. I have socks with unusual heels, cable sweaters knitted without a pattern, and fair isle hats in my drawers too.
What I wanted to say with all this is that you can read all the tips and do all the things. It's fun, we enjoy it, and we grow from it. But it's ok to not want to do it too.
Your next read:
––> Health benefits from knitting
––> Review: 7 years with my Hiyahiya knitting needles
––> Tips for new knitters