This post contains affiliate links. As an Amazon Associate and member of other affiliate programs, I earn commissions from qualifying purchases at no additional cost to you.
Baby matinee jackets and cardigans
You could never have too many patterns for baby matinee jackets and cardigans. They look adorable, are fun to make, and are much-appreciated gifts for new babies.
In this post, I have gathered a bunch of both knitting and crochet patterns for baby jackets, coats, and cardigans. Let's get stitching!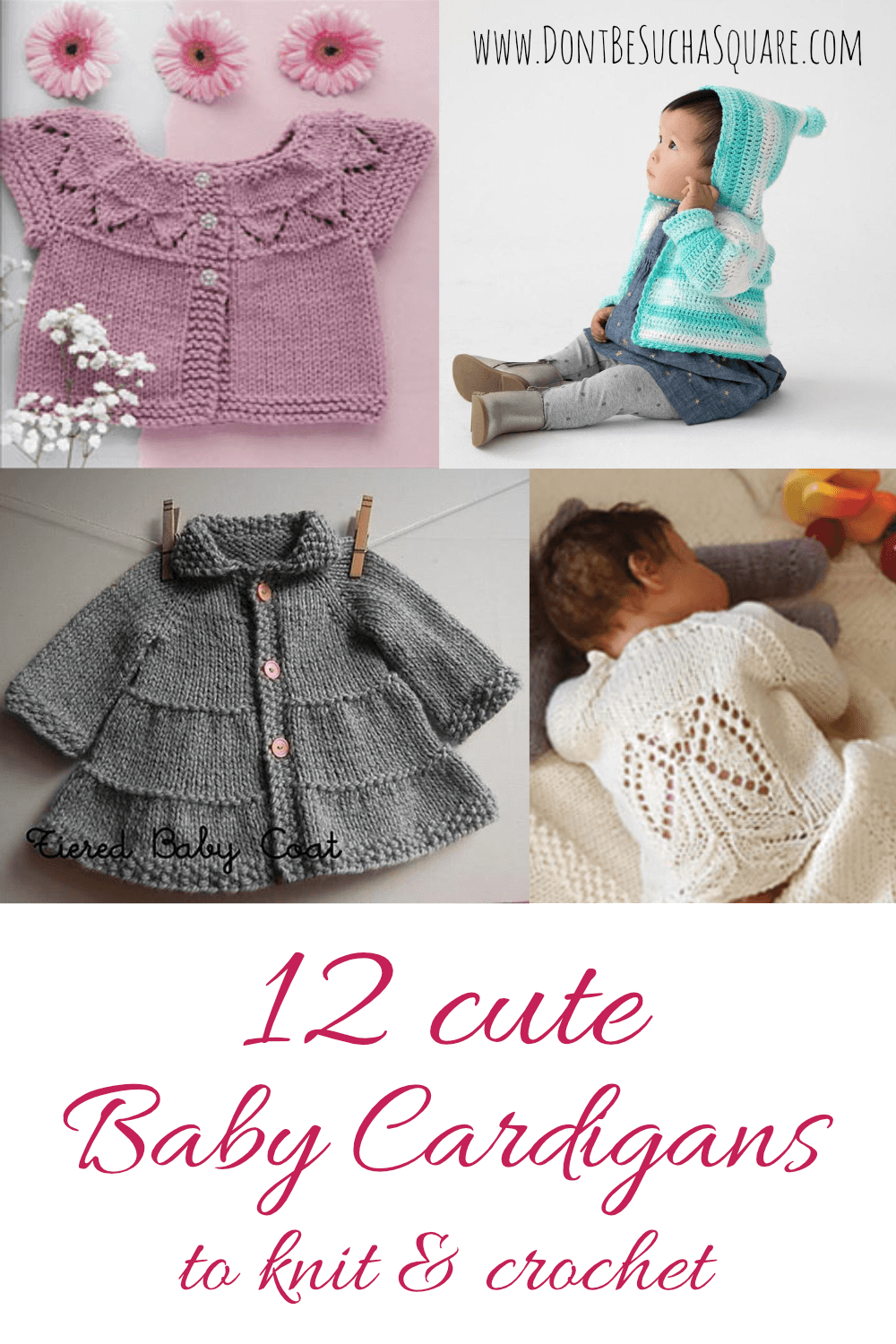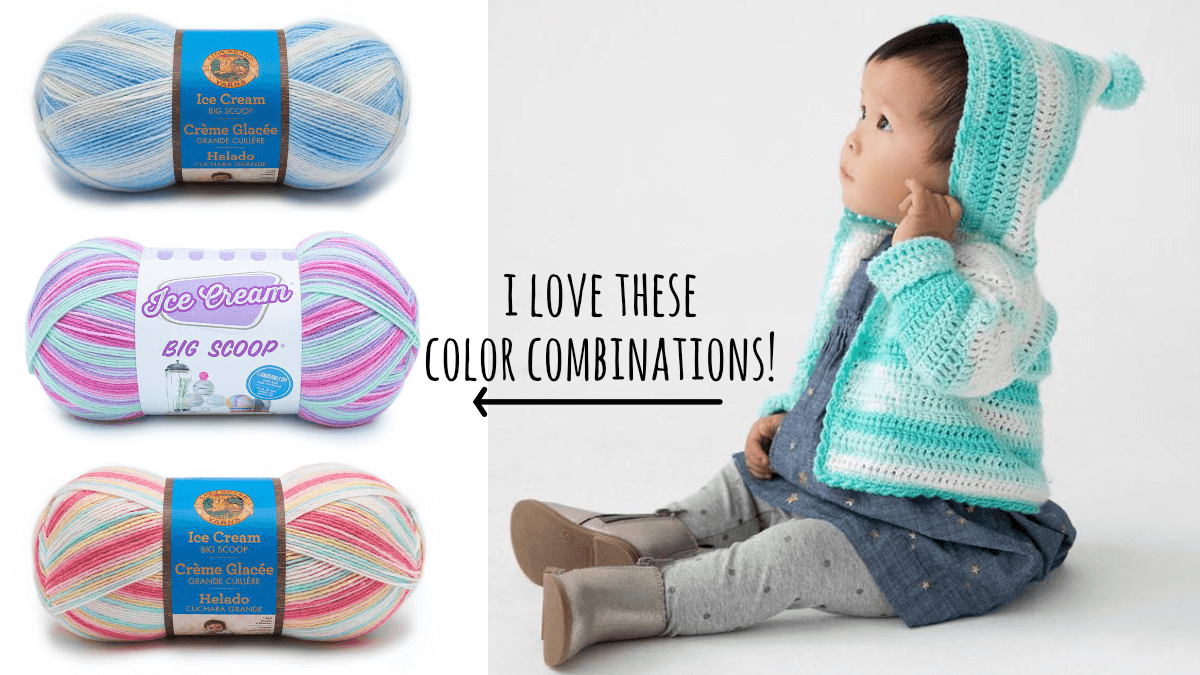 Free crochet pattern: Carroll garden hooded cardigan
This adorable little jacket is crocheted in Ice Cream Big Scoop from LIonbrand yarns. This self striping yarn comes in the most beautiful pastel and white color combinations!
Get the free pattern and shop for yarn at Lionbrand Yarn
---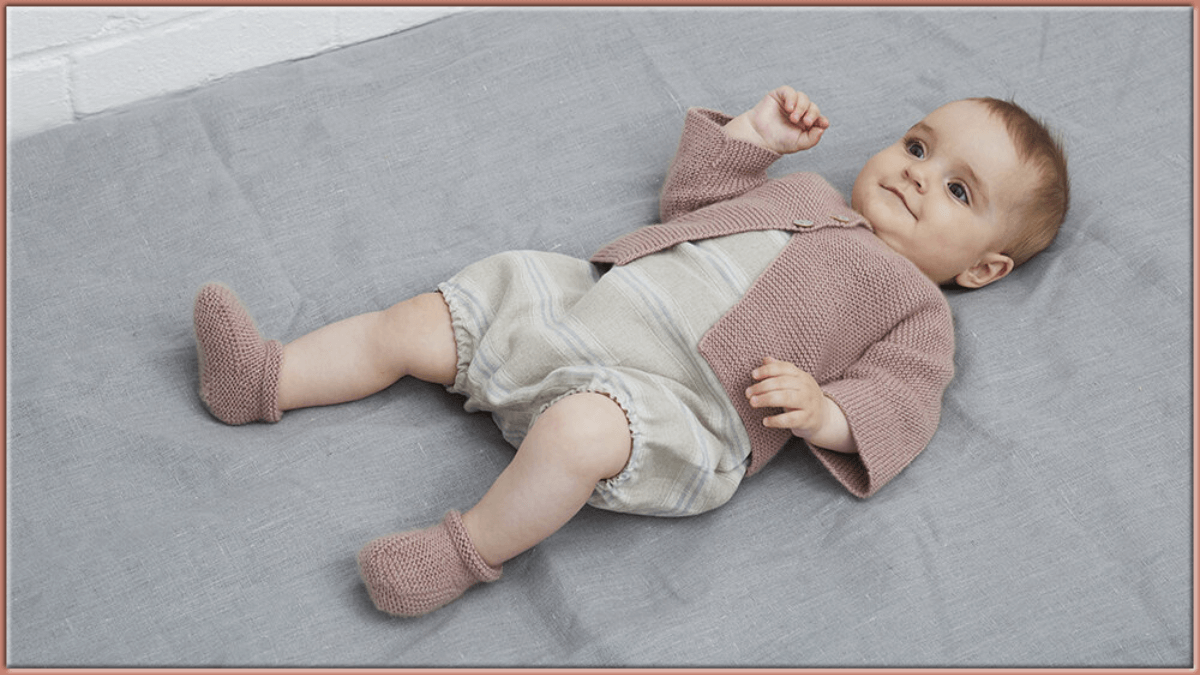 Knitting pattern: Carina cardigan and booties
A matching set like this can turn any outfit super cute and keeps the baby's feet and body warm!
Carina cardigan and booties are knit in pure cashmere, the soft and warm Debbie Bliss Luna. The colors of this yarn are dreamy soft and elegant looking. See all colors here!
Get the pattern and yarn from Lovecrafts
---
HRH baby cardigan
A cute cardigan to crochet for newborns and up to 24 months. The shape of the cardigan ensures that it will fit for a long time while the baby is growing. They grow so fast…
HRH baby cardigan features cables on the yoke and ribbed edges.
Shop the pattern and suitable yarn at Annie's!
---
Vintage matinee coat
This adorable vintage baby knitting pattern for a matinee coat is written for a 3-ply yarn.
You can find all available 3-ply yarns at Lovecrafts here and download the free pattern from Lovecrafts here.
---
Yarn weights can be tricky! You can find a cheat sheet to make things easier in this post
---
9 adorable baby cardigans
9 adorable baby cardigans feature nine different baby cardigans with three things in common: they are knitted in worsted yarn, seamless, and adorable!
Click to see the other cardigans and get the book from KnitPicks
---
Two-in-one: Tiered baby coat and jacket
The tiered baby coat and jacket knitting pattern from designer Froginette Knitting Patterns come in both baby and toddler sizes. The pattern calls for Cascade 128 superwash which is available in some really beautiful deep colors.
Get the pattern and yarn from Lovecrafts
---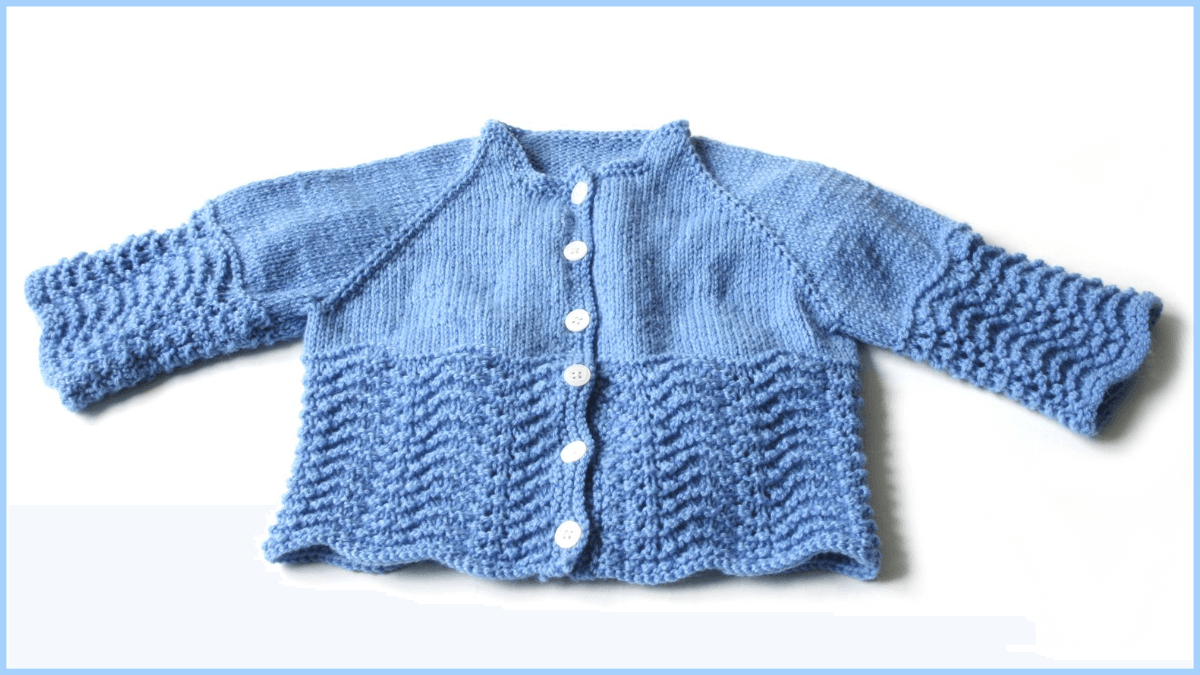 Free knitting pattern: Hatchling cardigan
This beautiful baby cardigan is a fun knit with a lacy pattern at the bottom of the body and arms.
The recommended yarn is Baby Soft Yarn from Lionbrand a soft medium weight yarn that's available in soft solid pastels and lovely print colors.
Get the free pattern and shop the yarn needed from Lionbrand Yarn!
---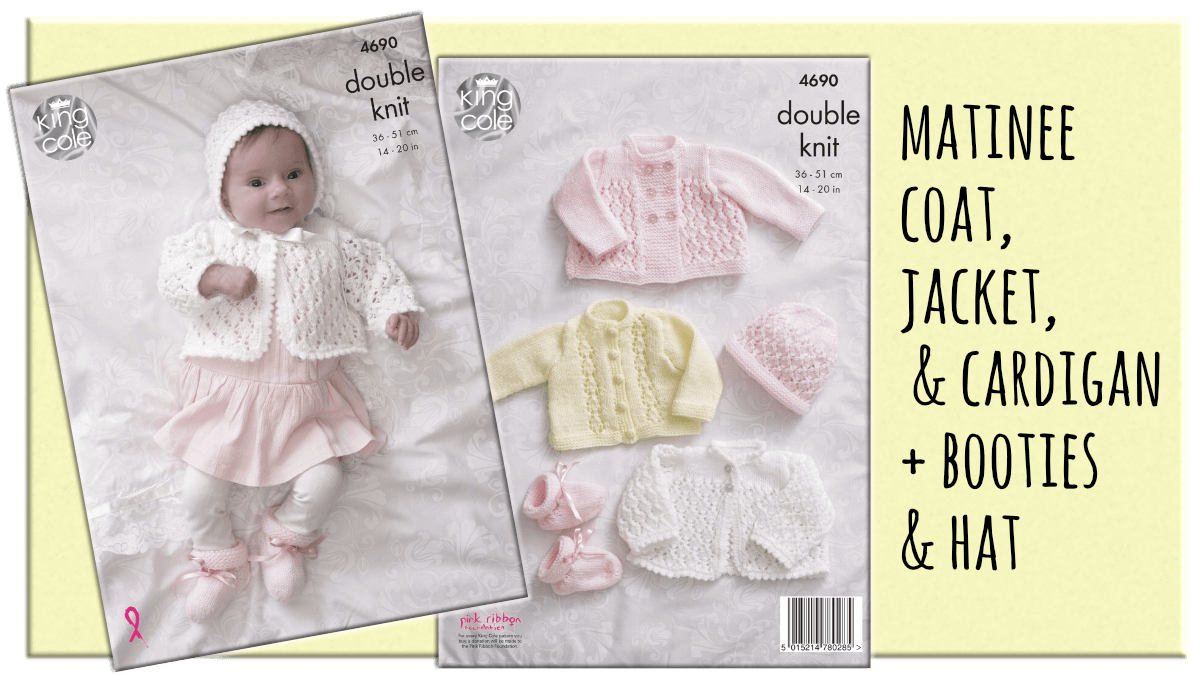 Knitting pattern for three matinee jackets with accessories
This lovely set of baby knitting patterns includes one Matinee coat, one matinee jacket, one matinee cardigan, a baby hat, and pair of baby booties set.
The pattern is quite advanced with a lot of lace and fine details, but it's sure worth the effort. Look at all that cuteness!
Get the pattern and yarn from Lovecrafts!
---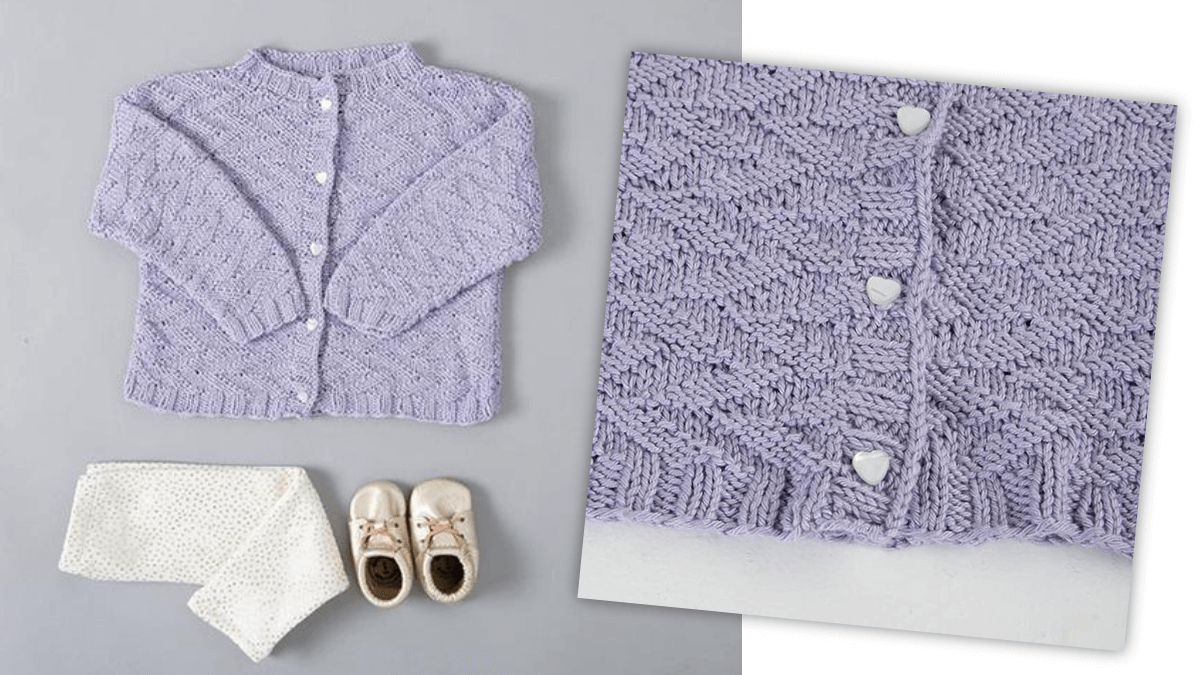 Knitting pattern: Zigs and zags baby jacket
Zigs and zags baby jacket are available in sizes ranging from newborn to two years. This cute jacket has a nice textured zigzag pattern that's knit with just knit and purl stitches.
The yarn used is Shine Sport, a blend of Pima cotton and Modal.
Shop for pattern and yarn at KnitPicks
---
Angels around me baby cardigan
Could you ever imagine something cuter than a baby wearing this white cardigan with angel wings on the back?
And to make it even better there's also a knitting pattern for the matching Angels around me baby blanket.
You'll find the patterns and suitable yarn at Annie's Crafts Store
---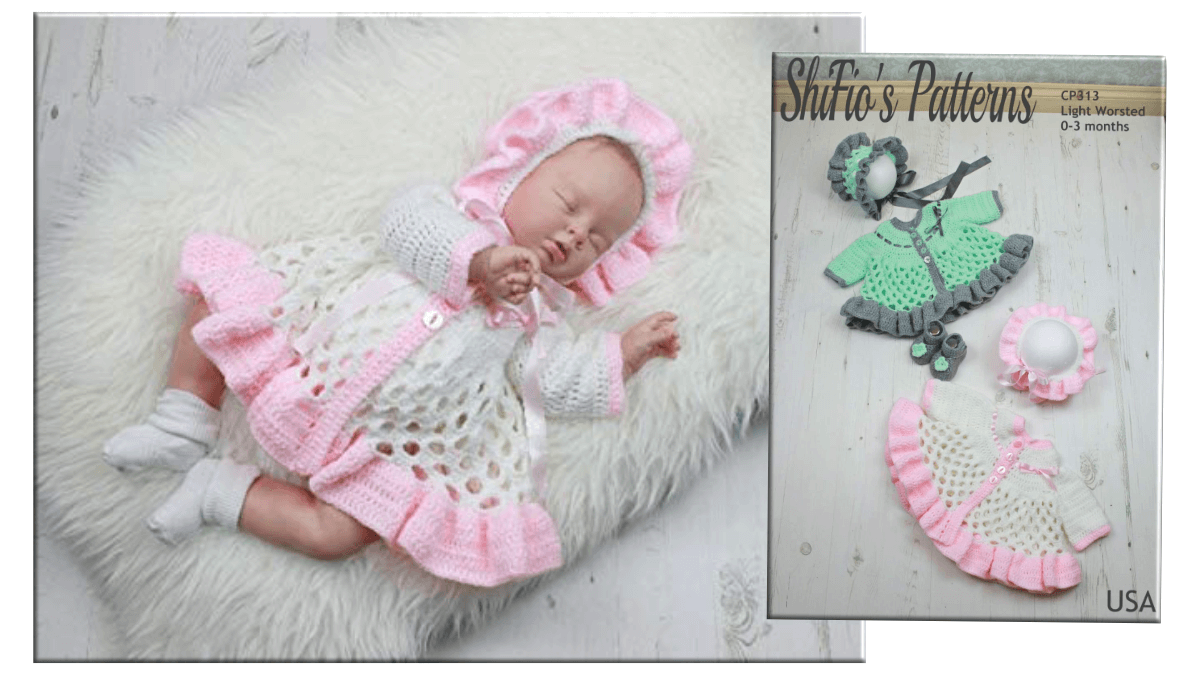 Crochet pattern for baby matinee jacket, bonnet and shoes
This set is wonderful, like something from a historical movie!
I bet some of you will love this and some think I'm crazy to even include it, but this is all I could ever have wished for when I was a little girl in the '80s. I just can't resist it 🙂
Crochet this baby matinee set with light worsted yarn and crochet hook E/3.5mm.
I did a lot of both knitting and crochet projects in Drops Muskat when my kids were little and think this light worsted yarn would be great for this pattern. It's a 100% Mercerized Egyptian Cotton yarn, soft with a bit of sheen.
See all the beautiful colors at Amazon
---
Free pattern: crochet baby matinee jacket
This free crochet pattern can be downloaded from Lionbrand yarn. It's a simple but cute raglan jacket, perfect for putting over a dress!
Unfortunately, the pattern calls for a discontinued yarn, but it can be substituted with cotton or acrylic yarns in yarn group 5 (bulky). You find all Lionbrand yarn in group 5 here!
Crochet the jacket in a solid color for wearing over a patterned dress like the one on the image, or choose a fun variegated yarn to make it a little more fun!
Download the free pattern and shop for yarn at Lionbrand
---
Yarn weights can be tricky! You can find a cheat sheet to make things easier in this post
---
Your next read:
––> 10 Adorable baby blanket knitting kits
––> 10 Beautiful baby blanket crochet kits
––> Comfy cardigan knitting kits