This post contains affiliate links. As an Amazon Associate and member of other affiliate programs, I earn commissions from qualifying purchases at no additional cost to you.
Easy and fun baby blanket knitting patterns
These beginner-friendly baby blanket knitting patterns are fun and easy to knit.
If you are looking for a baby shower gift for a friend or a family member, a hand-knit baby blanket is a great idea!
In this post, I have gathered 12 easy baby blanket knitting patterns. I'm sure you'll find something you like =)
Aloha Baby Blanket Knit Pattern
The Aloha Baby Blanket is a true beginner pattern. This is the easiest to knit of all the blankets in this post, and it's a great first project!
To knit this blanket all you need to know is cast on, knit stitches, bind off, and weaving in the ends. It doesn't get any easier than this 🙂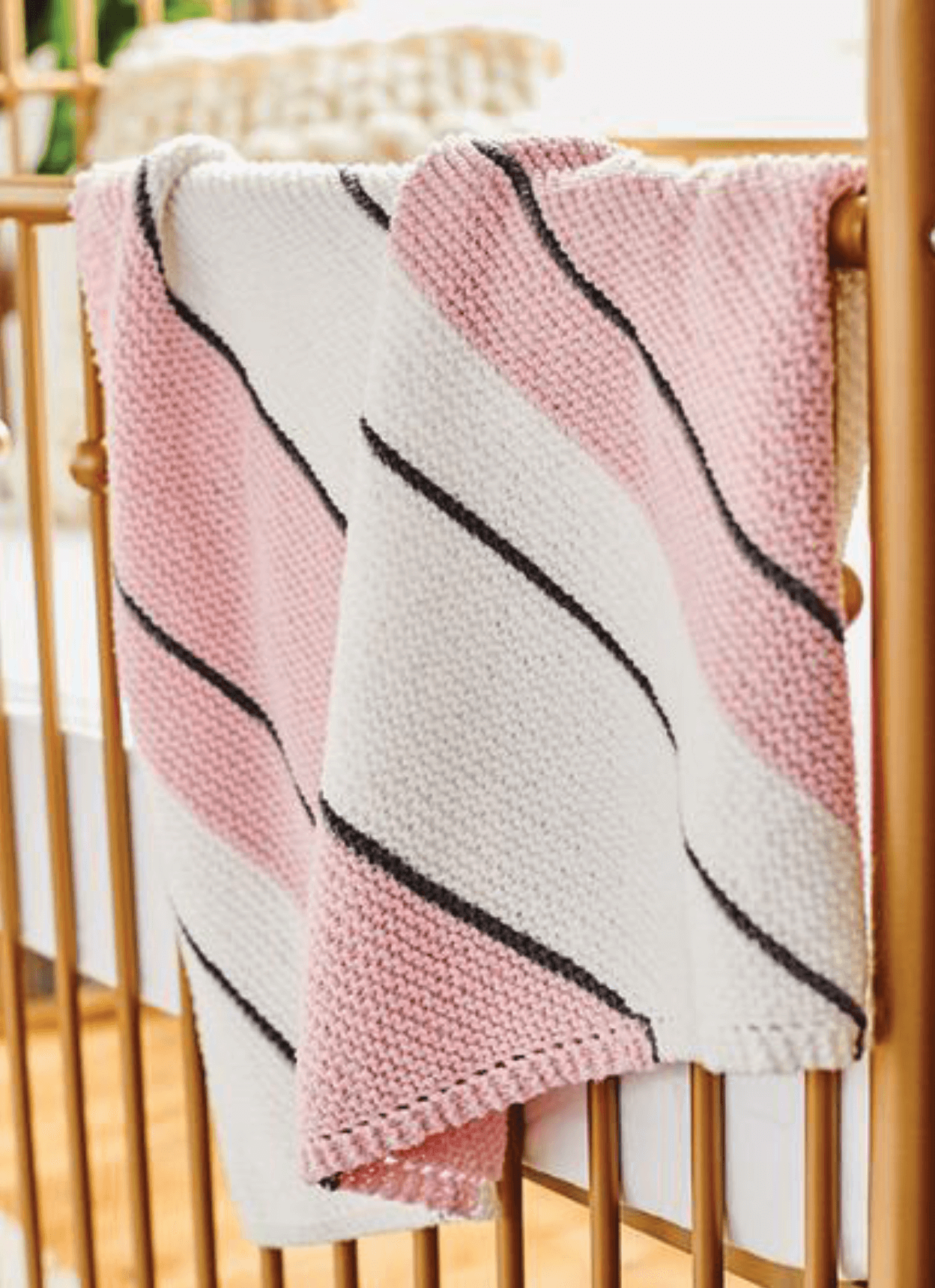 I Wanna Knit a Baby Blanket
The I Wanna Knit a Baby Blanket is a super easy pattern for a cute baby blanket with stripes.
This blanket is knit from the corner in garter stitch (knit stitch on both right and wrong rows) with some easy increases and decreases along the sides.
If you want to know how to increase and decrease to knit a square from the corner, I have written about that in this post
This blanket has a cute little label on it, learn how to attach them and where to get yours in this post!
Hug Baby Blanket Knit Pattern
Hug Baby Blanket Knit Pattern is a bit of a blank canvas. If you have some really beautiful yarn that you want to show off, this is the pattern for it!
The Hug Baby Blanket is knit in stockinette stitch, with garter stitch borders, and in thick yarn. It's both easy and pretty fast to knit.
Round Ruffled Baby Afghan
This blanket is knit from the center out and finished off with a cute ruffle edging.
The pattern requires some skills like knitting in the round, making increases, knits, and purls. It's quite easy but maybe not your first project!
Sunshine Chevron Baby Blanket
The Sunshine Chevron Baby Blanket looks quite intricate, but it's easy to make. Just knits and purls all the way!
If you have mastered knit and purl stitches and maybe knit one or a couple of projects before you're ready for this!
Easy Dinosaur Baby Blanket
A baby blanket with dinosaurs, how cute is this? My boy would have loved this one for sure!
The dinosaurs are knit in reverse stockinette, so it's nothing more than knits and purls to keep in mind in this one. Give it a try!
Isabella Bubble Blanket
The Isabella Bubble Blanket is a beautiful knitting pattern!
This one requires a little more knitting skills than the easiest in this post. But if you have a couple of projects up your sleeve and take your time to practice a bit on a swatch first I'm sure you can pull this one off!
Sugar rush baby blanket
Sugar rush baby blanket is a bright and fun baby blanket!
It's a garter stitch blanket (soft and cuddly!) made in a colorful self-striping yarn.
Peek-A-Boo Blanket Knit Pattern
This blanket is knit in stockinette stitch with garter stitch edges and eyelet rows. This is a great beginner project once you have mastered knits and purls.
When knitting this pattern, you will need to learn how to make yarn overs and decreases as well.
It's an easy knit, but a tad more challenging than just a plain garter or stockinette stitch blanket!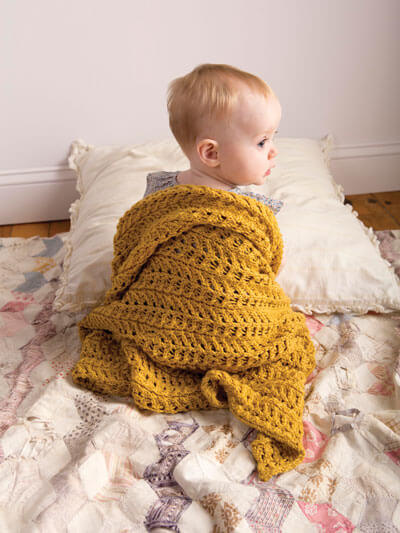 Ivy Blanket
The Ivy Blanket may be the hardest to knit of the blankets listed in this post, but it's still on the easy side.
It's not a first knitting project, but it's easy enough to pull off once you get some experience!
Clary Baby Blanket
This pattern is cute and easy to customize to your own taste.
Just changing up the colors gives the blanket a whole new look! You can also use the easy-to-knit (just knits and purls) pattern panels in the order of your liking.
All In a Row Baby Blanket
An easy to memorize knit and purl pattern is one of my most relaxing knits along with garter stitch, and stockinette stitch in the round.
If you're looking for a beginner baby blanket with an easy knit and purl stitch pattern, this one is your match.
This pattern is easy to knit, but a little more than knit stitches, and it looks cute too!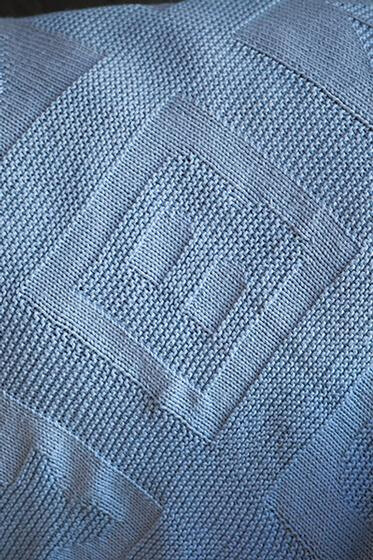 ABC Baby Blanket
An easy to knit baby blanket with a pattern of squares with letters and symbols in them.
The structure pattern on this blanket is entirely created with knit and purl stitches. So if you know your knits and purls and maybe have done a couple of projects before, this one should be a breeze!
Your Next Read:
––> 8 best journals for knitters
––> 12 best knitting hacks!
––> Speed knitting: 12 tips on how to knit faster