Learn the 12 best knitting hacks!
This post contains affiliate links. As an Amazon Associate and member of other affiliate programs, I earn commissions from qualifying purchases at no additional cost to you.
I love good life hacks and useful tips and I hope you do too because in this post I share my 12 best knitting hacks with you!
It's a cocktail of hands on knitting tips that can help you take your knitting project to the next level, tips about gadgets to shop for and some DIY's for knitters.
In this post I actually give you my best and most important advice first: Have fun knitting!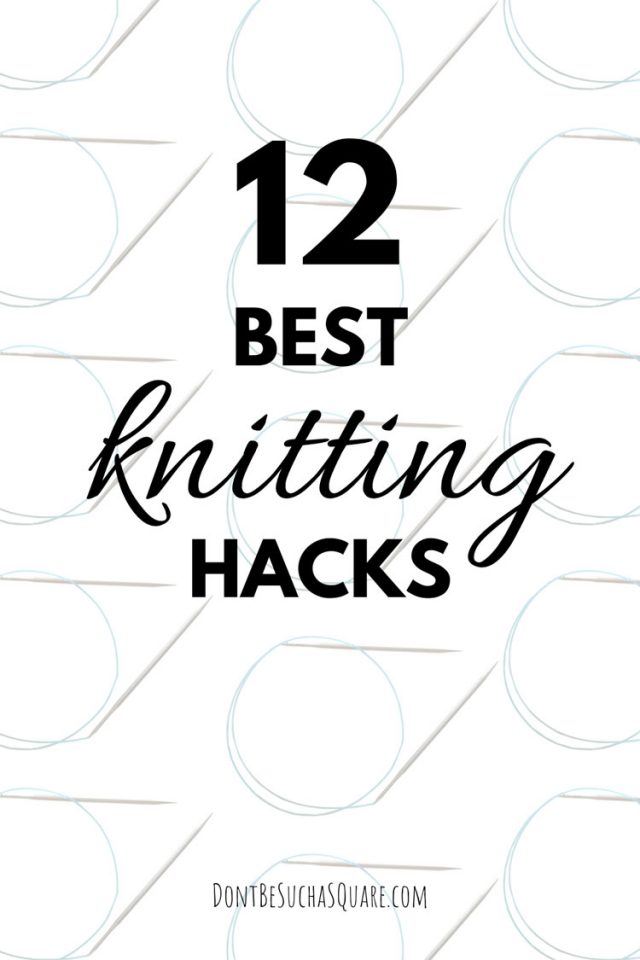 Always use circular needles
Well, this hack isn't much of a hack really. It's more like an advice.
But it's a piece of good advice! Circulars knitting needles put less strain on your body, so use them!
I love the interchangeable ones, but fixed circulars are also good.
These are the best reasons for knitting on circular needles:
Circulars spare your hands, arms, and shoulders this decreases the risk of getting pains from knitting. This post goes deeper into the subject.
You can knit any project on circulars. Big and small, flat and round.
It's easier to handle big amounts of stitches on a cable.
Straight needles can easily slide out of the stitches, making a mess of your project.
A project on circulars takes up less space in your knitting bag.
If you have to stop in the middle of a row you can just pull the tips and your stitches will bo safe.
This was the short version of why circulars are better than straight needles. Read the longer version here 🙂
If you're curious about interchangeable needles, read this post!
Learn the lingo of knitting
Knitters speak their own language, but don't despair if you don't know the lingo yet!
I have put together a dictionary for you. You find the list of common knitting lingo here. And a list of 88 knitting abbreviations here. Gör en freebie + ett eget inlägg till den
Let some cute washi-tape help you out!
Washi-tape is the perfect, and prettiest, tool to keep track on where you are in your charts.
The washi-tape is sticky enough to stay where you have put it without damaging your chart when you need to move in up as you make progress in your knitting.
You can find washi-tape at crafts stores or buy it in bulk from Amazon.

Learn how to knit neat edges
The edges of your knitting can pretty much make or break a project.
You can spend hours on a scarf. You choose a nice yarn in a shade you like and a beautiful pattern. But if the edges look sloppy, that scarf won't be that lovely accessory that you dreamed of. It's all in the details!
In this post, I guide you through how to knit neat edges. I promise neat edges are easy as pie to achieve when you know how to do it and will take your project to the next level!
Stitch markers are everywhere!
I love stitch markers, I love to use them, to buy them, to make them and to write posts about them. And of course, I have loads of them.
But then suddenly I don't have any. The couch-monster ate some, some are in other wip's and some are just… gone.
Does this happen to you to?
No worries, I bet you are surrounded by potential stitch markers if you take a look around your house. Paper clips, safety pins, rubber bands, hair ties, and loops of scrap yarn, they all do the work for you.
That's one of my favorite knitting hacks right there!
My posts about stitch markers:
The cutest stitch markers seen on Amazon
Different types of stitch markers
How to use stitch markers
Your phone is an excellent crafting tool
What?! Should you be knitting with your phone? Yes, you should!
Take a photo of your pattern with your phone and you will have it with you at all times.
I also have a few other helpful tips on how to use your phone for knitting and crochet, read this post to learn more!
Colour knitting hack: use a yarn guide
When knitting with more than one color it can be a bit messy to hold your yarn strands in the right positions.
A yarn guide can help you with that. The yarn guide is a ring that you put on your pointing finger, the ring has two or more loops that can hold one strand each. This makes keeps you from mixing up the order of your yarn strands.
It's important to pick the colors the same way thru-out a project. How you wrap the yarn strands determines which is going to be the dominant color. Read more about that here!
Cover up those sharp tips
My hubby bought me these panda needle protectors for my birthday a couple of years ago, aren't they cute!
They help me (and my family!) to avoid getting poked by sharp needles when I'm not knitting.
They also prevent my stitches from sliding off my needles and make sure that the tips don't make holes in my knitting bag. I use my pandas a lot!
No wool soap at hand?
Oh no, your knitted garment needs a cleanup and you have no wool soap on hand…
No worries, use baby shampoo instead!
Baby shampoo is pH 7 which is more alkaline than shampoo and soap for adults. And also the perfect pH for washing up wool.
Another reason for choosing baby-shampoo is that it's not as harsh and has no or less perfume than other shampoos.
Pour some lukewarm water
Add a bit of baby shampoo
Soak your wool in the mixture
Rinse in lukewarm water
Lay flat to dry, for example on a bath towel.
DIY yarn holders
You know those beautiful yarn bowls. They're practical, look amazing, and they're often crazy expensive too!
Do one yourself, maybe these fast and simple DIY yarn bowls/ yarn holders aren't as pretty looking as those ceramic expensive ones. But they are just as good!
Oh, I love a good money saving hack!
Ideas for DIY yarn bowls/yarn holders
You can use a glass jar or vase that's big enough to fit your ball of yarn. Of course, it doesn't need to be glass, but it's nice to be able to see the yarn ball shrink and be aware when it's getting time to get a new one.
A bowl and a paper clip work well too. Attach the clip to the edge of the bowl and pull your yarn strand through the opening.
You can put your skein in a plastic bag and put a hair tie around the top to make the opening big enough to let the yarn slide through and keep the ball inside.
If you're knitting with multiple colors it can get messy when all the yarns tangles. If you put them in individual bags there will be less tangling.
Zip-lock bags are even better! Put your yarn ball in the bag, cut a hole at the top of the bag to feed your yarn through. Lock the bag and your yarn is safe!
Or use a shoebox and some spare knitting needles or wooden skewers and rubber bands.
Make holes in the box to hold the needle/skewer. Every stick needs two holes across from each other. Put the stick through the first hole, put the yarn ball on the stick and put the stick through the second hole. Then add a rubber band to the tip to stop the needle from slipping out of the hole.
Repeat as many times as you need or can fit in the box. The needles hold the yarn balls in place in the box and you will have fewer tangles.
Weaving in ends is boring – don't do it!
I love knitting, but I do not love weaving in the ends afterward. So I stopped doing it.
How can I skip this step? The answer is that I knit them in as I go.
When I'm done casting on my stitches I knit the first five stitches with both my working yarn and the tail. This way the tail is weaved without any extra work for me.
When I add a new ball of yarn to my project I hold the old and the new strand together and knit with both for five stitches. Then I just drop the old one and leave it there.
This means that after binding off I just have one end to weave in (the bind off thread). The other ends are already weaved in and I can just snip them off! Such satisfaction, such a timesaver, such a good knitting hack!
I wouldn't use this method for color knitting thou, it would show too much.
Decorate with cute pompoms!
Mini-pompoms are fast and super easy to do. They would make a cute decoration for hats or gift-wrapping. Actually, pompoms make everything cute!
All you need to get started with these are a fork, yarn of your choice and a pair of scissors.
Make some mini-pompoms!
Wrap the yarn around the fork. The video below says fifty times, but I should say that that depends on the weight of your yarn. Wrap until you think it's enough!
Cut your yarn. Also, cut an extra piece of yarn for tieing your pompom. Take the yarn off the fork and tie your piece of yarn around it.
So it's time to bring out the scissors. Cut all the yarn loops open so that you get a ball. The ball will look uneven and kind of ugly.
Use your scissors to trim the ball down to a thick and smooth pompom!
This video Sriya from Handmade Creations by Sriya shows you how it's done while she lets you listen to a happy tune!