How to use Stitch Markers in Knitting
Stitch markers are a knitters best friend!
If diamonds are a girls best friend – stitch markers are definitely a knitter's best friend!
Stitch markers are used to keep track of what to do and, when to do it, in your knitting projects.
They tell you when to increase (or decrease, that depends on the direction of your knitting) for your raglan seams.
When knitting on circulars they remind you of where the start of your row is.
Are stitch markers unnecessary?
Some say they aren't needed. And maybe they aren't as necessary as yarn and needles.
But for someone like me, that can count my stitches several times and always end up with different answers they save a lot of time and energy!
Jewelry for your project
Stitch markers are beautiful like little gems and caramels and I see them as useful jewelry for knitting projects. They come in all colors and shapes, and they makes you happy!
Take a look at all these gems, excuse me stitch markers, and you will see what I mean!
Stitch markers are a knitters best friend!
How to use stitch markers?
Stitch markers isn't just pretty, affordable and, perfect gifts. They are also super easy to use!
Put one on the needle between two stitches and slip it from one needle to the other when you have knit to it.
Markers help you keep count!
When you're using stitch markers you don't have to count as much. As a result you will have more capacity over for conversation if you're a social knitter. Or maybe for following a Netflix-show if that's your game.
Put the marker where you have to remember to do something. Maybe there's a switch between different knitting stitches or techniques. Or maybe you need to make an increase or decrease?
Use stitch markers to divide your project
You can use stitch markers to divide a project into different pieces.
For example, if you're knitting a raglan cardigan from the top down you may divide your stitches into:
placket – front – sleeve – back – sleeve – front – placket
If you place a marker between the placket and front stitches, one between the front and the sleeve stitches and so on you can easily keep track of the different pieces.
When I'm knitting cardigans this way I like to use one kind of marker between the plackets and the fronts. This way when I see that marker I instantly know that I should switch between placket stitches (which are usually garter stitch) and front stitches, which may be moss or stockinette stitch.
For the increases, that in a top-down raglan is placed on both sides of the sleeve stitches, I use another kind of marker. So, when I see that kind of marker I know that it's time to increase if I'm on the right side or just slip the marker if I'm on the wrong side.
Some quick stitch marker hacks
Are you going to cast on a big number of stitches?
Place a marker every 25 or 50 stitches. That way you don't have to count all the 500 stitches all over if (when…) you get interrupted.
Knitting in the round on circulars?
Put a stitch marker at the join. This way you will always know when you begin to knit a new row. As the round knitting is a spiral more than different rows upon each other there can easily be some confusion if you lose track if that point.
Need some extra motivation?
Use a locking stitch marker and lock it in a stitch at your current row. Knit on and see the marker moving downward from your needles.
It's a simple trick, but it's surprisingly rewarding to see all that fabric grow between the needle and the marker!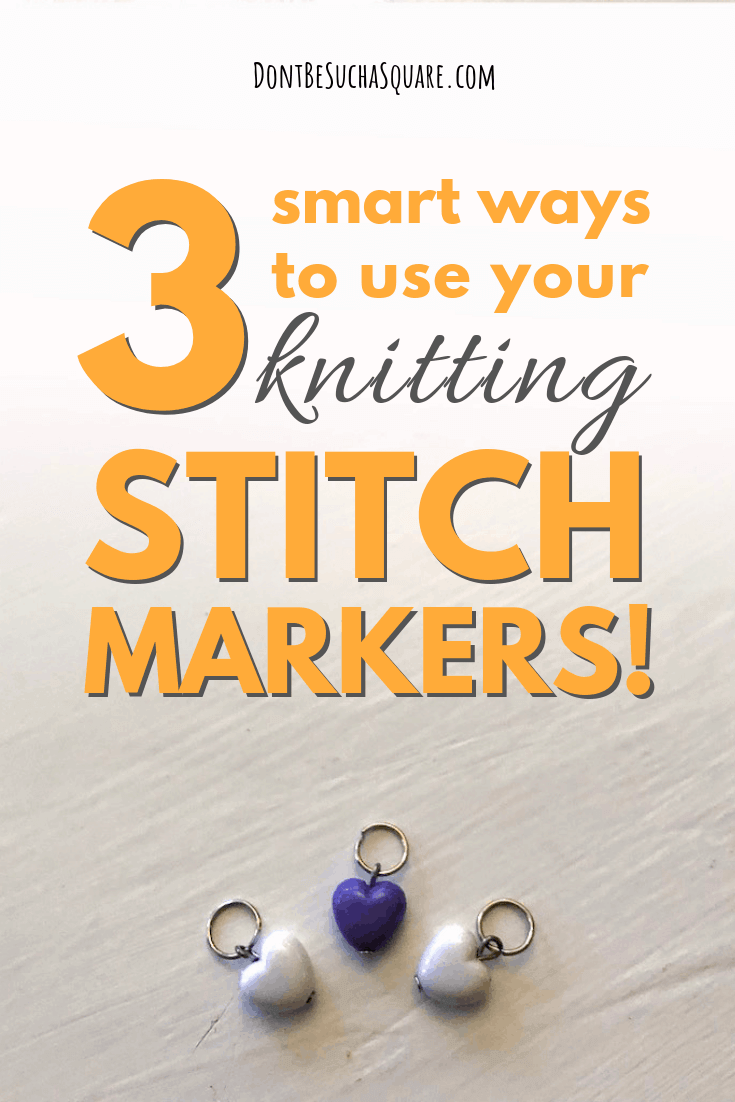 Different knitting stitch markers
Stitch markers are used to mark something out in your knitting.
There are different kinds of stitch markers:
O-ring stitch markers
Removable / Locking stitch markers
O-ring stitch markers
O-ring stitch markers are made of a ring, as the name implies.
These are commonly used in knitting as the ring makes it possible to put them between two stitches on the needle.
Some of them have a gap between the ends, this can be annoying as it can snag your yarn.
The ones without opening or with a cover over the gap don't snag. But, if you happen to catch them in your knitting you will have to frogg to get them out of there.
They're often decorative in bright colors or as these, with a bead.
Removable / Locking stitch markers in knitting
There are a few different kinds of locking stitch markers. They all have in common that they can be opened and closed, removed.
Lock or clasp markers: Opens with a lobster claw clasp, like the ones common on necklaces and bracelets.
Clips markers: Opens like a safety pin.
Split-ring stitch markers: Markers with split rings opens as a paper clip.
All of these markers can be opened and closed, so they can be used to mark a single stitch in a row and then removed when you wish so. They will never be stuck in your knitting!
These aren't as common in knitting as the ones with a ring. But if the lock/clip/split-ring is big enough to fit your needles they can be used just as the o-ring markers.
If you have some (or see a cute set you just have to have!) that is too small to fit your needles, you can always use them as row counters or progress markers.
The removable stitch markers are very popular among crocheters. So if you crochet, these are for you!
Questions hear a lot!
What does SM, SLM, slip marker, mean in a knitting pattern?
SM and SLM are both short for the term "slip marker".
When your knitting pattern tells you to slip marker the marker shall keep its place between the same two stitches. All you have to do is move it (slip it ) from one needle to the other.
What does PM, place marker, mean in a knitting pattern?
PM is short for "place marker".
When your knitting pattern says place marker you should do just that. Place a marker on your needle and let it sit there while knitting along.
For example, if the pattern says "knit 10, PM, knit to end of row". You knit 10 stitches, put a marker on your needle and then knit the rest.
Further down your pattern will tell you what you are supposed to do when you come to that marker.
What is the difference between slip marker and place marker?
The difference is that you first place the marker, where the pattern tells you to do so.
When you come to that marker next time, you do what the pattern tells you, and then slip that marker. That means that you lift it over from the left needle to the right.
To stitch it all up …
No, you don't need stitch markers. But, they can make your knitting easier and more fun!
If you love cute little gadgets, take a look at this post! I have gathered the cutest stitch markers I could find on Amazon for you. There are cats, owls, beads, teacups and more!
💛 💛 💛
👉 Please click here to follow Don't Be Such a Square on Pinterest!