Crochet journal, notebook, planner, log book, project tracker… We find many names for what we love, right?!
No matter what you call them, keeping a crochet journal is an easy, practical (and often cute!) way to have all of your crochet notes in one place.
It's fun to be able to go back and look at all the things you created. It's also good to have a record of what yarn you used, how much yarn was needed, what changes you did in the pattern, when to decrease/increase, and well you know all the things…
I have searched the interwebs for fun, cute, and practical crochet journals. Please take a look and see if you find something you like!
This post contains affiliate links. As an Amazon Associate and member of other affiliate programs, I earn commissions from qualifying purchases at no additional cost to you.
Crochet journal log book
This is a beautiful logbook for all your crochet stuff and thoughts.
Besides the project pages where you write down all the facts, save yarn samples and labels and sketch or add photos, this book also has index pages to fill in so that you can easily get an overview of your crochet projects and see where to find them in the book.
---
Retro gingham crochet journal
This notebook is actually my own design! I love yarn crafts and design both, so this cute notebook is like a mashup of some of my favorite things.
This is a notebook and doesn't come with any templates or other kinds of resources. Instead, it's a blank canvas for your to fill with notes, sketches, or whatever you like!
The book is spiral bound which allows the pages to lay flat when you leave it open instead of flipping by themselves.
So, if you like a spiral-bound notebook with a cute hardcover and lots of space to write about your projects, make this blogger happy and get the book from my Redbubble-shop 🙂
---
Enjoy the Now" a planner with dividers
This is a notebook with dividers, perfect if you want to have different sections. For example one for crochet, one for knitting etc or maybe one to log your projects, one for your stash, one for useful websites.
---
Hand stamped flamingo notebook
This is a high quality notebook with a cute golden flamingo hand stamped on the cover.
The notebook is A5 size and has thick 160 gms pages that lay flat when opened. The thick pages with a dot grid allow you to write, draw, or glue photos of your projects in place.
---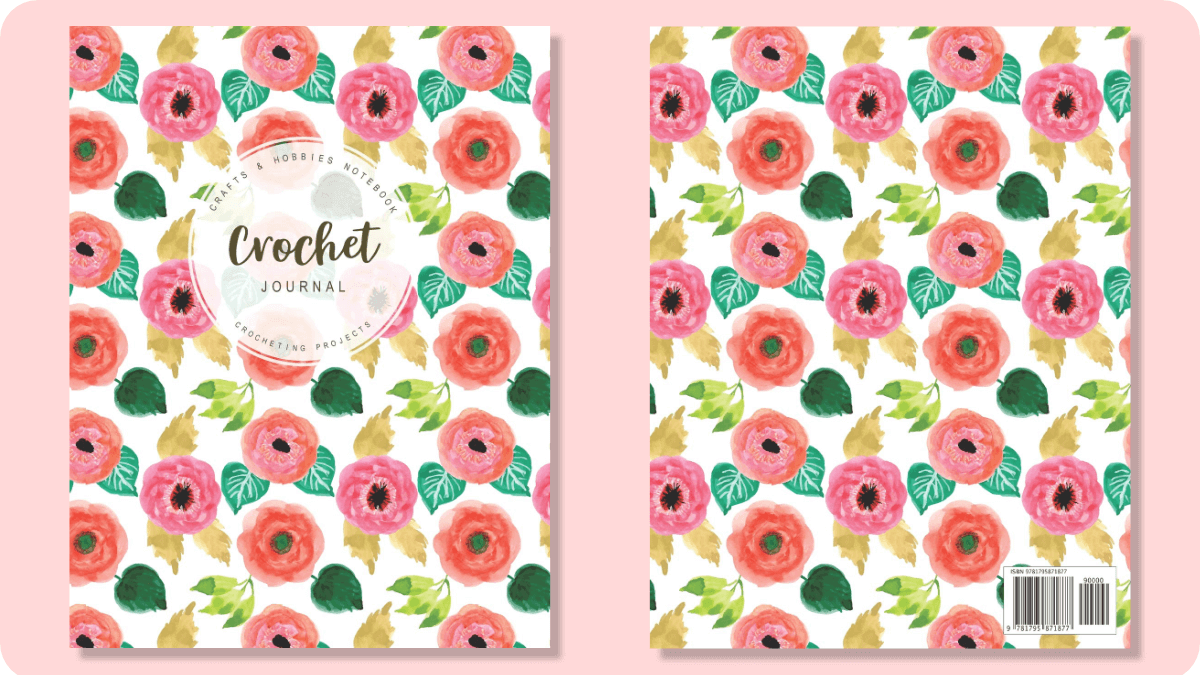 Pretty floral crochet planner
This planner makes me think of spring and summer. Just look at all the cute flowers!
This book is 134 pages and has sections for:
⁕ Your crochet projects. Each project gets a spread with room for project details, notes, attaching a photo and yarn samples, etc.
⁕ Yarn and hook inventory
⁕ Crochet shopping lists
---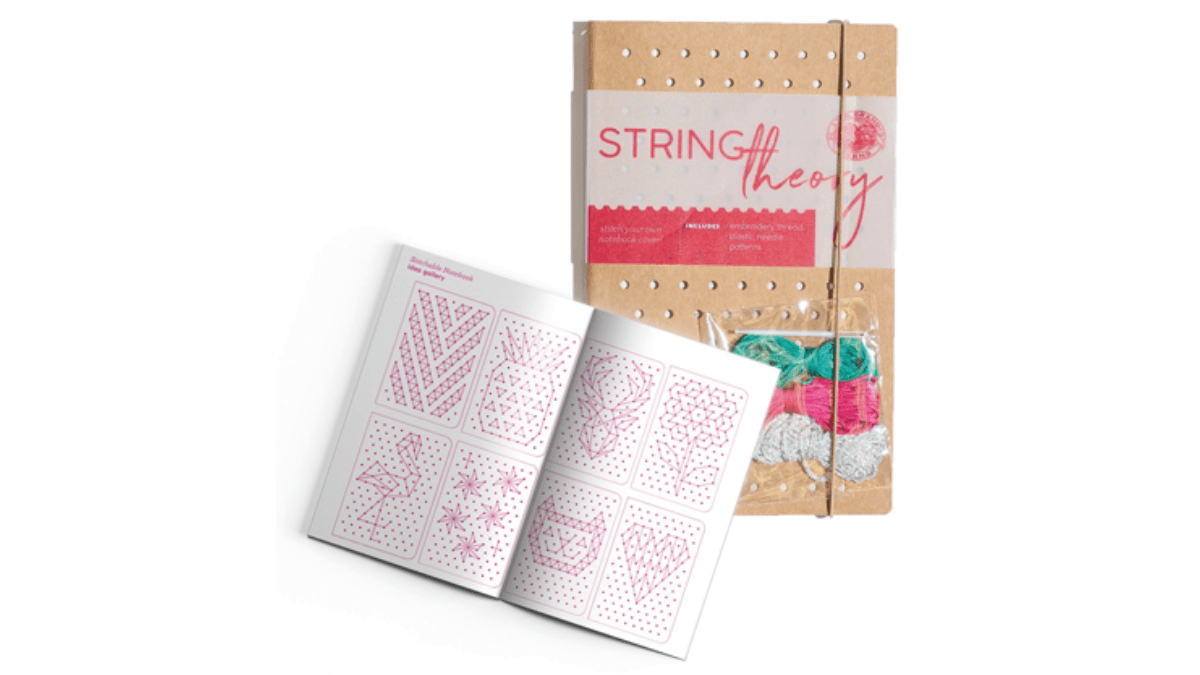 Customize your notebook
How fun is this? If you're a multi-crafter, you will love this notebook!
You get a notebook you can sew on, string in three colors, and pattern suggestions. Just grab a needle and get decorating.
I bet you will smile every time you get this book out to write down your latest crochet adventures!
---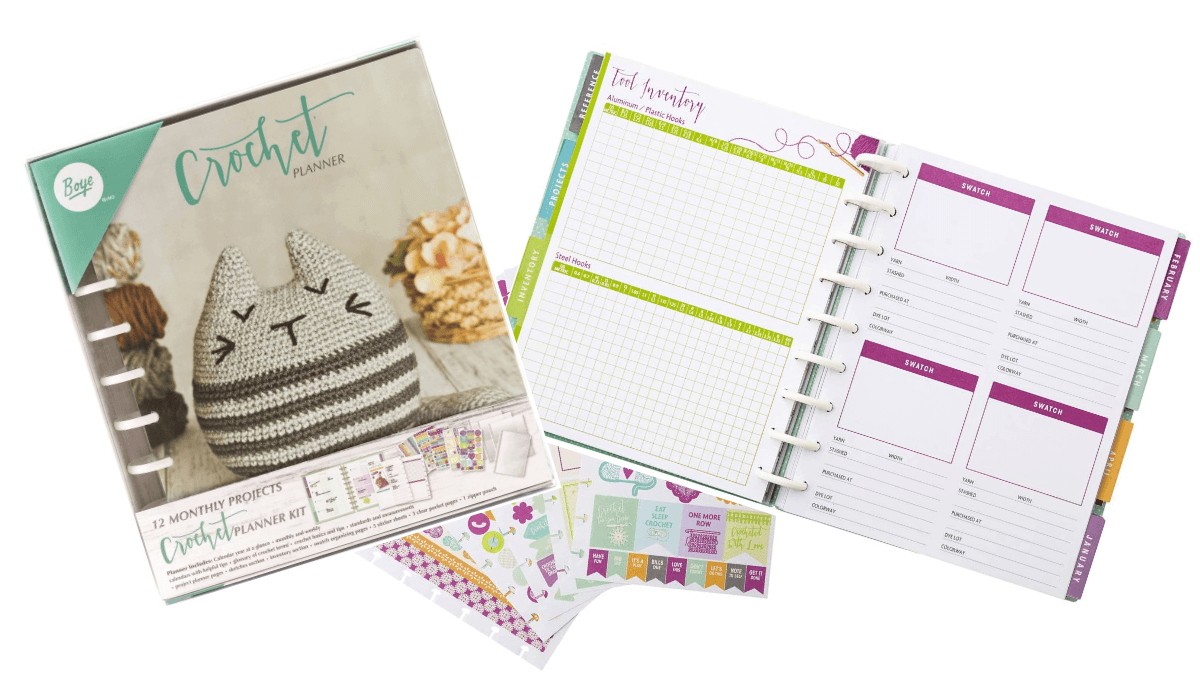 12-month crochet planner kit
This planner kit from Boye includes all you need for planning and keeping track of your crochet for a full year. All in a pretty colorful design! This is the perfect gift for any crocheter 🙂
You can use this as a regular planner, it has monthly and weekly spreads as well as project pages and a lot of crochet resource pages.
The 12-month crochet planner kit from Boye includes:
⁕ A planner that includes monthly and weekly spreads with tips and tricks, project pages, inventory pages, a stitch symbol library, crochet basics, measurements, and more.
⁕ 5 sheets with cute stickers for decorating your planner
⁕ 3 see-through pockets for swatches, yarn samples, photos, etc.
---
"I crochet so I don't kill people" crochet journal
I have a love-hate relationship with this saying, I have to admit that's because it sometimes feels a little bit too close to the truth. Especially if you trade crochet for knit…
I which case it's a funny crochet journal and everything that makes me smile is a winner in my book.
This journal has room for 60 crochet projects. Each project gets a spread, where the first page is for pattern details, a sketch, and taking notes, and the second page is a graph paper
This journal also has space for hook and yarn inventory.
---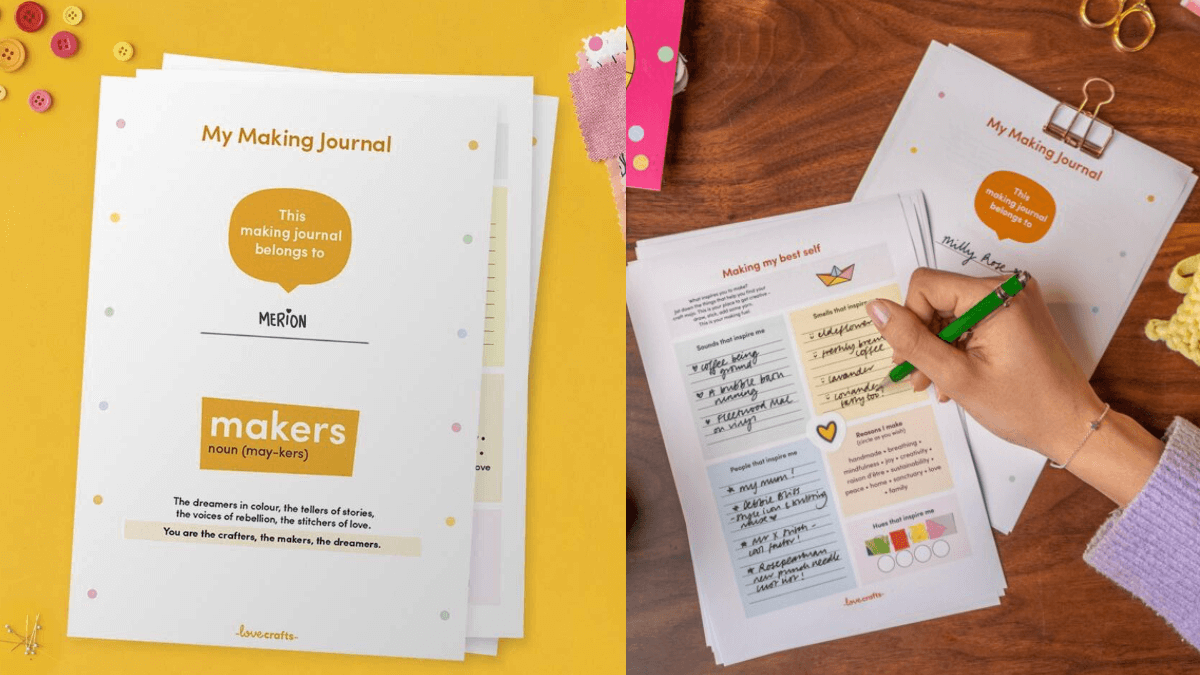 Get My Maker Journal for free!
My Maker Journal is made to suit any type of craft project. You can print it over and over again and use it for all your different projects like crochet, knitting, sewing, paper crafts, clay, beads, or whatever your thing might be.
Download and print the twelve-page pdf and put the pages in a binder and you're ready to go!
The best part? It's completely free to download and use. But LoveCrafts have a lot of beautiful yarn and patterns so be sure to take a look when you're there.
---
Beautiful crochet Journal
A lovely crochet journal for recording all your projects. This one is a fill-in-the-blanks kind of book with one project per page.
There are boxes for writing down your project details such as pattern, hook, yarn, gauge, etc. A box for adding a yarn label or sample and one for a sketch or photo of your project.
This journal is 6 by 9 inches ( 152 X 229 mm) and has 110 pages.
---
Your next read:
––> Printable crochet planner pages If you like to plan your crochet project on pages and put them in a binder this might be something for you!
––> US vs UK crochet terms
––> Best gifts for crocheters!