Let's knit some squares with squares on them!
As an Amazon Associate and member of LoveCrafts affiliate program, I earn commissions from qualifying purchases at no additional cost to you.
The checkerboard knitting stitch pattern creates a pattern of knit and purl squares like a checkerboard, hence the name.
But instead of black and white squares this checkerboard are created with knit and purl stitches!
I knit this stitch with alternating blocks of purl and knit stitches, but it can also be done with knit and garter stitch blocks. Like this pattern from StudioKnit
The number of stitches and rows done in each stitch pattern also varies. I have chosen to do mine in five stitches and five rows as I wanted big and bold checker squares in my blanket square to make it stand out from the squares with other types of patterns.
The main difference between the checkerboard variations is that the knit and purl version is reversible, which makes it suitable for scarves and blankets. The blocks of knit and purl stitches are just blocks of stockinette stitch facing different sides.
If you want to read about which other knitting stitch patterns I used in the blanket you will have to wait a little more. There will soon be a post about my blanket project, I just need to seam it up, take a bunch of photos and write it all down first 🙂
You find all Knitting stitch patterns here!
Is checkerboard knitting stitch a good beginner stitch
Yes, I would say it is. When you have mastered the knit and purl stitch and feel you're ready for something more this stitch is easy enough yet a little more challenging than the garter, stockinette and seed stitch.
The supplies needed
To knit the checkerboard stitch pattern you will need:
Yarn of your choice
Knitting needles that suit the yarn
Scissors
Wool needle to weave in the ends
Knitting abbreviations
K – Knit stitch
P – Purl stitch
Do you know all the knitting abbreviations? I can honestly say that I don't remember them all… So, instead, I wrote a list of 88 knitting abbreviations to keep in my knitting journal. Of course, I made a printable pdf to share with my readers as well! You find it in this post
Checkerboard knitting stitch pattern
Cast on stitches in multiples of ten + edge stitches if you want to add some.
I added one edge stitch at the start and one at the end of the row to make room for easy to seam edges. I slipped the first stitch knit wise on every row and purled the last stitch on every row. This way I ensured that all edges looked the same and it was easy to seam all the squares together for the blanket.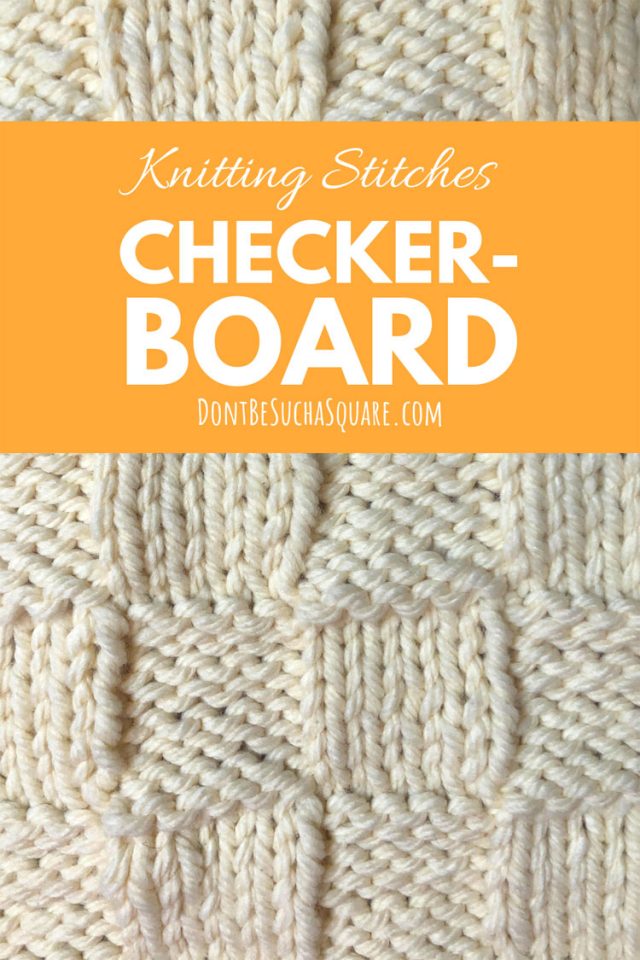 Row 1: *K5, P5* repeat *–* across the row
Row 2: *P5, K5* repeat *–* across the row
Row 3: *K5, P5* repeat *–* across the row
Row 4: *P5, K5* repeat *–* across the row
Row 5: *K5, P5* repeat *–* across the row
Row 6: *K5, P5* repeat *–* across the row
Row 7: *P5, K5* repeat *–* across the row
Row 8: *K5, P5* repeat *–* across the row
Row 9: *P5, K5* repeat *–* across the row
Row 10: *K5, P5* repeat *–* across the row
What can I use Checkerboard stitch for
Checkerboard is perfect for a blanket, making squares in a range of stitch patterns is a fun (and cozy) way to try a lot of fun stitches. You could aslo consider making a whole baby blanket in checkerboard.
If you're going for a blanket and are new to knitting I would suggest to use a bulky or super bulky/chunky yarn and thick needles.
The thicker yarn makes it easier to see what you're doing and your project will grow much faster. I think it's important to choose projects you manage to finish quite fast, in the beginning, to keep your knitting spirit.
Like a candy store for yarnies!
I recently discovered LoveCrafts webshop, and I may be the last one to shop here. But I liked it so much that I had to share this candy store with you all!
LoveCrafts sells yarns in all qualities, weights, and colors as well as knitting, crochet and embroidery supplies and patterns. The store is based in the U.K. but ships all over the world to reasonable fees. For example, they offer free shipping for U.S. customers shopping for 100 USD or more!
But it doesn't end there, this is also a community for stitching people! You should definitely visit them!
A chunky teaser of what you can find at LoveCrafts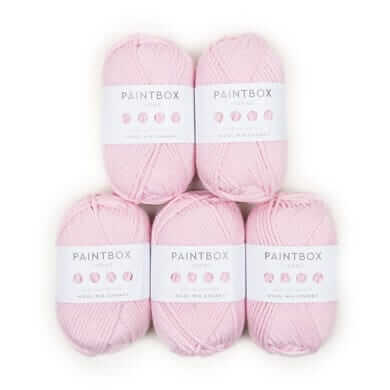 This chunky yarn from Paintbox it's available in 60 (!) shades, both bright rainbow colors and more muted variations. Right now you can get them in a value pack of 5 balls (500 grams) to a 10% discount! That's a bargain!
Reading tips:
How to knit the easiest baby blanket
Matching yarn and needles
Yarn weights explained