Learn this easy and fast-growing lace knitting pattern!
This stitch is called drop stitch garter because of the dropped stitches used.
Dropped stitches is usually considered a bad thing in knitting, but in this easy lace pattern stitches are dropped intentionally to create the open fabric.
The drop stitch garter lace stitch is both easy and fast-growing, that's such a satisfying combination!
It's called drop stitch GARTER because it's four rows of just knit stitches aka garter stitch between the rows of dropped stitches. The garter stitches makes this stitch super easy to knit.
And using double yarn overs makes it grow incredible fast!
Drop stitch garter is perfect for breezy summer knits
The openings in the fabric make this stitch perfect for summer tops and breezy sweaters! A scarf done in this stitch is both beautiful and very breathable which makes it perfect for spring and summer.
Is this stitch reversible
Yes, this stitch looks the same on both sides.
Does this stitch curl at the edges
No, the garter stitch used for this stitch pattern makes your projects lay flat. Garter stitch is only knit stitches on both sides which evens out the tension in the fabric and makes it flat.
The supplies needed
As an Amazon Associate and member of other affiliate programs, I earn commissions from qualifying purchases at no additional cost to you
To knit the drop stitch garter you will need:
Knitting abbreviations
K – Knit stitch
YO – Yarn over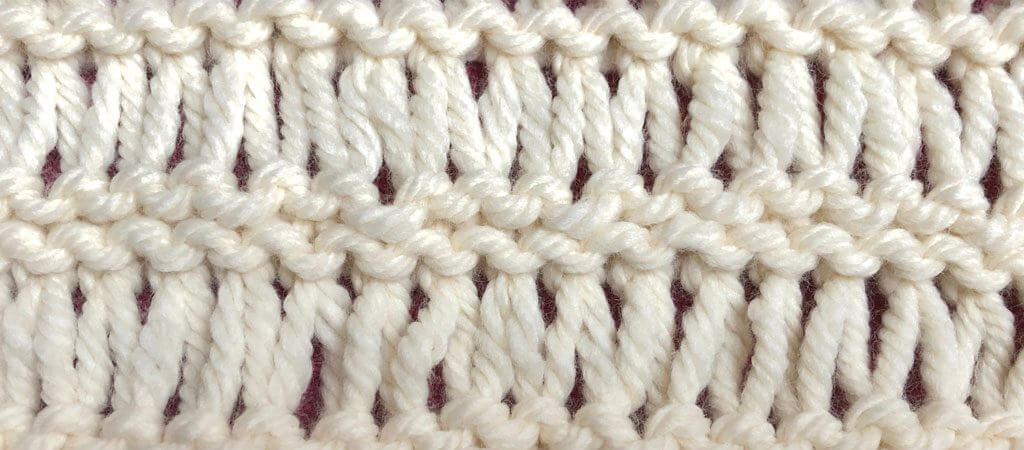 Drop stitch garter pattern
Cast on in any number of stitches
Row 1–4: *K*, repeat *–* across the row
Row 5: K2 *2YO, K1*, repeat *–* across the row, K1
Row 6: K2 *Drop 2YO, K1* repeat *–* across the row
Read more:
––> Easy lace stitch patterns
––> Knit and purl stitch patterns