How to plan a knitting project
Planing a knitting project and taking notes along the way is a way of getting on top of the creative chaos and making things happen while saving time, keeping an eye on the details and having a lot of fun!
Catch your idea and hold on to it
I don't know about you, but I'm like a fountain of ideas and if I don't grab an idea directly, write it down and start molding it out it's going to be lost amongst others.
This often makes me feel undecided and stressed as I sometimes barely keep up with my own mind. But over the years I have learned that the only way forward is to grab one idea, write it down and tell myself that this is what I'm working on right now and everything new that pops up will have to wait.
This helps me focus on one project so I can plan it, gather materials, make it happen and feel good about it instead of being trapped in that creative chaos that's my brain …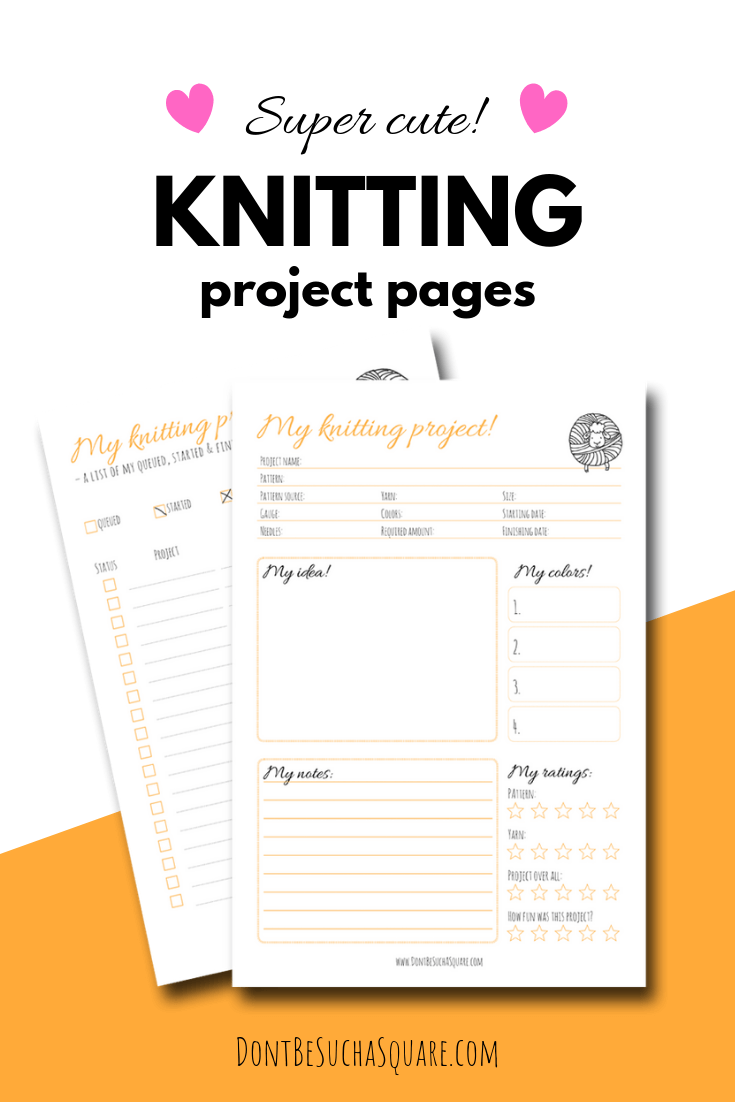 The perks of planning ahead
Save time
By doing some planning and think everything through before you cast on you avoids doing mistakes that cost you a lot of time to fix.
And, by having every detail on hand, you will save a bunch of time wondering how you did it the last time.
Keep track of the details
By taking notes along the way you won't forget things like which type of decreases you have done, how many stitches you did cast on, or which needles you used for the ribbing. And, it will save you a lot of frustration.
Keeping your notes up to date and organized also means you can go back later and see how you solved a problem in an earlier project.
Have fun!
I really enjoy the planning process. The sketching and writing down notes and thoughts are so much fun!
Especially as I know it helps keep me on track forward with my projects instead of having a myriad of ideas bouncing around in my head.

To make this even more fun and inspiring I have put together a project sheet template for you to print out. And, there is also a list for keeping track of all your future, present and finished projects. These sheets are perfect to put in your knitting journal!

So, click the images to print out the planning sheets and get started. I'll wait for you here 🙂
Ready? Let's dive into the world of planning and project journaling, shall we?

Plan a knitting project: A step by step guide
Step 1 – Drawing up the lines
Fellow knitters, this is getting serious. Take out some paper and pens, we shall plan a knitting project and have some sketching to do!
(And, if you haven't done it yet, print and use these free knitting project sheets to takes notes. I use them all the time!)
For those of you who have a pattern
Write down which pattern you're using, if you're using one. If you know already that you want to make modifications to the pattern, write them down to and if you want to, make a quick drawing of your idea!
I think these quick drawings make things clearer and it often leads me to choose another solution than the one I picked off to start with. Sometimes the first draft is perfect! And other times I just see that I want to add or take something away.
And for the freestylers
If you are a freestyler (like me) write down, and/or draw, your thoughts about the result you have in your mind.
Start your planning by making sketches of the item you're going to knit. Just some simple line drawings. When you're happy with the shape and construction details you can start thinking of colors, patterns, and structures.
So, put some color to the sketch, write notes, draw arrows, get creative, and put everything that comes to mind in there. It could be stitch patterns, where you want to do some shaping, maybe an idea for a collar to try out, and things like that.
For me, these sketches make things clearer and it often leads me to test another solution than the one that first came to mind.
Sometimes the first draft is perfect! And at other times it's just not and I need to make more sketches with different details.
If it's a sweater, for example, you may consider things like:
Neckline. Rounded, squared, crewneck or maybe a polo?
Yoke. Raglan, round, set-in sleeves, contiguous or saddle?
Hems. Ribbing, lace, moss stitch or maybe a picot edging?
Fitting. Do you like some positive ease or a more fitted style?
Structure. Are you planning on doing a stitch pattern or are you going for the stockinette stitch?
Knitting technique. Are you going to knit in the round or flat, on circulars, straight needles or double pointed?
Seaming. Seamed or seamless?
Colors? Will it be a one color show? Or are you going to
Do you wish to do stripes? Dots? maybe a fair isle yoke?
As you see, there are many decisions to make and a lot of planning to do!
Step 2 – Try not to get lost in the jungle of yarn!
Now that you have sketched, and probably, re-sketched and written down some guidelines for your project it's time for some more fun:
Picking a yarn
Picking yarn..! There are so many qualities to choose from like all the different fibers and fiber blends on the market. A bunch of different textures, weights, plies, and … Well, this is an interesting subject and a BIG one. So big it deserves a post of its own.
I have written a whole post on this subject, a guide to help you choose yarn, filled with helpful facts about yarn and fibers. You find that post here: How to pick yarn for my next knitting project
If you are planning to knit a certain pattern, you should choose the yarn stated in the pattern information in first hand.
Tips for substituting yarn
There are methods for substituting yarn, and they work well if you have a bit of knowledge of yarn and fibers.
Step one is to find a yarn with which you can get the gauge stated in the pattern. But, it isn't all about the gauge.
Different fibers will behave in different ways and the way the yarn is spun affects the result.
So even if you find a yarn that you like and that can obtain gauge there is no guarantee that this project will turn out as in the pattern picture.
With that said, I don't want to kill your creativity, just make you think twice and find the information you will need to make a good choice!
May I suggest that you take some time to read more about picking yarn here: How to pick yarn for my next knitting project
And this post goes in deeper on gauge and how to use it: What is gauge?!? And how to use it
Step 3 – A rainbow to choose from
So you have sketches of your project, you have decided on all the details and you have decided on a suitable yarn.
Now that you are in the clear about how you wish your project to turn out and which type of yarn you are going to use, it's time for even more fun!
Picking your colors
You are going to pick a color, or is the rainbow is your limit?!
Maybe you already have a color in mind. Maybe you don't. However, now is the time to make your decision. Because we're going to the yarn store …
Which colors we prefer are very personal. And how we choose them to. Some may just pick a color they love and go with that one all the time. Others go for bright colors every time. And then there are some of us that don't like to shine quite that bright and go for the pastels. Then there are those who like to knit in the natural color range.
And, then there are people like me who are all over the place. I mean, there is so much to choose from, why should I pick one or two?!? What a waste of prettiness!
Some advice on picking a color
I just have three pieces of advice when it comes to picking colors:
Do you love it? Then you knit with it! If you love a certain color, you will enjoy knitting with it and you will enjoy wearing it. So, just go for it. Nothing in your wardrobe matches it? Not a real problem, buy a pair of earrings to go with it or just make an accessor from some leftover yarn!
If your project has a stitch pattern, choose a solid, light or, bright color that will make your neat stitching pop! A dark or variegated yarn won't show off your beautiful stitches, and that would be a real waste of your valuable time and effort.
If you're doing colorwork like fair isle, stranded, intarsia or mosaic knitting. Take a photo of all the colors together and change the settings in your camera/phone to black and white. This will give you the opportunity to see how the colors look together. Are they making each other pop or are the melting together in a blur? If they stand out from each other, it's a good choice to combine these colors in colorwork. If not, try with another color combination or your colorwork won't show very well in the finished fabric, and we wouldn't want that to happen!
You can read more about color theory for knitters in this post!
Step 4 – Time to put your needles into the yarn!
Good job, you have done some serious planning! Now it's only the swatching and calculating parts left to do before you can dive into the best part, the knitting.
Knitting swatches
Knitting swatches is a game-changer. Swatches are the way to success. I know you just want to dive in and get started on the "real deal" …
Gauge
… But, If you take your time and do a big enough swatch to take accurate measurements from you will know your exact gauge with your yarn, needles, and chosen technique. This is a valuable help to succeed with any project.

Do not rely on the gauge given on the yarn label, see it more as a pointer in the right direction. Every person has their own gauge depending on their technique. Things as tension, the way you hold your needles, and the materials in the needles will play a role.
Measurements
When you know your gauge you will also need to know how big you want your finished item to be. With these figures on your hand you will be able to calculate how many stitches and rows it takes to achieve your preferred length and width.
Time to do the maths
When you have your gauge figured out and know the measurements you are going for in your project you can calculate everything you need to know for your project to be a success!
How many stitches to cast on, how many stitches to increase and decrease for shaping, where to put darts and pleats, and so on.

The graphic above shows you how to calculate with stitches, measurements, and gauge. It says inches but if you prefer the metric system please just insert centimeters or decimeters instead of inches – the formula is still the same…
Note the results of your calculations on your project sheet, so you don't forget and have to do it all over again!
To understand gauge can be a bit tricky, but if you give it some effort it can really be a game-changer for your knitting.
If want to read some more on the subject, please click this link to my post entirely dedicated to gauge and swatching. What is gauge?!? And how to use it
Please click here to follow Don't Be Such a Square on Pinterest!