Diagonal stripes ribbing a decorative and easy stitch pattern!
As an Amazon Associate and member of other affiliate programs, I earn commissions from qualifying purchases at no additional cost to you.
The Diagonal stripes rib looks just like a diagonal ribbing, and can absolutely be used where you would use a regular ribbing.
Just be aware that it's not as elastic as the more common ribbing.
This stitch looks a bit more quirky and fun than the regular ribbing and can be a nice detail to any kind of garment or as edging where you don't need as much stretch. The hemline of a stockinette sweater for example, it will prevent the edge from curling but it doesn't have the same pull to it.
Or do as I did and use it for a square or two in a sampler afghan! (More about that in a later post)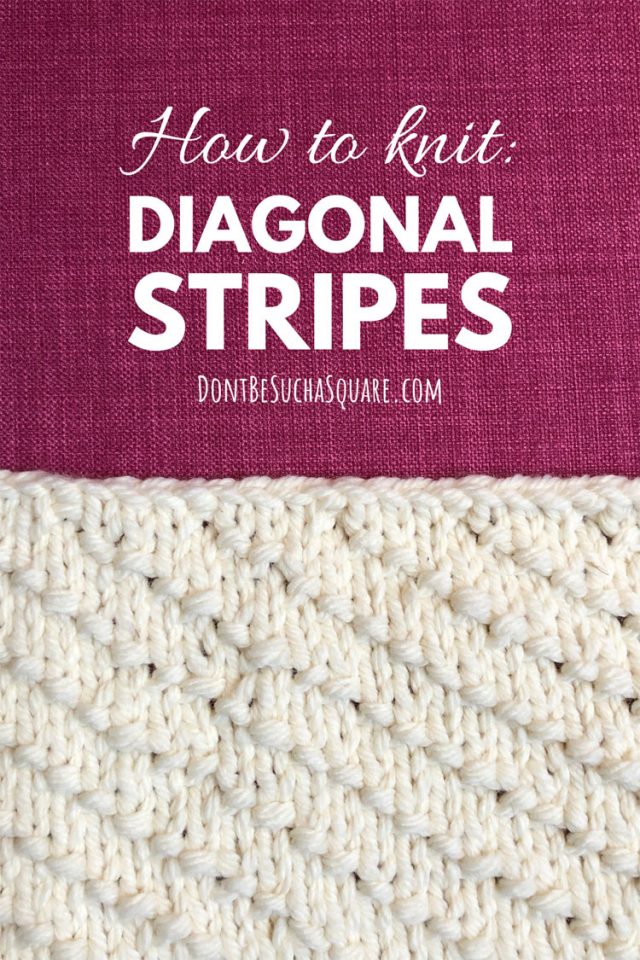 More textured patterns!
Visit my knit and purl stitch patterns library to find more textured patterns that look fancy but are really easy to knit!
The supplies needed
As an Amazon Associate and member of other affiliate programs, I earn commissions from qualifying purchases at no additional cost to you
To knit this pattern you will need:
Knitting abbreviations
K – Knit stitch
P – Purl stitch
Do you know all the knit abbreviations? I can honestly say that I don't keep them all in my head at all times… So, instead, I wrote a list of 88 knitting abbreviations to keep in my knitting journal. O f course I made a printable pdf to share with my readers as well! You find it in this post

How to knit the diagonal stripes knitting stitch pattern
This stitch is built-up of alternating knit and purl stitches just as many other easy to knit stitch patterns.
To achieve the diagonal stripes you have to shift the pattern one stitch on every row.
So this is how I knitted the diagonal stripes rib:
Cast on stitches in multiples of four, add edge stitches if you need to. (For example, I like to add one stitch in each side to be able to knit neat edges. I always purl the last stitch and slip the first stitch knitwise. You can read more about that in this post: Four ways to knit neat edges
Row 1: *P1 K3* repeat *_* across row
Row 2: P2 *K1, P3* repeat *–* across row, P1
Row 3: K2 *P1 K3* repeat *–* across row K1
Row 4: *K1 P3 *repeat *–* across row
Repeat rows 1 to 4.
Is the diagonal stitch a good beginner stitch
The diagonal stripes stitch is easy to manage once you have got the hang of how the pattern works, and believe me, that won't take you long!
It's worked over four rows which makes it slightly more complicated than for example the seed stitch. But it's not har to do at all. And there are just knit and purl stitches in this pattern, no increases.
Does diagonal stitch curl
No this stitch won't curl because of the mix of knit and purl stitches. There are more knit stitches on the right side and more purl stitches on the back in diagonal stitch, but there's enough of both to make the fabric you create with it lay falt and nicely.
Why do knitted fabrics roll and curl? I have dedicated a whole post and a lot of my valuable time to this subject. Click here to learn more!
Did you enjoy this post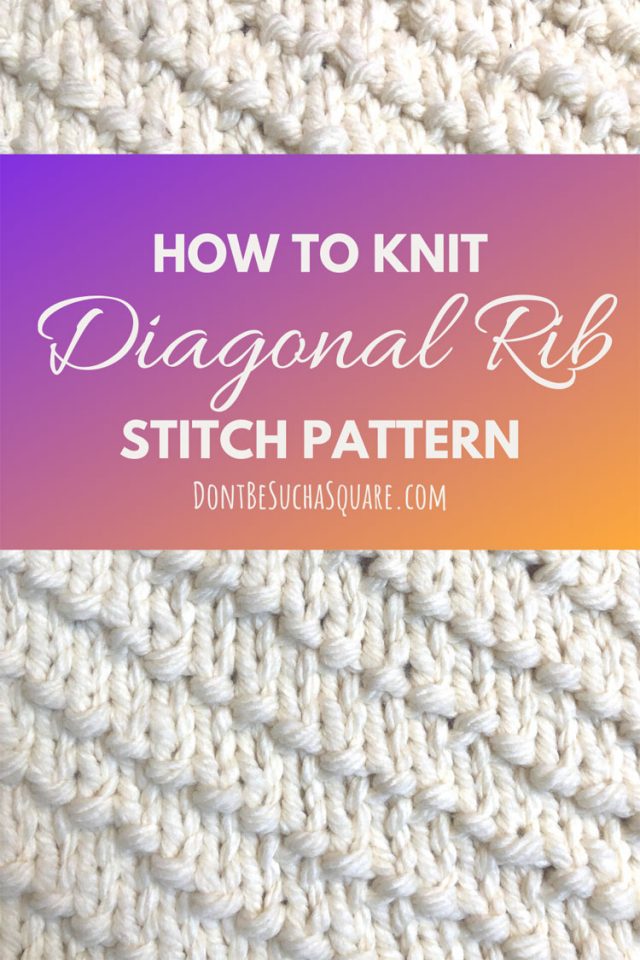 If you liked this post, please share it on Pinterest, I would really appreciate it if you did!
I also love to hear from my readers what kind of posts and subjects you enjoy the most! Please shoot me an e-mail at hello (at) dontbesuchasquare . com and let me know what you like!
Thanks & Happy knitting!
/Erika