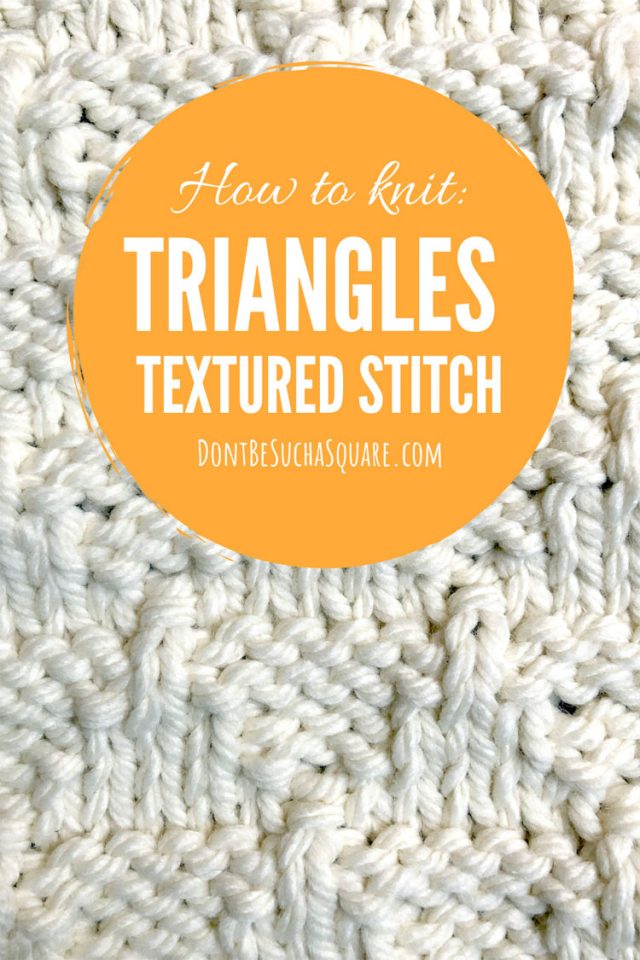 Knit this pretty textured pattern with triangles!
This triangle knitting stitch pattern looks a bit complicated, but hey it's just knits and purls, you can totally pull this off!
It may be a bit confusing at the start with all these different rows, I get it. But when you have knitted a repeat you will notice that it's really not that hard.
After a while, you will be able to determine where you are in your pattern and know what to do next at a glance!
The triangles knitting stitch pattern can be used in a wide range of projects. I have used it for some of the squares in a blanket I'm working on. More about that blanket in a later post!
This texture would also be beautiful in a scarf, shawl, knitted bag or baby blanket. Or maybe on a sweater or slipover made in a thinner yarn. The blanket square I have used for the images is made with super bulky yarn and needles 8mm (US11)
The supplies needed to knit the triangle knitting stitch pattern
To knit the triangle stitch pattern you will need:
Yarn of your choice
Knitting needles that suit the yarn
Scissors
Wool needle to weave in the ends
Knitting abbreviations
K – Knit stitch
P – Purl stitch
Do you know all the knit abbreviations? I can honestly say that I don't keep them all in my head at all times… So, instead, I wrote a list of 88 knitting abbreviations to keep in my knitting journal. Of course, I made a printable pdf to share with my readers as well! You find it in this post
Triangle knitting stitch pattern
Cast on in multiples of six, the pattern runs across 12 rows
Row 1: *K5, P1* repeat *–* across the row
Row 2: *K1, P5* repeat *–* across the row
Row 3: P1 *K3, P3* repeat *–* across the row, K3, P2
Row 4: K2 *P3, K3* repeat *–* across the row, P3, K1
Row 5: P2 *K1, P5* repeat *–* across the row, K1, P3
Row 6: K3, *P1, K5* repeat *–* across the row, P1, K2
Row 7: K2, *P1, K5* repeat *–* across the row, P1, K3
Row 8: P3, *K1, P5*repeat *–* across the row, K1, P2
Row 9: K1, *P3, K3* repeat *–* across the row, P3, K2
Row 10: P2, *K3, P3* repeat *–* across the row, K3, P1
Row 11: *P5, K1* repeat *–* across the row
Row 12: *P1, K5* repeat *–* across the row
Repeat rows 1–12