Garter ridge eyelets stitch
As an Amazon Associate and member of LoveCrafts affiliate program, I earn commissions from qualifying purchases at no additional cost to you
Knitting lace don't have to be hard! Garter ridge eyelets stitch is super easy lace knitting perfect for your first lace project!
This is an easy knit with mostly garter stitch and one row of alternating purl two stitches together and yarn overs.
Garter ridge eyelets stitch would look amazing in a shawl or scarf knitted in a thin yarn and with large needles!
I love a stitch that looks more complicated than it is 🙂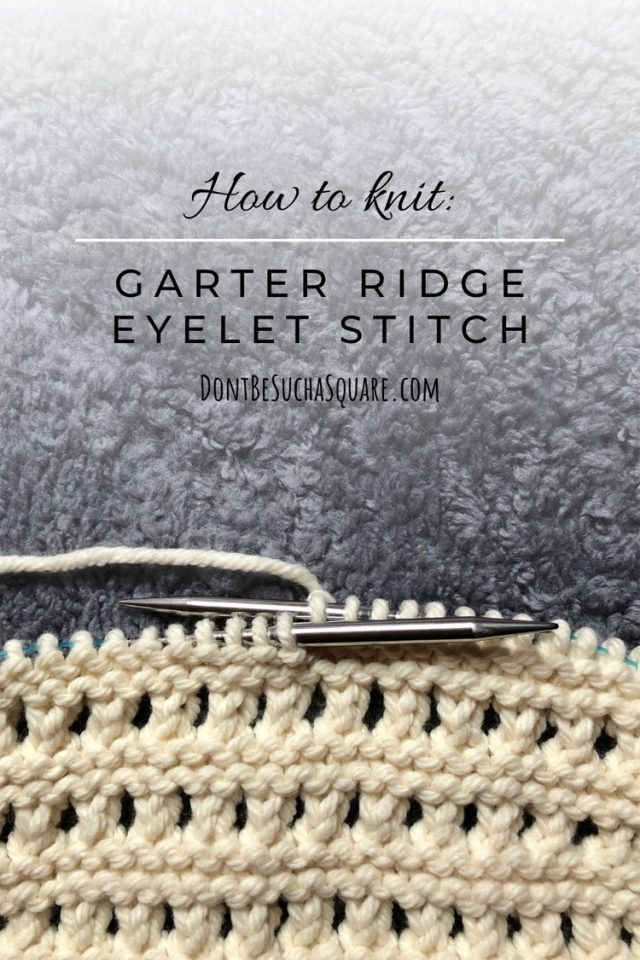 Is garter ridge eyelets reversible
No, this stitch does not look the same on both sides. But it looks pretty on both sides and can be used for projects where both sides are visible like scarves, blankets or dishcloths for example.
Does this stitch curl at the edges
No, the garter stitch used for this stitch pattern makes your projects lay flat. Garter stitch is only knit stitches on both sides which evens out the tension in the fabric and makes it flat.
Is this stitch beginner friendly
Absolutely, with five rows of only knit stitches and one row of alternating purling two stitches together and making yarn overs this stitch pattern is easy to do and easy to memorise.
The supplies needed
As an Amazon Associate and member of other affiliate programs, I earn commissions from qualifying purchases at no additional cost to you
To knit the garter ridge eyelets stitch pattern stitch pattern you will need:
Yarn of your choice
Knitting needles that suit the yarn
Scissors
Wool needle to weave in the ends
Knitting abbreviations
K – Knit stitch
P2tog – Purl two stitches together
YO – Yarn over
Garter Ridge Eyelets Knitting Pattern
Cast on in multiples of 2 + edge stitches if you need them.
Row 1–5: *K*, repeat *–* across the row
Row 6: *P2tog, YO*, repeat *–* across the row
Repeat rows 1–6
Why should you add edge stitches
I add two edges stitches if I'm making a seamed or visible edge kind of project. I guess that's always when knitting flat! 
I add one stitch at the start of the row and one at the end of the row. I slip the first stitch knit wise on every row and purl the last stitch on every row. This way I ensure all edges look nice and tidy, and are easy to seam.
Read more about neat edges here
Your next read:
––> Find all easy lace knitting stitch patterns here!
––> Learn to knit easy mock cables
––> Yarn weights explained + a free cheat sheet