Knit a rustic Christmas bunting in garter stitch
No matter if you're looking for some farmhouse style buntings to put up in your home for the Holidays or an easy to knit gift this Christmas bunting knitting pattern may be just the thing!
These cute bunting flags are mindless garter stitch knitting, perfect for knitting while watching tv at night.
And, they don't require much yarn, so if you have any leftovers of fingering weight/sock yarn in your stash it's time to bring it out!
I have written down the pattern, but if you need more help there's also a video where you can see how I do all the steps!
Make a Christmas bunting from any yarn!
The pattern is written for fingering/sock weight yarn as that's what I used for my bunting. But you can easily adapt this pattern to the yarn you would like to use!
The flags in the bunting are knit from the point at the bottom and up.
That means you can follow the pattern until you are happy with the size of the flag. Then finish the flag by knitting rows 11 and 12 before binding off.
Want more ideas on what to knit for Christmas?
––> Take a look at my Christmas knitting patterns&Projects board on Pinterest!
Look at those pretty edges!
The pretty edging on the bunting flags makes them look more finished. The edges are super easy! All you have to do is slip the first stitch purl wise and purl the last stitch on all rows.
You may think it would be easier to just knit all stitches, I mean it's a garter stitch pattern after all. And yeah, you're totally right!
But, I'm a sucker for pretty details, and for neat edges in particular… If you think it's too much of a hassle to make the pretty edge, just skip it and knit all edge stitches.
Do you like neat edges too? Learn more in this post!
Materials needed
Fingering/sock weight yarn, or the yarn of your choice
Knitting needles in size 2US/2,75mm if using fingering /sock yarn. Otherwise, needles that fit your yarn.
Wool needle and scissors
Crochet hook, if you like to crochet a chain to hang the flags from like I did.
Or, some kind of ribbon that matches your flags for example:

textile ribbon for sewing or crafting
twine
gift wrapping ribbons
knitted or crocheted icord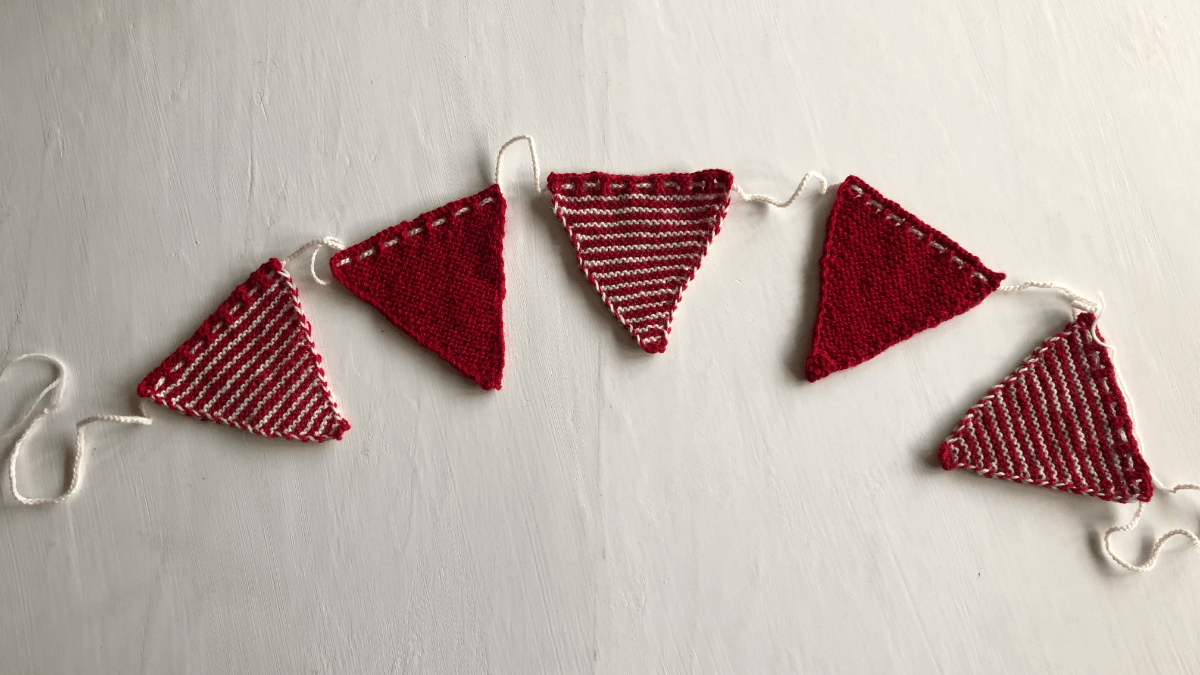 Christmas bunting knitting pattern
Cast on 3 stitches
Row 1: Knit 2, purl 1
Row 2: Slip 1, knit 1, purl 1
Row 3: Row 1: Slip 1, yarn over, knit 1, yarn over, purl 1 (5 stitches)
Row 4: Slip 1, knit 1 through the back loop, knit 1, knit 1 through the back loop, purl 1
Row 5&6: Slip 1, knit to last stitch, purl 1
Row 7: Slip 1, knit front and back, knit to last 2 stitches, knit front and back, purl 1 (7 stitches)
Row 8–10: Slip 1, knit to last stitch, purl 1
Repeat rows 7–10 until you have 29 stitches on your needle. Or for as long as you wish.
Row 11: Slip 1, * yarn over, knit 2 together* repeat *–* the end of row
Row 12: Slip 1, knit to last stitch, purl 1
Bind off and weave in your threads.
Make five flags in total, three with stripes and two red.
Knitting video: Christmas Bunting
Every time I get a new subscriber to my youtube channel it makes me smile. So if you wanna put a smile on my face today, please subscribe to my channel 🙂
Crochet chain
I made a simple crochet chain to hang my Christmas bunting flags on.
You can see how I crochet the chain at the end of the video you find above.
Chain until you're satisfied with the length of the chain, mine is approximately 130 cm/51″.
My flags are about 10cm/4″ wide and I chose to have 10cm/4″ between the flags as well.
I counted 5 flags + 4 spacings = 90cm + 20 cm extra on each side = 130cm/51″
Finishing touches
When your bunting flags are ready and all the ends are weaved in it is time to assemble the bunting by threading your crocheted chain through the yarn over holes at the top of the flags.
If you have made different flags it can be wise to arrange them on a table first to decide in which order you want them to hang!
If your triangle bends
If one edge is tighter than the other that will cause the flag to bend a bit towards that side.
To avoid this I pull the edge after knitting one stitch with the new color to ensure there's enough yarn in the edge stitches.
Your next read!
––> How to Knit a Ribbed Beanie
––> 40+ Easy Christmas Yarn Crafts
––> Christmas Home Decor to Knit and Crochet