Do you have too few stitches to fit the cable?
Or, in other words, are your circular needle too long?
This was a big issue for me when I was first starting out with circular needles.
But I figured it out. And now I'm sharing my top three tips with you Fellow Knitters!
My top three best tips when your circular needle is too long:
Use a circular needle with a shorter cable
Or, use two (!) circular knitting needles
This is my favorite! Try some magic – or at least magic loop 🙂
Video: Is your circular needle too long?
Some of us like to read, some like to watch videos, and some do both!
This video explains how to work with a circular needle that's too long
Do you like to see more video tutorials like this? Subscribe to my Youtube channel!
1. Change your needle to one of the same size but a shorter cable that fits inside your stitches
This is the most obvious solution. But not always the best.
It can be a bit fiddly to knit with a really short cable, you don't have so much room to move your tips.
And if you're just starting out with circular needles I bet you don't have a bunch of extra needles laying around in different lengths.
2. Use two circular needles of the same needle size
If you happen to have another needle in the same size you can use them both. It may sound a bit Ludacris to add another needle in the game if one needle is too much. But bear with me!
Knit the stitches from one needle over to the other. When you are out of stitches, knit them back on the first needle, always knitting round, in the same direction.
This same technique can also be used if you have the opposite problem – too MANY stitches to fit on your cable!
3. Magic loop – the easiest method
Actually, this knitting method or hack is so darn simple it's a bit funny it even has a name. But it's also crazy useful!
Divide your stitches approx half by half and pull the cable out between them.
There will be a bit of a stretch between the stitches, but that's nothing to worry about right now.
Push the stitches along the cable so you have the ones you're going to knit on the left tip. On the right tip, you will have the other half of the stitches.
Pull the right needle to create a second loop and give you cable enough to move freely.
Join your stitches. Learn to join in the round here!
Knit up to the loop.
Pull your cable to push new stitches to the empty needle tip.
Then you pull the right tip to create a new loop and continue knitting.
Remember to check the tension of the stitches nearest to the loops. You may have to pull the yarn or relax the tension a bit to prevent ladders where the loops are.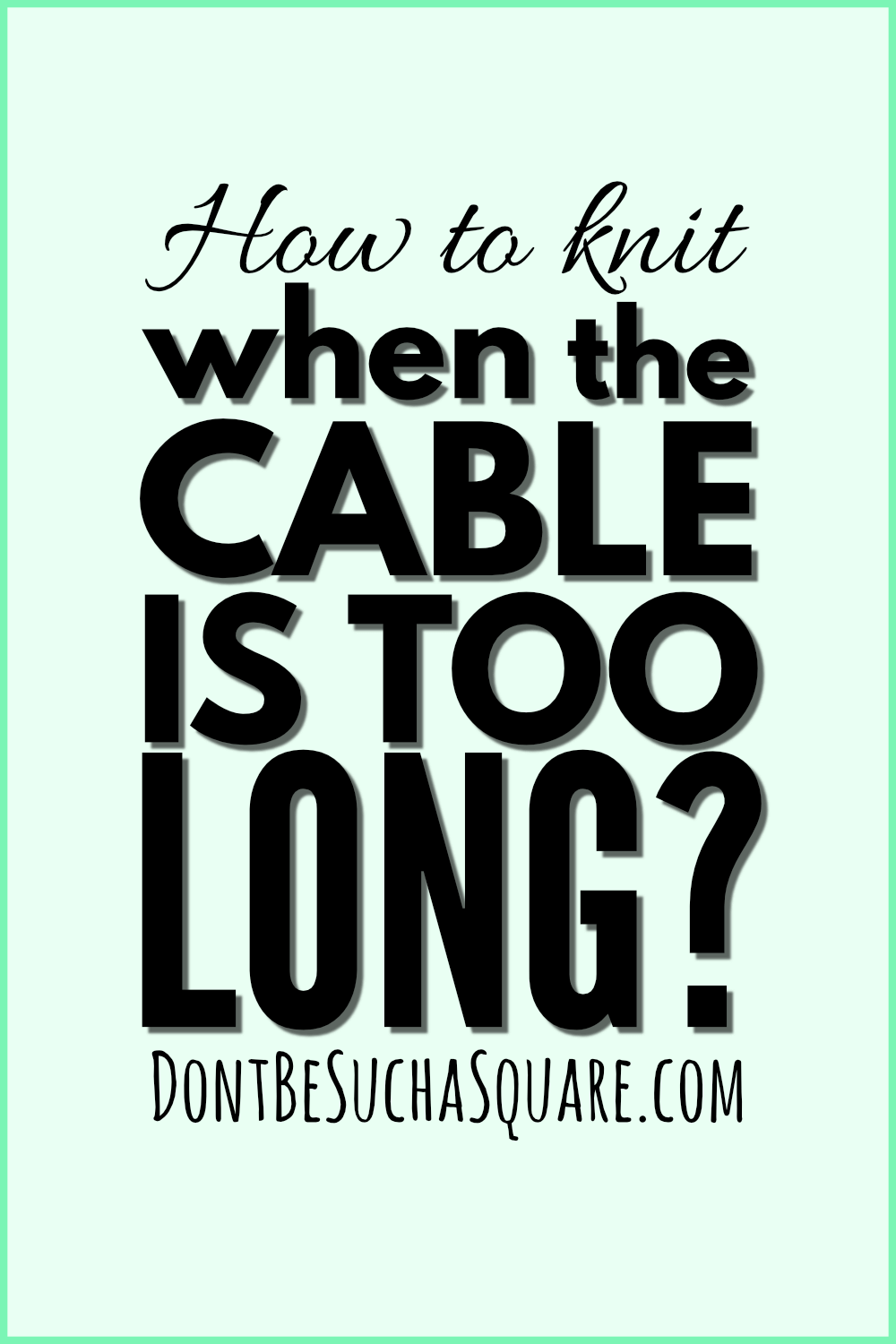 This will only work with a flexible cable. Some cables are stiffer, don't choose those needles for this method. Things will get much harder than they have to be, and the result will not be as even as you wish for.
With a stiff cable, there will be a "ladder" effect where the loops have been. Sometimes you can soften the cables with heat, look at the reading tips below to find a post teaching you how this can be done.
Your next read:
––> Reviewing my HiyaHiya needles after 7 years of daily use!
––> How to Soften the cable of your circular needle
––> Circular Knitting Needles for beginners + video tutorial!